Apple has recently launched the brand new Apple Studio and Studi Display.
Powered by the M1 ultra, this new setup is faster, sturdier, and more capable of multitasking than any other device Apple has launched to date.
But, such powerful specs come with a heavy price tag too.
Standing at a whopping $3999 it is a device that is not meant for everyone.
So, in this article, we will talk about the new Mac Studio and figure out whom it is meant for.
Could that someone be you?
Read this article till the very end to find out….
Mac Studio and Display in a nutshell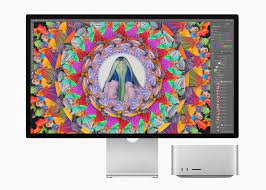 The Mac Studio appears more like an upgraded model that is a bigger version of the Mac mini. It's 7.7-inches across as well as 3.7-inches tall. Inside, it has an ingenious thermal design that lets the device run at the highest level of talk without any hassle.
It has an exclusive system of dual-sided blowers with precisely placed airflow channels as well as over 4,000 perforations along the sides and bottom of the enclosure that guide air throughout the internal components and assist in cooling the chips with high performance.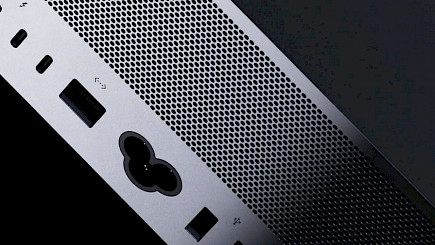 In addition, Apple noted that due to the power of Apple silicon technology, Mac Studio remains incredibly silent, even under the most intense loads.
The core of the company has integrated its M1 Ultra, the latest and most robust Apple silicon to date.
In addition, it features a brand new UltraFusion technology that connects the two M1 Max chips to create the first system-on-chip (SoC) that is unmatched in terms of performance as well as capabilities comprising 114 billion transistors, the most ever on the personal computer.
In terms of connectivity, The Mac Studio comes with multiple ports: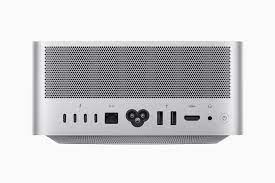 Four Thunderbolt ports
Ethernet port,
Two USB-A ports,
an HDMI port, and
a pro audio jack to connect audiophiles with high-impedance or amplified external speakers.
The Mac Studio also comes with Wi-Fi 6 and Bluetooth 5.0 as well.
In a nice gesture, Apple has inserted two USB-C ports. It on M1 Max can support 10Gb/s USB 3 while on M1 Ultra supports 40GB/s Thunderbolt 4 on the front.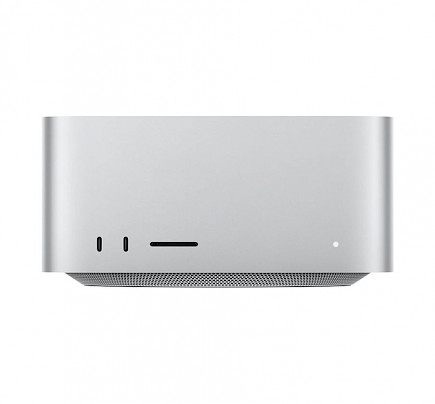 There's also an SD card slot in the front that can quickly import video and photos. These ports on the front will allow users to dock portable storage devices or microSD with ease and then put them on the back to keep away from accidental removal of the display connection or physical harm.
Apple Studio Display features a stunning 27-inch 5K Retina screen that boasts more than 14.7 million pixels. In addition, it boasts a maximum luminosity of 600 nits, a P3 wide color, and supports over one billion colors.
Price
The Studio Display starts at around $1599, which can go up if you want a higher resolution of the screen.
On the other hand, the Mac Studio will start from just $1999. But, the prices of the configuration go up alarmingly will every small addition of hardware.
According to some sources, a workable Mac Studio and Display setup will cost you around $4000-$4500. And a completely maxed-out Studio workstation will cost you a whopping $8000.
Who is the new Mac studio Display for?
Now, before answering this question we will have to understand that different devices from Apple cater to different forms of users.
The MacBook Pro, iMacs are meant for seasoned professionals. The MacBook Air is the best fit for students and freelancers. The iPad Pro and Air are great devices for freelancers as well as creative professionals.
So, judging by this sequence the Mac Studio should only be bought by someone who needs to do a lot of work and need heavy competing power to achieve that. So, if you are a crypto miner or a Video Editor, or a scientist, then the Mac Studio is best suited for you.
But, even enthusiasts can go for the Mac Studio but, they have to keep in mind that the starting price will only offer very limited specs. So, if they really want a workable Studio setup they will have to spend around $3999.
Winding Up
And that's all from us today.
Thank you for bearing with us. Hope you liked what you read. We will be back soon with more great topics. But, until then. Stay tuned and have a Good Day!

You might also like