Religion is a very vivid concept in today's modern world. Just like the science itself, religion has its own facts, methodologies, and rules that are followed universally. People might not talk about their religion a lot but targetting someone's religion or belittling someone's religion can be a major offense in many countries.
Even now religion serves as such a complex and fragile topic that most people try to avoid discussing it entirely. But, what if we say that a global tech giant like Apple has dared to do something very similar. Would you believe it?
If you don't then prepare to get your minds blown cus, in today's topic we are going to talk about why Apple removed Quoran and other religious apps from AppStore China.
The news:
US technological giant Apple has taken down two well-known religious applications from the Chinese App Store- "Bible App by Olive Tree" and "Quran Majeed".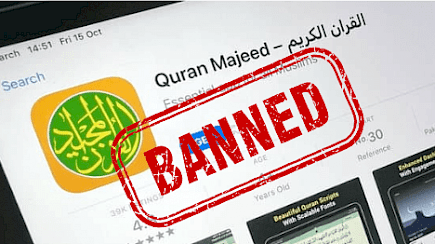 The apps are both rated with many thousands of ratings on the US App Store and are in total downloaded by more than 100,000 users per month, according to the data provided by Sensor Tower.
Based on Apple Censorship, which is a database that examines Apple's App Store removals across various countries, the apps were taken off of Chinese App Stores at some time between September 28 and October 8.
Apple is among the few US tech giants that are permitted to do business in China and gain access to its huge market. Because of the access to the market, Apple now has an estimated 14 percent of China's 970 million smartphone users, which is approximately 136 million Chinese iPhone users.
But Apple's access to this market has been ensnared in controversy, with some critics accusing Apple of "enabling the CCP's (Chinese Communist Party's) surveillance and oppression."
The removal of Bible or Quran apps from the App Store is just one of many instances of Apple restricting apps in China.
At the end of September, the "Jehovah's Witnesses Kingdom" app that has a lot of reviews as well as approximately 5,000 downloads each month and was deleted from the App Store in China.
In the past few years, Apple has removed thousands of applications from its Chinese App Store, including bisexual, lesbian, gay, and transgender (LGBT) apps, games, and political applications.
In a statement issued by the maker of the app, PDMS, the company stated: "According to Apple, our app Quran Majeed has been removed from the China App Store because it includes content that requires additional documentation from Chinese authorities".
"We are trying to get in touch with the Cyberspace Administration of China and relevant Chinese authorities to get this issue resolved".
The company claimed to have more than one million customers in China. Islam is officially recognized as a religion in China by the Chinese Communist Party.
But China has been accused of human rights abuses, as well as genocide, by the majority Muslim Uyghur community of Xinjiang. This year, the BBC announced that Uyghur imams were the targets during the Chinese Xinjiang crackdown.
Apple declined to make a statement, but directed the BBC to its Human Rights Policy, which reads: "We're required to comply with local laws, and at times there are complex issues about which we may disagree with governments."
It isn't certain which rules the app violated in China. Quran Majeed says it is "trusted by over 35 million Muslims globally". In the last month, both Apple and Google have removed a tense voting application created by the jailed Russian Opposition head Alexei Navalny.
China is among the biggest markets for Apple, and its supply chain is heavily dependent upon Chinese manufacturing. Apple Chief Executive Tim Cook has been accused of hypocrisy by some politicians across the US for speaking out on American political issues while omitting China.
The New York Times reported earlier in the year that Apple shuts down apps in China if they are considered to be inappropriate by China's Chinese government. Tiananmen Square, the Chinese religious movements Falun Gong and The Dalai Lama, and independence for Tibet and Taiwan are among the topics that apps cannot discuss.
Benjamin Ismail, project director at Apple Censorship, says: "Currently Apple is being turned into a censorship agency of Beijing. "They need to do the right thing, and then face whatever the reaction is of the Chinese government."
Another app that is popular among Christians, called Olive Tree's Bible app, was removed earlier this week by China. The company informed the BBC they had taken down the app on their own.
"Olive Tree Bible Software was informed during the App Store review process that we are required to provide a permit demonstrating our authorization to distribute an app with book or magazine content in mainland China," says a spokesperson for the company."Since we did not have the permit and needed to get our app update approved and out to customers, we removed our Bible app from China's App Store."
This Friday, The Mac Observer reported that Audible is the Amazon-owned audiobook and podcast service that has removed its application from the Apple store on China's mainland this month "due to permit requirements."
This week, Microsoft said it was discontinuing its social media site, LinkedIn, in China and that the need to conform with the Chinese government was becoming increasingly demanding. The decision was taken after the site's career networking was questioned about the ban on profiles of certain journalists.
Winding-up
Sometimes it really makes us think how a particular sect-like religion can completely turn millions of heads. And the incident by Apple shows us just how much religion means to people.
As of now, China being a Confucian and Buddhist majority country regulates the flow of foreign policies and religion in their society with a very strong grasp thus, it may not turn out to be a major shocker if more religious-centric Apps are banned from AppStore China in the recent future.
You might also like