Right now the whole world is keeping their eyes straight towards the clash between Russia and Ukraine.
Fueled by a long rivalry regarding the border disputes of these two countries. Some people have eventually called this event "The stepping stone to World War 3".
Amidst this high tension situation, some of the biggest companies in the world have played their part in showing resistance against Russia's actions.
Right now, more than 80% of MNC that reside in Ukraine have stopped all their productions and supply of goods and services in and out of the country.
Apple is a prominent one among them…
The News:
The Vice Prime Minister of Ukraine has asked Apple to stop product sales to Russia and close down the App Store. Mykhailo Fedorov, the Ukrainian vice prime minister, wrote to Tim Cook requesting that Apple stop supplying Apple products and services to the Russian Federation. This request comes as Russia continues to invade Ukraine.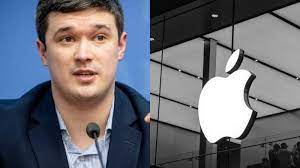 In a tweet this afternoon, Fedorov, who is also in charge of digital operations, shared a copy, calling on Apple to support the US government's sanctions package. He also noted in the letter that Apple should not only stop the sale of Apple hardware in Russia but also block access to the App Store.
"I appeal to your attention, and I am certain that you will hear me and do everything you can to protect Ukraine, Europe, and the entire democratic world against bloody authoritarian aggression. Stop supplying Apple services or products to Russia, including blocking access to the App Store! "declares Ukraine's vice PM.
Fedorov believes that if Apple took these steps, it would "motivate youths and active populations of Russia to proactively end the disgraceful war on terror." At the moment, Apple has an Apple Store online in Russia, as well as a Russian-language version of its App Store. It also sells local software and services.
Apple also agreed last January to comply with a Russian law that required local apps to be available during the setup of an iPhone or iPad. As a result, after they have completed the normal iPhone setup, iOS directs users to an exclusive App Store collection.
Although the United States and other countries have issued sanctions against Russia, they do not appear to have any impact on Apple's sales or the availability of software and hardware in the country. Under the sanctions, US manufacturers are prohibited from exporting certain goods to Russia, but Apple appears to be unaffected by at least the first round.
Apple CEO Tim Cook tweeted on Thursday evening, stating that Apple is doing all it can to support its employees and will also be supporting local humanitarian efforts.
I am deeply concerned with the situation in Ukraine. We're doing all we can for our teams there and will be supporting local humanitarian efforts. I am thinking of the people who are right now in harm's way and joining all those calling for peace.

— Tim Cook (@tim_cook) February 25, 2022
"I am deeply concerned about the situation in Ukraine. We are doing everything we can to support the local teams and will continue to support humanitarian efforts, "says Tim Cook. Additionally, he says that he is thinking about the people in danger and joins all those who call for peace.
Apple is yet to comment on the request from Ukraine.
According to The Verge, the White House issued a series of sanctions earlier this week in response to Russia's invasion. These measures included those that prevented Apple and other US companies from providing services to the Russian military and the ministry of defense.
Fedorov's letter contains new measures that ask Apple to cease all services to Russia.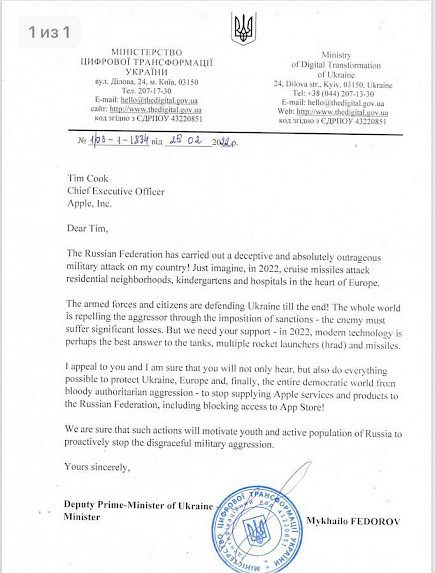 The United States, Britain, Canada, as well as the European Union placed sanctions on Putin and Sergey Lavrov, his foreign minister. It held them "directly liable" for Moscow's "unprovoked, unlawful" invasion of Ukraine. Most of the assets were also unanimously frozen by the decision of the European Union (EU).
Russia-Ukraine conflict: Root Cause of Apple Product/Services stop in Russia
More than 50,000 Russian troops have invaded Ukraine and taken control of Chernobyl. Regions, including Kyiv, are still under threat. In the last two days, more than 50,000 Ukrainian citizens fled the country.
Although there is no official confirmation of the death toll, Ukraine's President, Volodymyr Zelenskyy, stated that 137 Ukrainians were killed in the conflict. According to the Ukrainian military, it claims that it has killed more than 1,000 Russian soldiers.
However, the Russian military has not reported any casualties.
The Vice President asks Elon Musk to help, he Responds with a Meme
At a critical time, Elon Musk was a hero for the Ukrainian people. Elon Musk, CEO of SpaceX, has announced via Twitter that he will assist Ukrainian citizens through Starlink services. The tweet stated, "Starlink services are now available in Ukraine.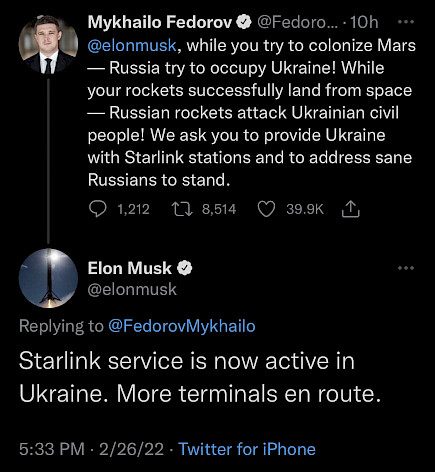 More terminals are on route. "SpaceX will soon launch thousands of Starlink (wireless internet services) satellites into orbit. It was in response to the First Vice Prime Minister and Minister of Digital Transformation of Ukraine, Mykhailo Fedorov.
Elon Musk was asked by the Minister for his assistance. Elon replied in less than 10 hours with a positive announcement, rather than being defensive about the situation. Musk's tweet casually compares Musk's world to the real world.
While you are trying to colonize humans on Mars, Russia is trying to occupy two significant regions of Ukraine! Russian rockets attack Ukrainian civilians while your rockets successfully land in space! We ask you to provide Ukraine with Starlink stations and to address sane Russians to stand by, "says Fedorov.
Elon Musk has been vocally supporting Ukraine during the ongoing war between Russia's dictatorship and Ukraine. Elon Musk was in the news for his controversial Twitter meme. The meme ridicules President Putin as Adolf Hitler, a German dictator. The meme was deleted because it offended people.
This tweet was a hit on Twitter. Elon's efforts to not only tweet memes but also show support was appreciated by people all over the world.
Starlink service is now active in Ukraine. More terminals en route.

— Elon Musk (@elonmusk) February 26, 2022
It is a great thing when famous people take a step toward goodness. Elon's efforts to improve the world are appreciated by the official Ukrainian page.
SpaceX operates Starlink, a satellite internet constellation that provides satellite Internet access coverage. In addition, it provides emergency relief services in 29 countries, including Ukraine.
The Russian invasion has caused severe disruption to internet connectivity in Ukraine, especially in the eastern and southern parts of the country. This is quite common when the ruling government shuts down the internet connection during protests or other situations that restrict movement.
For example, the Russian government blocked the internet connection in Ukraine during the Russia-Ukraine war.
Unfortunately, war brings out the worst in people.
This is the time to remember humanity.

You might also like