Apple pays homage to Martin Luther King Jr. by celebrating him on their official page.
Thus, we too felt it was a perfect time to honor the works of such a great man who helped make today's America.
Here's a brief about him…
The News:
The day before yesterday was Dr. Martin Luther King, Jr.'s Day, which is a federal holiday across the United States that pays respect to and celebrates the civil rights leader.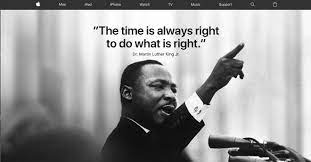 Similar to how it was done before, Apple is commemorating the day with a complete memorial on its site.
On the home webpage, Apple remembers the civil rights leader by displaying a photo of King and one of his famous quotes: "I believe that we can transform dark yesterdays of injustice into bright tomorrows of justice and humanity." Apple says, "Today and every day, we honor his life and legacy of service."
Apple CEO Tim Cook also honored King on Twitter and said that King "could paint a powerful vision in dark times."
Martin Luther King Jr.'s Life story
Martin Luther King Jr. was an American Baptist minister and activist who was the most well-known voice and leader in the American civil rights movement between 1955 and his assassination on April 4, 1968.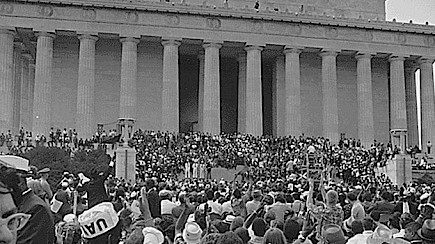 Named after the German reformer and civil rights activist Martin Luther King, King advanced civil rights through nonviolence and civil disobedience inspired by his Christian convictions and Mahatma Gandhi's nonviolent activism.
King was the child of an early civil rights advocate as well as a minister, Martin Luther King Sr.
King took part in and led marches to defend the rights of colored people to vote, segregation, labor rights, and various other rights of civil society.
King led the Montgomery bus boycott in 1955 and went on to become the first President of the Southern Christian Leadership Conference (SCLC).
As the president of the SCLC, King was the leader of the failed Albany Movement in Albany, Georgia, and was also able to organize several of the peaceful demonstrations of 1963 that took place in Birmingham, Alabama.
King played a role in helping to organize his participation in the march on Washington in which he gave the "I Have a Dream" speech on the steps of the Lincoln Memorial.
The SCLC put into practice the strategies of non-violent protest, with some success by strategically selecting the method and the location where protests were held.
There were numerous dramatic standoffs with segregationists, who occasionally turned violent.
Beginning in 1963, Federal Bureau of Investigation (FBI) Director J. Edgar Hoover considered King a radical and declared him an apex of the FBI's COINTELPRO program.
FBI agents questioned his possible communist connections and also documented his extramarital affairs, disclosing them to government officials.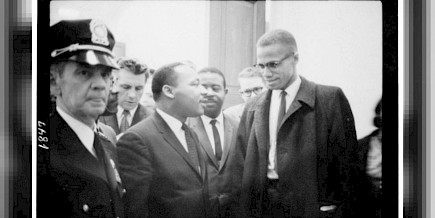 Then, in 1964, they mailed King an anonymous threat, which he understood as an attempt to convince him to commit suicide.
On October 14th, 1964, King was awarded the Nobel Peace Prize for battling race-based inequality through non-violent resistance. In 1965, he was a part of the team that helped organize one of three Selma to Montgomery marches.
In his last years, he broadened his horizons to include his opposition to economic poverty, capitalism, and war, specifically the Vietnam War.
In 1968, King had been planning a massive protest in Washington, D.C., and was preparing to call it "the Poor People's Campaign." King was killed on the 4th of April, 1968 in Memphis, Tennessee.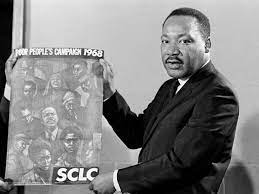 The death of King was shortly followed by protests across many U.S. cities. There are rumors that James Earl Ray, the man who was found guilty of murdering King, was being arrested or was acting in conjunction with federal agents, which remained valid for decades following the shooting.
King was awarded posthumously with the Presidential Medal of Freedom in 1977 and was awarded the Congressional Gold Medal in 2003. Martin Luther King Jr. Day was established as a day of celebration across states and cities throughout the United States beginning in 1971, and the holiday was established on a federal scale by legislation that was signed in the name of President Ronald Reagan in 1986.
Many streets throughout the U.S. have been renamed to honor his memory, and the county with the highest population within Washington State was named in honor of the late King.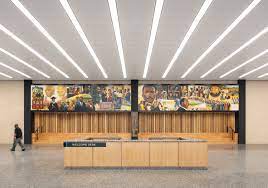 It is the Martin Luther King Jr. memorial on the National Mall in Washington, D.C., and was dedicated in 2011.
His Achievements
He became the Civil Rights Movement's symbolic leader.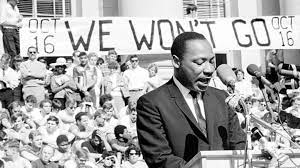 Martin Luther King Jr. was much more than an activist in the social sphere.
What he accomplished is something that isn't something you get to see every day as a person who would risk his life to voice his opinion on the injustices that were happening in the world.
Through his tireless efforts, Martin Luther King became a true symbol of the cause of civil rights as well as the African American community.
He proved the effectiveness of nonviolent resistance.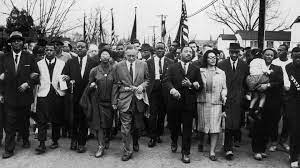 Instead of using guns or other methods that could be dangerous, King chose to employ an alternative method of non-violence—a protest. In 1959, King traveled to India and was influenced by Gandhi as well as his peaceful way of resistance.
He also referred to Gandhi as "the guiding light of our technique of nonviolent social change." Through his actions, King proved that peaceful protest was the best method to gain civil rights.
He won the Nobel Peace Prize.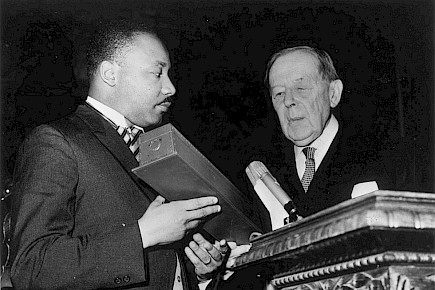 At 35, Martin Luther King was the youngest person ever to receive the Nobel Peace Prize. King's non-violent resistance to racism within the U.S. was why he was awarded the prize, which is why he decided to give the prize money to the advancement of the civil rights struggle.
He Delivered One of the Greatest Speeches Ever.
King's address, "I have a dream," is one of the most renowned public speeches ever made by a human being.
The speech was delivered in 1963 at the March on Washington for Jobs and Freedom, and more than 250.000 civil rights activists were able to hear the address. When King speaks about equality, he demands civil and economic rights as well as the elimination of racism throughout the U.S.
He fought for civil rights and won.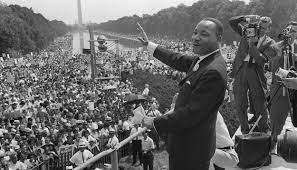 Through his peaceful protests and nonviolent opposition against desegregation and racism, two important laws were passed and made into law. Those are the Civil Rights Act of 1964 and the 1965 Voting Rights Act.
Winding-up
The life of great men tell us how we too can make our lives sublime and, work our way to the very top and leave our footprints in the sands of time.
Martin Luther King Jr was one of such remarkable personalities who dedicated his life to making our tomorrow and thus, we all should be thankful for his efforts.
As united we stand to honor his dedication.

You might also like