Apple is no longer the most valuable company in the world…
It has recently lost its first-place position to Saudi Aramco and currently holds a market value of $2.46 trillion.
The News:
The oil giant Saudi Aramco on Wednesday surpassed Apple as the most valuable firm in the world.
Aramco's market cap was just below $2.43 trillion on Wednesday, as per FactSet, which changed its market cap to dollars.
Apple dropped over 5% in trade in the U.S. on Wednesday and is now valued at $2.37 trillion.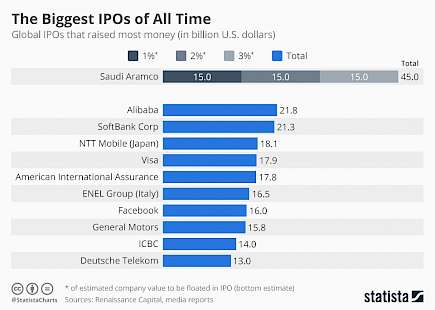 Prices for energy stocks have increased since investors have sold off the equity in various sectors, including technology, due to fears of a weakening economic climate. Apple has fallen roughly 20% since its January high of $182.94.4.
The change is mostly symbolic. However, it demonstrates the shift in markets as the world economy struggles with the rise in interest rates as well as inflation and supply chain issues.
Aramco stock is up by more than 27% as of 2022. In March, the oil company disclosed its full-year profits in the year prior had more than doubled thanks to the rising prices of oil.
In 2020, Apple was able to surpass Saudi Aramco to become the world's most valued privately traded corporation.

You might also like