Sports and recreational games have existed since prehistoric days. If you look closely today you will notice there are world cups held for each and every game. Whether Indoor or Outdoor. The Olympics is one such great show. Owing to its humble beginnings in the ancient greek civilization, the Olympics are one of the most prominent and well-known sports tournaments in the world. As of 2021, more than 20 million people will be watching the Tokyo Olympics worldwide. Crazy stats, right?
Apparently, with the advent of the Olympics new news has surfaced in the Apple-town. Apple news will be partnering with NBC Universal to share exclusive Olympics content. So, how will this collaboration affect the way people watch the Olympics? Will it be a win-win for both parties?
In this article, we will try to answer all those questions. So, without further ado. Let us begin.
Latest updates of Tokyo Olympics
India is currently facing Japan in their Men's Pool A match, which will take place on Friday at the Tokyo Olympics. They will be looking to win and putting in a great performance. PV Sindhu performed brilliantly to beat Akane Yamaguchi at the quarterfinals in women's singles badminton. The Indian shuttler won a 2-0 victory against her Japanese opponent. She won the first game 21-13 and then 22-20.
Lovlina Borgohain swept past Nien-Chin Chen to reach the quarterfinals of the Women's Welterweight (64 - 69kg) category. Lovina's win helped India secure at least a Bronze medal. Manu Bhaker, Rahi Sarnobat, and Rahi Sagar had disappointing performances for Team India at the 25m Pistol Women's Qualification event. They failed to qualify. Bhaker managed 582 while Sarnobat managed 573.
On the other hand, Deepika Kumari lost to An San of South Korea in the quarterfinals of the Women's Archery Individual event. To secure a berth at the quarterfinals, Ksenia Perova from ROC was defeated by Deepika Kumari earlier.
The Indian women's hockey team won their first game of the campaign with a 1-0 victory over Ireland.
Avinash Mukund Sable also missed qualifying for the finals in Men's 300m Steeplechase. However, he broke the national record of 8:18.12. Sprinter Dutee Chand, who finished 45th in her heats overall, also failed to qualify for the 100m semifinals.
Simranjit Kaur, a boxer, was forced to withdraw in the Round of 16 at Women's Light (57-60kg).
To watch exclusive footage of the Toyko Olympics. Click "here"...
The big headline!
It is difficult to keep up with the Olympics for more than 12 months. So Apple Information announced yesterday a partnership with NBCUniversal (the U.S. broadcast rights holder for the Olympics). This collaboration will allow Apple Information to create unique day-by-day recaps, audio briefings, special schedules, medal counts, and other information to aid sports fans in keeping tabs on the games.
NBC Sports activities are the best app to stream any Olympic event, but it can be a little slow. The app is not easy to use, but they have made it easier to stream so many different feeds. The app is packed with powerful information, but it's not easy to find all the victories and losses that have occurred while we were asleep. This collaboration with Apple Information fills a void in NBC's current offerings.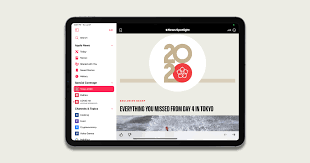 The Information app's user-friendly schedule for every Olympic event by sport is probably the best option. You can set reminders on your calendar for those events... but you can also set your alarm for certain occasions, like the Ladies' Gym All-Round Final, which starts at 6:50 am on Thursday. Don't worry; primetime coverage will be available for these highly anticipated occasions.
NBC Sports activities will send you push notifications for the sports activities you select. However, a pre-set calendar event could be more helpful in planning your evening (or morning) Olympics viewing.
This partnership allows Apple to promote Apple Podcasts. Apple Podcasts has more competitors than ever before as Spotify continues its development and Facebook offers support for podcasts.
NBC is aggressively pushing its Olympic podcasts, like On Her Turf and The Podium, quite hard--The Podium often appears as a banner advertisement during the stay online. These shows aren't exclusive to Apple. However, the partnership with NBC will only help drive site visitors to their podcast platform.
To watch exclusive footage of the Toyko Olympics. Click "here"...
You might also like