One massive source of passive income for Apple is in-app purchases.
You see them everywhere, on AppStore, Cydia, Apple News, and Apple TV. Most of the time these in-app purchases provide an additional feature that the native app lacks.
Recently Apple has announced their new news partner program, and to back that Apple has decided to Reduce commission on in-app purchases. This means the price of in-app purchases will be less and more quality content will be available at a very small price. How exciting is that, right?
So, today we have dedicated this article to understand more about this step taken by Apple and how it will affect the future of Apple News +. Thus, without further ado. Let's get started.
What is Apple News+?
There's Apple News, an app that allows you to consume content from a variety of sources. This app is free, and following an approval procedure, any publisher can submit articles to it. Then there's Apple News+, a $9.99 monthly membership that gives you access to a variety of magazines and other premium publications through the Apple News app. The publishers get a share of that $9.99 from Apple.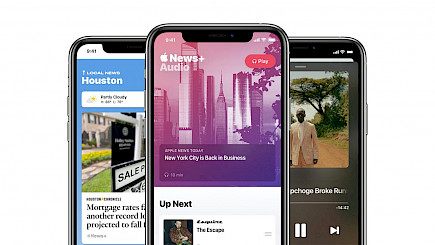 Apple News+ was announced on March 25, 2019. It is a subscription-based service that provides access to content from more than 300 magazines and selected newspapers. The service was foreshadowed by Apple's acquisition of the digital media subscription service appTexture in 2018.
Apple News+ offers a huge selection of the top newspapers from across the world. Articles come to life in striking new ways thanks to vivid imagery and animation, rich videos, and engaging layouts. You should download the app to read on the move or swipe through them from cover to cover.
Apple announced the inclusion of audio stories to Apple News+ on July 15, 2020, allowing members to listen to narrated versions of articles in a similar way to a podcast through a new Audio tab. Apple announced on September 15, 2020, that Apple News+ would be included in the Apple One Premier Package along with iCloud and Apple Music.
The news
Apple today announced a new initiative that would allow subscription news organizations who use the Apple News app and fulfill certain criteria to reduce their commission rate on eligible in-app purchases made within their applications on the App Store to 15%. In most cases, Apple's subscription-based software model comprises a typical 30% fee for the first year on the App Store, which subsequently lowered to 15% in the second year. However, the new Apple
News Partner Program, which was launched on 26th August 2021, would increase the compensation rate to 15% for registrants from day one.
These conditions have a few limitations, but they are in the best interest of Apple. News organizations must have an Apple News presence and deliver material in the Apple News Format. The latter is the JavaScript Object Notation (JSON) format, which is used to produce articles tailored for Mac, iPhone, and other Apple mobile devices for Apple News.
Converting news items from a publisher's website or CMS (content management systems) to the accepted JSON formats generally requires some preparation. There are plugins that can make the process simpler for WordPress and other CMS's.
To know more about famous CMS's. Click "here"...
Publishers based outside of one of the Apple News markets (the U.S. or U.K.), Australia, Canada, or Canada can provide an RSS feed to Apple instead. The App Store partner app that qualifies for the 15% commission must deliver original, professionally-authored news content and offer auto-renewable subscriptions through Apple's in-app purchase system.
Although there are some initial steps to establishing a publisher's connection with Apple News, it is worth noting that many major publishers already use Apple's platform. They won't need to do additional work to get the reduced commission on their apps. The initiative also encourages news organizations to keep participating in Apple News since it makes greater financial sense for them to do so throughout their whole company. For publishers, who would prefer that the App Store fee be decreased with conditions attached, this will be a difficult issue.

Some publishers are concerned that being linked to the Apple News ecosystem would give them too much influence over their company. The New York Times, for example, declared last year that it would end its collaboration with Apple News, claiming that Apple would not enable it to have as direct contact with readers as it desired and that it would instead lead them to its own app and website.

Apple, on the other hand, would claim that it does not obstruct publishers' business. It allows them to paywall their content and retains 100% of the ad revenues from the ads they sell. They can split the commission with Apple if they are unable to sell all of it or prefer Apple to do it on their behalf. In that case, they keep 70% of the revenues. Apple News+ subscriptions are also a good example of "found money". This is because Apple sells the service to people that the publisher wouldn't be able to attract.
Apple News Partner Program
The new Apple News Partner program debuted in the midst of an investigation of Apple's App Store operations. More recently, legislation has been proposed to address anti-competitive concerns in the U.S. as well as in major App Store markets like South Korea.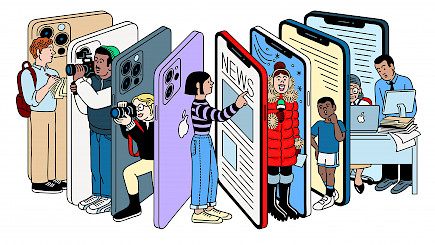 Apple has already been attempting to protect itself from antitrust charges and litigation, such as the one currently proceeding with Epic Games, by changing its App Store commissions, detecting such shifts in the market. It also introduced the App Store Small Business Program last year, which reduced fees on in-app purchases from 30% to 15% for developers making up to $1 million in sales.
Although this initiative benefited smaller publishers, it was obvious that several big publishers were still dissatisfied. Following the reduced commissions for small businesses, the publisher trade group Digital Content Next (DCN), which represents the Associated Press, The New York Times, NPR, ESPN, Vox, The Washington Post, Meredith, Bloomberg, NBCU, The Financial Times, and others, joined the Coalition for App Fairness (CAF) the following month.
Why apple actually decreased its commission?
Decreasing the percentage of commissions is just a way to attract more money. Because with the lesser posting fees:
More quality writers and editors will flood Apple News +. So, Apple will get a dedicated group of creators for free.
As better creators will join the platform. It will attract more audience, which in the long run will help Apple massively.

You might also like