We have been listening to some speculation on the internet for a long while about Apple working on producing cars (Electric Vehicles). So, the latest news is that Apple is in talks with Toyota for the production of Apple cars. We will dig deeper into the news, and I will walk you all through the information. In this article, We will explain the news clearly. But, there is much more exciting content waiting ahead. So, follow our article to the end, and find out more about this topic. Let's get started with today's topic:
According to reports, Apple will meet with Toyota executives to discuss the production of its long-rumored Apple Car in 2024. DigiTimes reports that Apple representatives met with LG Electronics and South Korea's SK Group last month to discuss Apple Car development. Now, the iPhone maker is in discussions with Toyota.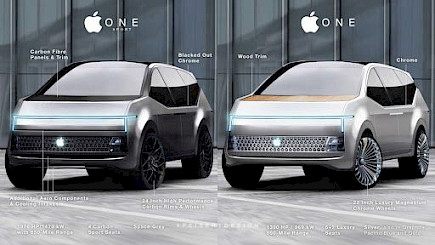 Apple began work on a car project in 2014 under the codename Project Titan. Reports earlier mentioned that Apple was also in discussions with other auto manufacturers, including Hyundai. Previously, it was rumored that Apple's first electric car would be built on Hyundai's electric vehicle platform.
Ming-Chi Kuo, TF Securities Analyst, stated that Apple's close collaboration with current automakers (Hyundai, General Motors, and PSA). They have extensive development and production experience, which "will significantly reduce the time to develop an Apple Car and give it a time-to-market advantage".
Kuo believes the earliest date an Apple car will hit the market is 2025. Rumors suggest that the Apple car will feature LiDAR technology, which could increase the depth of onboard Artificial Intelligence functions (AI).
The car will be equipped with a "C1 chip" based on A12 Bionic processors that will enable in-cabin AI features like eye-tracking. The long-rumored Apple car will also use LED screens throughout the vehicle to inform other drivers about the integrated self-driving system.
Apple's system would entail the development of huge monitors that would be positioned around a vehicle. This lengthy display is designed to provide other road users with a variety of information.
Apple is known for its uniqueness in design, quality, and security. The tech firm has achieved new heights when compared to many android mobiles. It has been very successful in getting good responses for its products.
How will this partnership benefit Apple's Vision?
Toyota has been one of the biggest four-wheelers manufacturers in America for decades. And this means they know what they are doing.
Right now Apple needs a strong partner who can support their vision thus, the partnership with Toyota has been set up. With the manpower of Apple and the technical strength of Toyota, the Apple car will be ready in no time.
Plus, Toyota is an American company. Which directly pimples, the trade/ partnership rules for Apple will be much lenient.

You might also like