Recently the CEO of Apple Tim Cook announced their quarterly results and explained how they have consistently managed to retain high sales figures in some unexpected markets.
Despite facing a global shortage of metals and silicon Apple has pulled off major profits through the sales of their products and services. But, you know what's the most interesting part of this news?
Apple has reportedly doubled its business and earnings from India this year. Thus, we felt it was a no-brainer to tell people about this new achievement and how they did it.
So, sit back, relax and enjoy the read…
The News
It's been less than a week since Apple has released its quarterly revenue results to the whole world. And to everyone's surprise, they have succeeded to retain high-profit margins despite all the backlashes and negative-sales rumors.
According to Tim Cook, the CEO of Apple. The company has made just over $ 89.6 Billion in 2021. With 2 more months in hand, Apple expects their annual revenue might just reach near $100 billion. Making them one of them most of the most profitable companies of this year.
Share market LIVE updates: Asian shares and US stock futures slipped on Friday, as Amazon and Apple quarterly earnings bucked a recent strong trend and growth and inflation fears continued to weigh#Stocks #StockMarket https://t.co/NtMfDzxaBT

— Mint (@livemint) October 29, 2021
This staggering success of Apple has been pinpointed to one specific market - India. The great South-Asian country famous for spices, cricket, and cheap-skilled labor has helped Apple bag more than $20.55 billion. That's double the figures since last year - $12.67 billion.
Owing to this massive boost in sales from such a highly competitive and renowned market Apple hs plans to ship out more apple devices in the year 2022.
If Apple somehow manages to keep its sales figures so high in the coming year. Then it just might happen that India would become the largest market for Apple products, just behind the USA and a few other countries in the EU.
What does the future hold?
Those of you who have only heard or seen feature films about apple might never know the true strength that this country holds in global electronics.
For starters, India pumps out more engineers than any other country in the world. Who in turn contribute to a major percentage of the country's GDP. Plus, India is by far the most competitive electronic market in the world.
With hundreds of foreign companies flooding the Indian market. The competition to stay strong is very hard. Over the years numerous companies have tried to assert their dominance of this market but around 60% of them have failed immediately. And this has happened due to very specific reasons.
But Apple, despite being one of the most premium brands in the world has somehow managed to capture the eyes of fellow Indians and finally assert their dominance. And this small win could bring a new dawn of hope for Apple.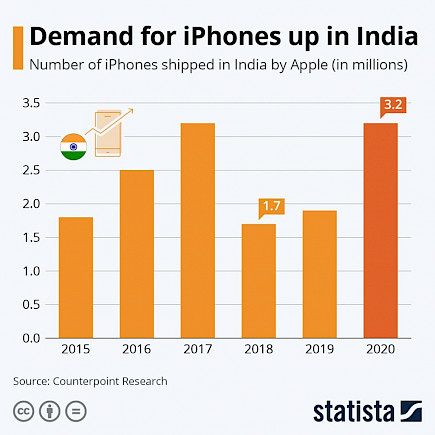 Right now there are still 2 months left for 2021 to end and in this time Apple will be looking closely towards the sales figures and only then, figure out what steps can be taken to retain their sales.
According to the Times of India, an average Indian spend more than just a sigh of $300 to buy a new smartphone. This figure is most likely to increase to $400 by the next year owing to a global shortage of semiconductor metals. Thus, Apple might have a great chance to finally push their low-budget device like the iPhone SE 3 and iPad Mini in the Indian market.
Winding Up
The future of Apple seems bright in India and with many dreams in its eyes, the company will most assuredly try its best to keep itself relevant in such a crucial market.

You might also like