The Apple Watch has revolutionized workout regimes with the introduction of "Time to run".
These power-packed, addictive, and engaging podcasts tell us the story of our adored celebrities. What they were, what they had to go through to become what they have become and how a few minutes of walking helped them.
But, what happens when you add just that extra something to "Time to Run".
That's when you get "Collections".
The News: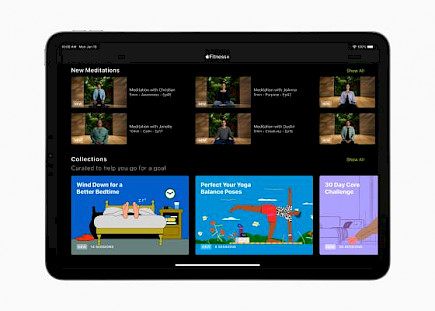 Apple has released collections and it's time to run for Apple Fitness+ today. In addition, Collections is a carefully curated collection of meditations and workouts that are part of the Apple Fitness+ library.
Time to Run is an audio-based running experience developed to aid runners in improving their running.
In addition, Apple is also launching the third season of Time to Walk, which is yet another audio-based experience available to Apple Watch users.
In its blog post on the official website, Apple mentioned that "Apple Fitness+, the first fitness and wellness service built entirely around the Apple Watch and designed to be welcoming to all, is introducing Collections and Time to Run on January 10."
In addition, the vice president for Fitness Technologies at Apple said, "At the beginning of a new year, we know many people are looking for new ways to go after their goals. With these new additions, Fitness+ makes it easy to get motivated and stay active anywhere, with the most complete library of high-quality and diverse content to train your mind and body, no matter where you are on your fitness journey."
Collections will be a planned collection of exercises and meditations that will help users achieve their goals. They will provide suggestions for a program to follow in the coming week or for a few days based on the collection selected.
There will be six collections available for sale at the launch:
30 Days of Core Challenge,
Improve Your Posture with Pilates and Yoga,
Master Your Yoga Balance Poses,
Flex your hips and then wind down to get a better night's sleep,
Run Your First 5K, and
Strengthen Your Back are among them.
Contents of "Collections"
The collections will be based on approximately 2,000 studio-style workouts and guided meditations.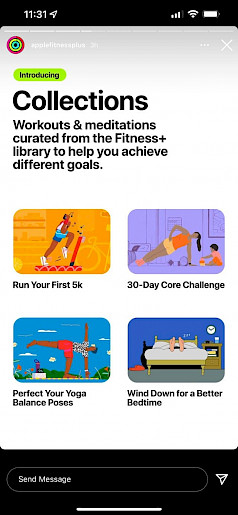 The Collections will offer a different experience for users and help them keep motivated. When it launches, the six collections that will be offered with it will include 30 days of the Core Challenge. Improve your posture by doing Pilates and Yoga.
Perfect your yoga balance poses, start your 5K race to strengthen your back, flex your hips, and wind down to sleep better.
A few Add on's that we will see in Apple Fitness + this year
Time to Walk Season 3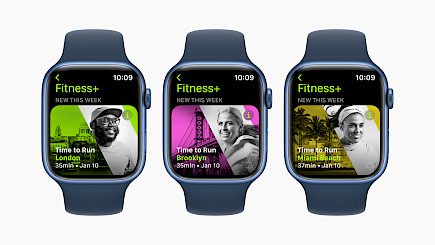 After the huge popularity that was the 2nd season of Time to Walk, which wrapped with a "walk" with Prince William, HRH Prince William, Fitness+ will launch the third installment of its season with a strong list of some of the world's most fascinating and influential individuals.
With 41 guests already featured in the first season, the newest season will begin with writer, actor, and producer Rebel Wilson starting January 10.
Artist Spotlight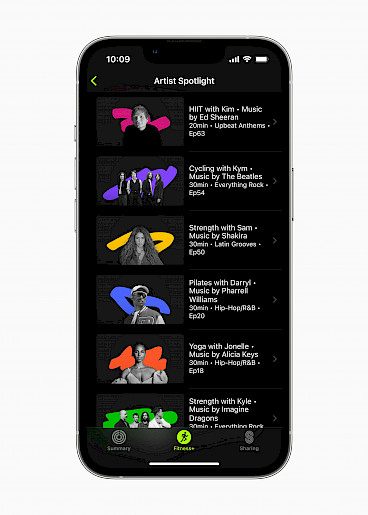 ICYMI, Fitness+ launched its Artist Spotlight feature late last year. The series has dedicated an entire playlist of workouts to one artist and comprises Billie Eilish, Alicia Keys, Nikki Minaj, and Lady Gaga.
Beginning the week after, Fitness+ will add to the popular Artist Spotlight series with new workouts that incorporate songs from Ed Sheeran, Pharrell Williams, Shakira, and the Beatles. new workouts featuring their respective music each week on Mondays for four weeks. They will be available in a variety of workouts, including cycling, dance, HIIT strength, yoga, and others.
Winding-up
Apple Fitness + now offers numerous podcasts, music, and other inspirational videos that will help you guide and assist your workout.
So, if you are thinking of starting to begin the year 2022 on a healthy note, then Apple Fitness + might just be the one thing you need.
You might also like