Apple is synonymous with tech. Since the company was started back in 1976, the only thing they have sold has revolved in and around tech. Thus, it came as a bit of a shock for everyone when they heard that Apple has released a new Apple Cloth for cleaning their devices.
But, why is it in the news? Well for starters, at the starting price of $20 it is the costliest(the costliest cleaning cloth) yet, the cheapest Apple product in the market.
The news:
Apple has recently revealed new gadgets, such as improved MacBook Pro computers and AirPods headphones, in addition to brand new color options for the HomePod Mini smart speaker, in case you didn't know about it.
It also revealed a brand-new product known as "Polishing Cloth." However, it wasn't mentioned in the live stream on Monday.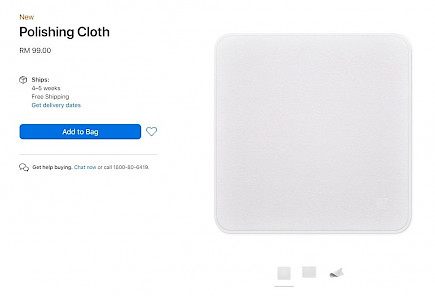 However, it would have been interesting to watch Tim Cook try to wax poetic about the brand new product. However, Apple silently added the fabric to its store online without even a word.
You'll need to shell out $19 for the privilege of getting this Polishing Cloth by Apple. The item is a seemingly soft material and that's all. It is also important to be patient as the item is expected to require a minimum of three weeks to arrive.
The cloth, which sports Apple's logo in the lower right corner. It's made up of "soft, nonabrasive material," according to Apple's product page, and it "cleans any Apple display, including nano-texture glass, safely and effectively." It could even remove dirt from the display of an Android device.
The size of the item isn't known, but it could be smaller than a postage stamp or as big as a towel. However, it's likely to be somewhere in the middle.
If you choose "compatibility," the selection is widened to include almost every Apple product you could imagine. It's a bizarre list, to put it mildly.
You can indeed use it on an older iPod Shuffle, but only the fourth generation as per the directions. It is also possible to use it to cleanse your iPod nano, but until you get the seventh generation, ensure that you keep the towel away from the device.
Necessary precautions while cleaning Apple devices
Only use the softest, most lint-free cloth. Avoid using abrasive towels, cloths, or paper towels, or similar objects. Avoid wiping too often, as it can cause harm.
Unplug all power sources external to your devices, cables, and other sources.
Be sure to keep liquids out of your product, unless specifically stated for the product.
Be sure to keep moisture out of any cracks.
Avoid using bleach, aerosol sprays, or abrasives.
Do not spray cleaners directly on the object.
Winding-up
Since its release, the Apple Cloth has been sort of a laughing stock among tech geeks all over the world. For most people, it is just another overpriced piece of cloth that just has an Apple logo embedded in it. For others, it is the final piece in the jigsaw.
End of the day, it just boils down to one fact... It's not for everyone!

You might also like