It's not the first time that Apple has been blamed for rocketing up the prices on Apple Store.
It has been almost 2 years since the complaints have started coming. First from college students in Asia to gaming giants Epic Games. Apple has made a lot of enemies due to this issue.
But, this Apple has made the big blunder to repeat the same mistake in a land where they were just starting to establish themselves. Yes, we are talking about India.
Indian tech businesses are preparing to take on global tech behemoths, opposing the comparatively high commissions on their app stores.
Right now, Apple is under massive scrutiny for unfair practices.
And here's everything about it…
The News:
Since South Korea became the first nation to adopt a law to limit the power of Google and Apple to make overpayments in their app stores, Indian users have called on the government to pass similar legislation to give app developers the choice to utilize payment methods from local companies, and thus further enhance India's Indian entrepreneurial ecosystem.
Developers and startups in India have been skeptical about the international app market operators with their exclusive in-app payment system.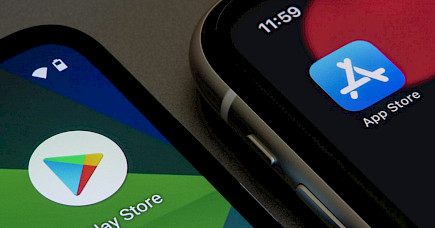 Google and Apple have been under intense investigation into the stifling aspects of their payment systems. At present, Indian tech firms are prepared to face the big players, battling high commissions for the respective apps.
Sijo Kuruvilla George, the Executive Director of the Alliance of Digital India Foundation (ADIF) with over 250 digital startups that include Paytm, BharatMatromony, Innov8, and other founding members, said to Inc42 that the South Korean legislation is a highly welcomed development that sets the standard for other markets and countries such as India.
"This will also make Apple or Google reconsider certain unfair practices they've been engaging in according to the terms of the AppStore and Play Store guidelines," he said.
ADIF has also written a note of support for the legislation proposed.
"Our activities at ADIF were concentrated on creating awareness regarding the issue, and also bringing the voices of entrepreneurs and developers to decision-makers.
According to our sources, CCI, the Indian government (Competition Commission of India) has been aware of the issue.
Based on the latest developments, the ADIF, as ADIF, is looking to re-engage the government on this issue and advocate for similar laws in our country too, "George elaborated.
The situation, George added, also highlights how the problem was not about the figure of 30% in and of itself, "but about the unfairness in the arbitrary and high-handed way these platforms were imposing the option of payment."
In March of this year, Google reduced its fee to 15%, down from 30%, on all in-app purchases made on the Play Store, but four months afterward, the tech giant announced that it would delay the launch of its new in-app bill system until March 2022.
Apple has reached a class-action deal in the US in the last month, involving developers who accuse it of controlling the process of distribution of app content.
The settlement stipulates that Apple has stated that it will permit developers to share data about payment methods other than apps with users, an option that the iPhone maker previously limited.
According to George, up to the moment the discussion was focused on advocacy and bringing attention to the issue, and that it has a significant impact on the app store's users.
Winding-up
As we all know Apple is not a cheap company, nor do their products come cheap.
Thus, it's quite shocking that such a great profit-making company is committing such repeated blunders in the international market.
The feud between Indian tech-realm and Apple might cause substantial losses to Apple as India is one of their main exporters in Asia. But, for now, we expected Apple to deal with swift actions as they will surely not want to lose the prominence they have achieved in India during the last few years.
A loss of confidence from such a big importing country like India could really hamper their sales figures in 2022.

You might also like