In August 2019, Apple introduced the Apple Card, a credit card that is linked to Apple Pay and integrated directly into the Wallet app. Apple has partnered with Goldman Sachs to create the card. It is optimized for Apple Pay but can still be used for any transaction like a traditional credit card. Apple made the card first available to select customers in August, before making it open to all customers later in the month.
How can you obtain an Apple card?
It is easy to sign up for an Apple Card by opening the Wallet app and tapping on the Apple Card interface. Then, follow the activation steps. Because much of the information you require is collected from your Apple ID, Apple Card setup takes only a few minutes of yours. So even if you are in a hurry, you can set it up easily. You may also apply on Apple's website when purchasing a device with the Monthly Installment Plan or on the Apple Card website.
The information required is your first and last name, date of birth, and phone number. Users may be asked to scan their driver's license or state ID. The Apple Card is currently unable to accept vertical IDs.
After you sign up for an Apple Card, your Apple Card will be immediately available to be used for digital purchases. Apple Card availability is subject to credit approval; you will need to be able to qualify for the Apple Card, just as you would with any other credit card. Apple will ship a physical Apple Card, which can be used as a traditional credit card where digital payments are immediately available.
Eligibility criteria for Apple card
You must be 18 years old and a U.S. citizen or a lawful U.S. resident with a U.S. home address to obtain an Apple Card (no P.O. Box).
The Apple Card requires an iPhone running iOS 12.4 or later; Two-factor authentication must be enabled, and your Apple ID must be used to sign in to iCloud on your iPhone.
Using Apple Pay with your Apple Card
The Apple Card is intended to function in combination with any other credit or debit card stored in the Wallet app for use with Apple Pay. You may make it your default card and use it for in-store purchases on your iPhone as well as online transactions on your Apple Watch, iPhone, iPad, and Mac.
Apple Card physical versions can be used to pay for things that are not possible with Apple Pay. Apple has partnered with Mastercard to make the physical Apple Card available wherever Mastercard is accepted.
Fees
Apple claims that there are no annual fees or international fees. Apple claims that late fees are not applicable, but Apple will charge you additional interest if you miss or make late payments.
Late payments will not incur penalty rates or increase interest rates. While you will still have to pay interest on the balance outstanding, late payments won't affect your credit score. Foreign transaction fees are not charged, but Mastercard determines the exchange rate.
Based on your credit score, the Apple Card has an APR ranging from 10.99 percent to 23.99 percent. At that low end, this is lower than the overall national average APR of 17.67%, but it's not as low as some other credit cards.
Apple wants to make the Apple Card as accessible as possible to customers with low credit scores. The Wallet app has tools that encourage users to pay their balances faster to avoid interest fees.
Perks
Rewards System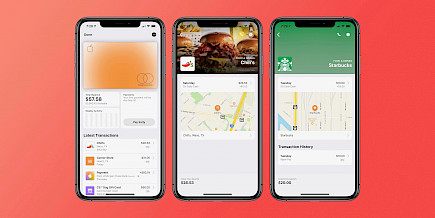 Apple Card users can earn cashback, up to 3 percent per day, through the Apple Cashback Rewards Program. There may be other options depending on your spending habits.
The Apple Card offers 1 percent cashback on all purchases. This is a good deal compared to other credit cards. Apple Pay purchases get you 2 percent cashback. This is a great incentive to use Apple Pay when it's available.
You'll earn 3% back on purchases made at the Apple Store (physical or online). Purchases made from the App Store, iTunes Store, and Apple services are also included.
Due to the partnerships, Apple has made with these companies, you'll also receive three percent back when you use your Apple Card with Apple Pay for Uber, Uber Eats, and T-Mobile.
Daily Cash
The Apple Card's rewards program has a unique feature: "Daily cash"-Apple pays out your cashback bonuses every day, rather than waiting weeks for them to appear on a statement. You will receive your daily cash payouts if you have signed up for Apple Cash, which adds an Apple Pay Cash debit card to your wallet.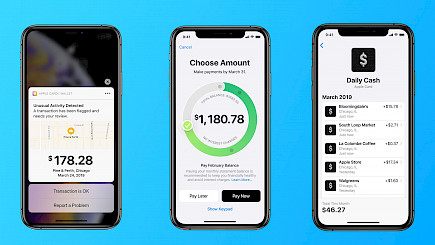 Apple Cash is required to receive Daily Cash. However, if Apple Cash has not been set up, your rewards will still be available on a monthly basis. This credit will appear on your statement balance. Apple says there is no limit to how much Daily Cash you can receive.
The Daily Cash balance is transferred to an Apple Cash card, which is basically an Apple debit card. It can then be used to make Apple Pay purchases, send money to friends and family using the Apple Cash feature within Messages, or transfer to your bank account.
Apple Cash may be transferred to your bank account for free, which takes one to three days. The Instant Transfer option will cost one percent of the amount sent. The instant transfer fee is $0.25 minimum and $10 maximum. After linking a bank account with Apple Cash, transfers can be made in the Wallet app.
Is it worth buying?
Yes, it is worth buying. After seeing these features, we cannot say no to Apple cards. We think if you are willing to take one, you can go for it. It is good with amazing cash prizes, rewards, and much more.

You might also like