The Apple Card is a high utility transaction tool that Apple provides to all of its users who use Apple Pay.
Not different from normal Credit Cards. The Apple Card interface can be used from any Apple device.
You like something, you buy it with the Apple Card and pay the amount later to Apple via Apple Pay or any other cashless method you fancy.
As of now, the Apple Card changes 10.99% to 29.99% interest on any and all purchases. Plus, like any other Credit Card out there, The Apple Card provides exclusive deals and discounts when you buy something from their approved retailers.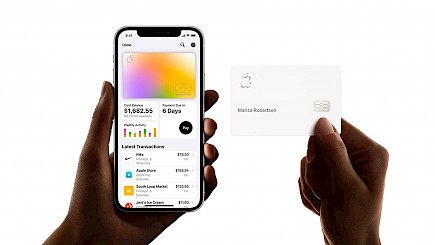 Now, what if you and your partner, child, or parent want to use the same Apple Card?
Well, in that case, you can add multiple card owners to your Apple Card by following these simple steps…
Adding family members to Apple Pay
Now, before you set up a co-owner for your Apple Card you have to first add them to your Apple Pay account.
To set up Apple Pay for your family
Go to Settings.
In the setting go to your Apple ID.
In Apple ID open Family Sharing.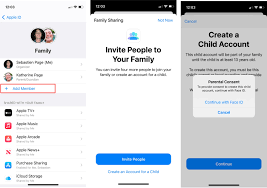 Now follow the on-screen instruction to add new family members to your Apple Pay account.
You can also set up multiple restrictions for any added member to your account.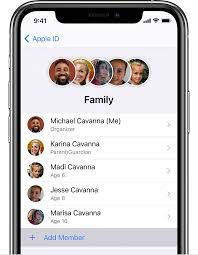 Once you have selected any member they will get the notification on which they have to click any accept certain terms and conditions to join.
Adding co-owner to your Apple Card
To add a new co-owner to your Apple Card:
First, you have to make sure that they are registered on your Apple Pay account as a family member.
Open the Wallet App on your iPhone.
Go to Apple Card.
In the Apple Card menu, tap on the more option located on the top right corner of the screen.
Now click on Share my card.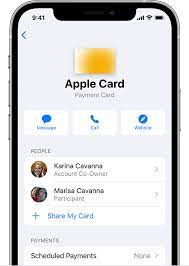 A new screen will open showing various functions you can do with the Apple Card Family setting.
Click continue.
Now choose any family member you want to make the co-owner from the list of people displayed.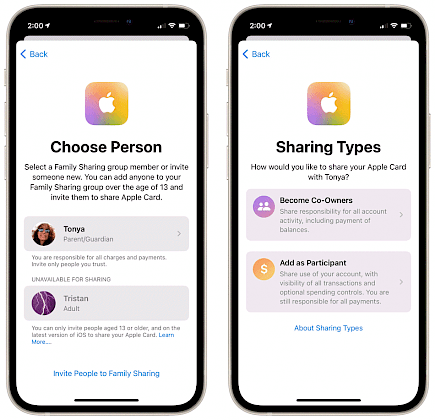 Under Sharing Types select, Become Co-owner.
Now a new window will appear in which you will have to mention your annual income as a part and parcel of Credit Laws. If your annual income is below the desired limit then you might not be able to move forward.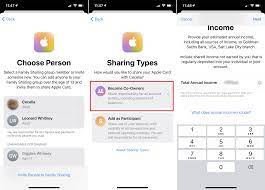 Now click on sent an invite.
The invited person will get a notification by clicking on which they can take a look at the spending limit, interest rates, and more.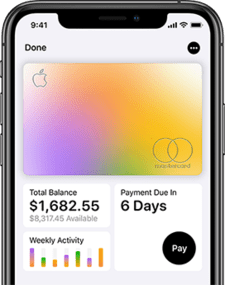 With the co-owner mode, you will be able to keep a closer look at your partner's spending. Any incurred transitions made by the Apple Card will be mentioned to both the owner of the Apple Card.
Winding Up
And just like that, you can add a co-owner to your Apple Card.
Hope you liked the article. We will be back soon with other fun hacks and tutorials, until then. Stay Tuned, Good Day!
You might also like