The App Store has been the go-to location for all iOS users for years. Right now the App Store houses more than 1.96 million apps. A number that is only going to grow in the distant future.
With the new iOS 15 insight, the App Store is subject to a great revamp. So, let us learn more about it...
Have a look at the App store
For the past three years, both Apple and Google have increased the hurdles to entry for developers. They've also removed millions of applications from their separate stores in an effort to enhance the ecosystem's overall quality.
Because Android isn't accessible in China, a number of app shops have sprouted up, including Tencent's MyApp, Huawei's App Market, OPPO's software store, and a few more. In China, they account for about 75% of all app downloads.
As of November 2020, Apple's App Store has 4.3 million applications and games, while Google Play Store has 1.9 million. Apple's App Store has a larger number and percentage of paid apps than Google Play.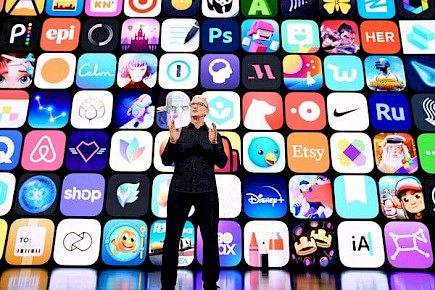 What's the Big Change?
In recent years, Apple has been under ferocious attack for controlling the distribution of the iOS software. A high-profile action against Fortnite developer Epic Games seeks to force Apple to make it possible for either third-party payment systems to be installed inside the iOS App Store or for customers to install third-party application stores.
The firm is also exposed to regulatory pressure, including legislation in the United States and other nations which seek to impose many of the same reforms. While this action featured mainly smaller creators, this settlement has to be adopted by the same court that monitors the case with Epic. In a minute, we are going to get to why it is essential.
To tackle such a problem Apple has thought of a way out. Apple has announced a series of modifications to the App Store that, if approved by the courts, will end a class-action lawsuit filed by US developers. The agreement will make the App store a more lucrative business opportunity for developers while maintaining the trusted marketplace that users love.
According to the terms of this agreement, developers can reveal purchase options outside of their iOS apps. It also establishes a fund to assist qualifying US developers and broadens the price range for subscriptions and in-app purchases that developers can provide. These changes are the latest in Apple's continuing attempts to improve the App Store as a developer and user marketplace.
Increasing Small Developers' Flexibility and Resources
After a constructive dialogue, a settlement of seven major goals between Apple and small developers was concluded between Apple and Cameron et al. This was presented to the judge who chaired this case for approval.
Apple will increase the number of subscriptions, in-app purchases, and paid app pricing points accessible to developers from less than 100 to more than 500. Developers will be able to establish their own rates in the future.
Apple has released many fresh details about the App Store on apple.com over the past few years. Apple agreed to produce an annual transparency report on that information that would share meaningful app review statistics, which would include the number of applications that were rejected for various reasons, the number of client and developer accounts that were deactivated, objective search query and results in data, and the number of apps that were deleted by the App Store.
The goal of App Store Search has always been to make it simple for consumers to locate the apps they want. Apple has decided to continue to base its Search results on objective factors, including application downloads, star ratings, text relevance, and user behavior signals, as requested by developers. For at least the next three years, the present App Store Search mechanism will be in place thanks to the deal.
Apple and the developers decided to keep the App Store Small Business Program in its current form for at least the next three years, demonstrating the program's effectiveness. Larger developers will pay the App Store's regular commission on app purchases and in-app payments, while smaller developers will continue to benefit from the reduced commission.


You might also like