If you have seen or used an Android phone, then I am sure you would have noticed the inconspicuous navigation bar that is present at the bottom of a screen. This bar is usually used for returning to access apps quickly and for other uses as well.
Well, there are many users who love this feature and many others who hate it. This is why we tend to use an iPhone over an Android phone any day. But if you are an iPhone user who loves this Android feature and wishes that iPhone had a similar feature too, then you should check out this newly released jailbreak tweak known as AndroBar by iOS developer Ginsu.
One thing that you would notice about AndroBar is that it appears almost everywhere on the iOS including the Home Screen, Lock Screen, apps, and so on. Another great thing about AndroBar is that it is non-intrusive since it has a transparent appearance and it greatly improves the navigation ability of the Apple's mobile operating system since it comes with a thumb-friendly position on the display.
After installing AndroBar on your device, you will find a preference pane added in the Settings app where you can configure the tweak to customize the options available. Here are a few customization options that you get with this tweak: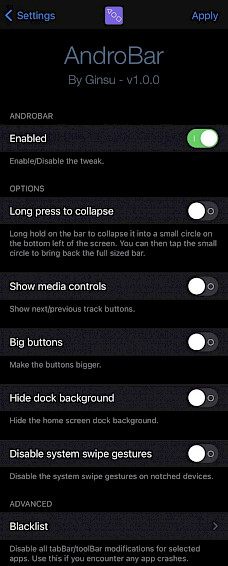 Turn AndroBar on or off whenever you want
Allow or disable the collapsing of AndroBar
Hide or display the media controls of AndroBar
Increase the size of the buttons of AndroBar
Hide the Dock background on your Home Screen
Disable the swipe gestures for the system to prioritize AndroBar
Disable the features of AndroBar in a few applications
One of the things that is really interesting about AndroBar is the ability to expand or collapse AndroBar whenever you like with a simple tap and hold gesture. It is also quite useful as you can disable this jailbreak tweak for a few applications such as the full-screen apps so that you can easily avoid interface conflicts or other problems after a while.
If you are planning to make your iPhone a little easier by including an Android-based navigation bar at the bottom of the handset's display, then you can purchase AndroBar for $1.50 from the Packix repository using your favorite package manager. This tweak currently supports jailbroken iOS 14 devices.
Are you going to add the Android-style navigation bar to your iPhone or are you happy with the way it looks? Let us know your thought in the comment section below!
You might also like