Different jailbreak tools such as Odyssey, unc0ver, and Chimera can easily be installed in several different ways. One of the most popular ways of installing a jailbreak is by using a software utility combo for both Windows and macOS-based computers which is called AltStore and AltServer. AltServer usually runs as a process on your PC, allowing you to install AltStore along with side-loadable apps on your iPad or iPhone that runs on iOS or iPadOS 12.2 or later.
AltStore and AltServer receive updates frequently with a few improvements or new features and yesterday itself, both these software were scheduled to be updated to 1.4.4 version. Project lead developer shared the information about this latest update on the official Twitter account of AltStore and included information on what is important in this update.
Earlier, AltStore version 1.4.4 was only available as a beta version and accessible to a few users only but the yesterday's update is a public release that can be installed by anyone.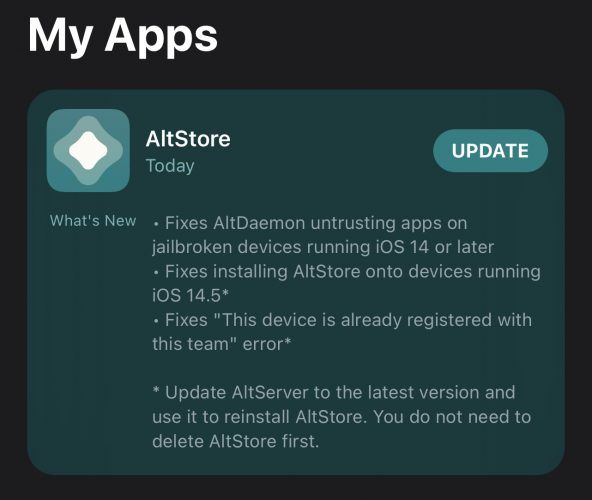 After checking the release notes of AltStore and AltServer, we have figured out the following information about it:
AltDaemon untrusting a few apps on jailbroken devices that run on iOS or iPadOS 14.0 or later has been fixed
Fix for installing AltStore on devices that run on iOS or iPadOS 14.5
A fix for the device already registered with a team error
Getting the new update is quite easy as you simply need to click on the AltStore icon of your Mac's menu bar or Windows PC's task bar and then select the Check for Updates option. You will then receive a prompt to take you through the rest of the steps.
One important thing to remember is that you need to update AltServer on the PC before you can install AltStore on the iPad or iPhone. Seeing that unc0ver recently added support for iOS and iPadOS 14.0 – 14.3 and that CoolStar's jailbreak for iOS and iPadOS 14.0 – 14.3 is nearby, it would be a good time to update both AltStore and AltServer on your PC so that you can enjoy a smooth jailbreaking process.
In case you are not using AltStore right now, then make sure that you download the latest version of it from the AltStore.io website.
So, have you updated your AltStore and AltServer till now? If yes, then do let me know how did it go for you in the comments below!
You might also like