Every year Apple launches numerous products for its users. Each new product is carefully built and marketed until it is finally released. So, it is justified to say - The device you are booking/ buying today is the output of months of hard work and meticulous calculation.
But, every product that Apple works on does not have the same fate. Over the years Apple has had to cancel more than 12 products. Some of them were not ready enough for selling, Some of them were too complex to commercially produce while some of them were just not worth the manhours and investment.
To know more about all the products Apple cancelled over the years. Click "here...
At the end of the day, Apple is a producer and the basic instinct of a producer is to make money from its product. Thus, the cycle of cancelling products is something that Apple has done over the years and will continue to do so in the future.
Today we are going to talk about one such product/ concept that Apple tried to sell commercially but it was eventually cancelled. So, without further ado. Let us know more about - AirPower.
AirPower
AirPower is a wireless charging mat that Apple is yet to release. It can charge up to three devices simultaneously and supports two Qi devices, such as an iPhone, AirPods, and an Apple Watch. It was officially announced on September 12, 2017.
AirPower was originally scheduled for release in early 2018. However, it didn't materialize. This led to widespread speculation about the future of the product. As a result, Apple announced that the release had been cancelled on March 29, 2019.
To give the news of cancellation Apple arranged a big media event. After the media event in September, Apple quickly removed practically all references to AirPower from its website.
Blogger John Gruber, who is known for his strong ties to Apple, claimed to have heard of problems with the device's design: "Something about the multi-coil design being too hot—way too hot." Engineers have looked at AirPower's design and concluded that it couldn't work thermally".
Many Apple devices, including the iPhone XS, iPhone XR, and iPhone XS Plus, still have AirPower listed on their packaging. AirPower was claimed to be in production in January 2019 by many news sites. On March 25, 2019, Apple launched iOS 12.2 with AirPower support. On March 26, 2019, Apple introduced the Wireless Charging Case for AirPods with AirPower. In March, Apple obtained a trademark for the AirPower brand.
"After extensive research, we've determined AirPower would not meet our high standards, and we have terminated the project," Dan Riccio, Apple's senior vice president of Hardware Engineering, stated in an emailed statement to TechCrunch on March 29, 2019. Apple has never before cancelled an announced hardware product, so this was a first for the company.
In 2020, rumours circulated that the project had been revived, and prototyping was underway, reigniting interest in the device. To help with heat control, the prototypes are said to use an Apple A11 SoC.
Later, Apple most probably scraped the idea of AirPower and went with MagSafe chargers. Right now you can buy a MagSafe Duo-Charger that is capable of charging your iPhone and Apple Watch in one go.
The Concept of AirPower
AirPower was built on the Qi standard. Apple intended that it could charge multiple devices at once, which is not possible with the Qi standard of 2018-19. However, Apple was actively working towards improving it.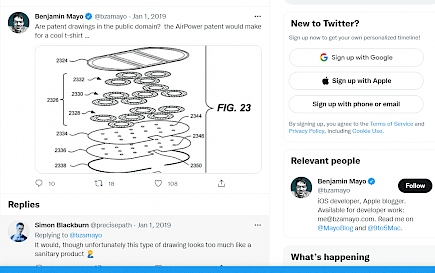 The presence of more than twenty charging coils meant that devices didn't need to be aligned precisely over the coils. The mat could charge any device which was placed directly on it. Unfortunately, the charging coils were too close together and made the charging inefficient. Overheating was one of the main reasons for the product's cancellation.
Will Apple release AirPower in the Future?
According to Bloomberg, Apple is developing a similar device to the AirPower that it abandoned years ago. According to sources close to Apple, the charging mat they are reportedly developing will charge an iPhone, Apple Watch, and AirPods.
As of now, there is no official news about AirPower and its release date. However, there is a little speculation on the internet saying that AirPower may see the light this year. Let's hope for the release of AirPower sooner rather than later.

Hope you all liked this article. Comment your views on AirPower, would it be a better option than MagSafe? And most importantly don't forget to come back for more quality content. Good Day!
You might also like