Spatial Audio was an ingenious idea by Apple which revolutionized the way people listened to music.
Now, with the help of just a few normal mobile devices users could set up an all-rounded sound room that would deliver great music every time. But did you know that AirPods played a very crucial role in this whole journey?
It was the AirPods that helped centralize music to your ears so you could enjoy every small note with laser precision and truly enjoy the pure form of music. So, it should not come as a surprise when we say that the new AirPods 3 have specially designated features that make Spatial Audio even better.
What does Spatial Audio stand for
Apple spatial audio is a way to take 5.1, 7.1, and Dolby Atmos signals and then apply filters for directional audio. This adjusts the frequency that each ear can hear to allow sounds to be placed nearly everywhere inside 3D space. As a result, it will appear that sounds are emanating from the front of you, from the sides, back, and even from above. The goal of the app is to recreate the sound experience of a movie or closed space.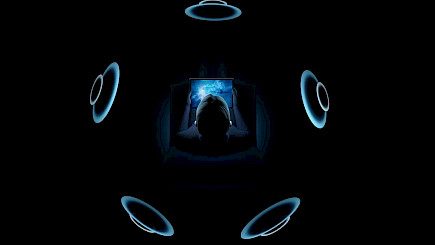 It's not the first technology of its kind. Dolby Atmos for Headphones has been in use for a while and is currently in use, while Sony is using the 360 Reality Audio format for music. In addition, it allows 3D audio to be played in certain PS4 games using its platinum wireless headset and has made a big splash with 3-D sound for its PlayStation 5.
Apple's spatial audio is somewhat distinctive, however, at least in the realm of movie soundtracks. It does not only offer virtual surround and Atmos sound but also tracks the movement of your head with accelerometers and gyroscopes within Apple's AirPods Pro and AirPods Max in order to place the sound in an even more precise manner.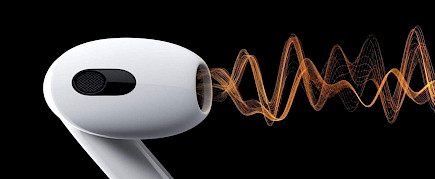 It even tracks the location of your iPhone and iPad when you're watching to ensure that the sound is situated in relation to the display. This means that no matter how you move your head or shift the position of your device, the dialogue will remain connected to the character on screen.
How to use Apple Spatial Audio?
Apple spatial audio was first released as an element of iOS 14 and iPadOS 14. Apple introduced the updated Spatial Audio with Dolby Atmos feature in Apple Music on June 7th, 2021, as part of the free iOS as well as the iPadOS 14.6 updates to the software.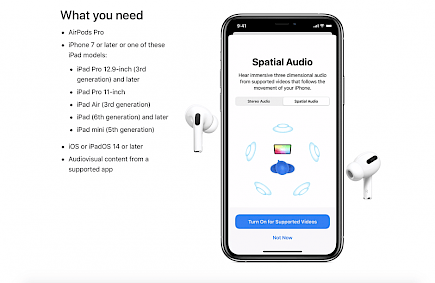 It's important to remember that Dolby Atmos can only be found on Apple devices released after the year 2018. Although you don't require Atmos to hear spatial audio, both working together are likely to yield the most effective results.
As long as an application is compatible with 5.1, 7.1, and/or Atmos, it can work using spatial sound. This includes applications like Vudu, HBO Go, Hulu, and Amazon Prime Video. In addition, Netflix has also supported spatial audio since August of the same year, which means that users with a connected iPhone or iPad and either an AirPods Pro or Max can watch movies and TV shows with surround sound as well as an audio spatial effect.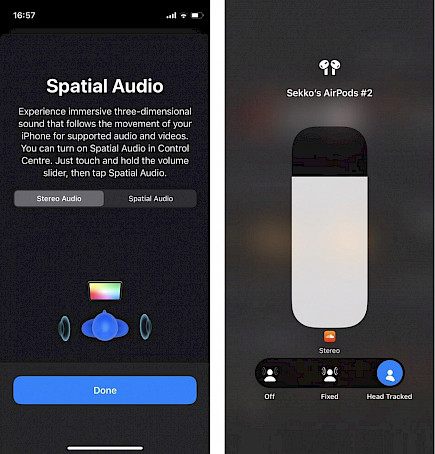 Content on an app that is stereo can be converted into spatial audio. All developers need to do is enable stereo spatialization through the Apple plug-in. Spatial audio will be enabled automatically when you upgrade your smartphone and the AirPods Pro/AirPods Max.
To confirm this, open the Settings app from your iOS device. Then tap the Bluetooth option, and then tap on the 'i' symbol in front of the AirPods Pro from the list of Bluetooth devices. If the icon in front of Spatial Audio is green, it's turned on.
How good is Apple's Spatial Audio?
After giving spatial audio a test using our AirPods Pro and a more extensive test since the AirPods Max testing, we're sure to be satisfied.
The way in which the audio is linked to the screen is extremely efficient, and the added airiness and expansiveness of the sound make for an incredibly cinematic and enjoyable experience. There is an occasional drop-in in terms of clarity and punch. However, it's not too significant, and generally speaking, the use of spatial audio thus far seems to be worthy.
Winding-up
The brand new design and updated interface of the new AirPods 3 help it takes the Spatial Audio experience to a brand new level. Thus, if you want to experience the globally revered Spatial Audio of Apple. Do not waste any more time and pre-order your AirPods right now
This is all for today. We will be back with another exciting topic. For upcoming news articles and updates, stay tuned.

You might also like