After the recent update of unc0ver jailbreak tool, it can easily offer support to iOS and iPadOS 14.3 and below versions. And since this release, we have noticed that a lot of new jailbreakers are planning to take advantage of their pwned handsets to customize and personalize them.
Sadly, Activator tweak by iOS developer Ryan Petrich, that is used to map different gestures to different actions, is not really compatible with iOS or iPadOS 14 yet. So, there are several jailbreakers who are looking for alternative tweak options to do this job.
Well, there is a new and free jailbreak tweak that was released by iOS developer ETHN and is known as ShakeItOff. This jailbreak tweak lets the users to call actions that they want by just shaking their handset. Sounds really easy, right?
If you have used Activator, then you might know that its extension included the Shake n Bake action that does the same thing. So, if you tend to use this feature a lot but aren't able to use it in Activator till it provides support for iOS and iPadOS 14, then this is the perfect tweak for you to download and use.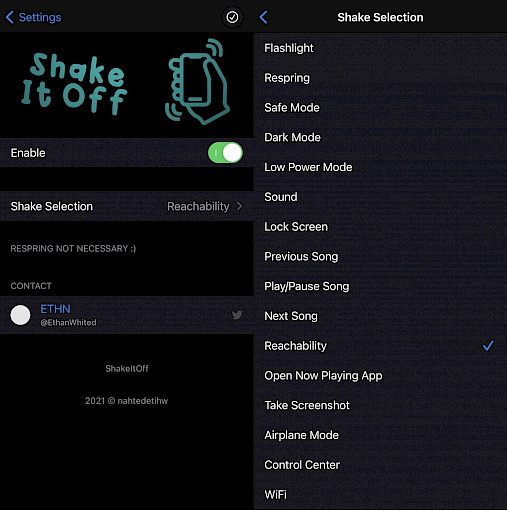 Once you install this tweak, a preference pane will be added in the Settings app which users can use to configure the tweak to their liking. From the Settings, you have the following configuration options:
Turn ShakeItOff on or off on demand
Select the action that will take place when you shake your device such as repsring, flashlight, sound, dark mode, safe mode, low power mode, next song, lock screen, reachability, previous song, take screenshot, play or pause song, airplane mode, Wi-Fi, control center, open now playing app, etc.
Although this list of actions is not as huge as the one that you find in Activator, it is still good enough to cover the basic core functions that users generally assign to custom gestures.
And the best thing about ShakeItOff is the timing. Until Activator comes with support for iOS and iPadOS 14, this tweak will offer temporary relief for you and you can easily download it for free from ETHN's repository using your favorite package manager. This tweak supports jailbroken iOS 13 and 14 devices right now.
Will you be waiting for Activator to provide support for iOS 14 devices or will you be giving ShakeItOff a try? Let us know in the comments below!
You might also like