Is your iPhone running slowly? Considering how much time we spend on our phones, a sluggish iPhone is really inconvenient. Over time electronic components, when subjected to a lot of use show signs of degradation and slowing down. Most of the time the problems are internal. Sometimes the processor might be too overworked. While in other cases the software components tend to create performance issues.
In most cases the slowing down of your iPhone could be due to the following reasons:
Storage space is being clogged by bloatware and other useless files.
You are not using the most recent iOS version.
You have a bad internet connection (weak Wi-Fi signal).
Extreme weather has exposed your iPhone.
Your iPhone settings, including brightness and motion displays, are not optimized.
Your iPhone's battery is deteriorating.
Apple's "performance management" can affect your iPhone model.
Many people might want to make their old iPhones better rather than buy a new iPhone. Are you one of those looking for ways to make your iPhone better rather than buying a new iPhone? If you are, this article is just the right thing for you. Follow this article till the end to find out various ways you can make your old iPhone better. In the latter part of the article, we are also gonna share a few iPhone 12 tricks which you might not know. So, without any delay, let's start today's topic
Top 6 ways to make my old iPhone better
1. Restart your iPhone
Have you tried turning it back on and off? You can speed up your iPhone by restarting it.
To start your iPhone again:
Hold the side button on your right-hand side of the phone.
To power off, gently swipe right on the slide.
2. Check for the latest updates
Slow iPhones may be sped up with a simple iOS upgrade. Install the newest iOS software to give your lagging iPhone a boost. When new iOS upgrades are published, people frequently complain about performance issues with their existing iOS version.
Here are the steps to check for iOS updates.
Open the Settings app.
Scroll down, general.
Tap Software Update to instantly display the "Checking For Update..." message.
You will see the latest iOS version and an option to download it or learn more. To continue, tap Download and Install. Follow the prompts for password information to complete the installation.
3. Turn off location services
Location services are required by many apps. If Apple Maps can not locate you, it won't be able to take you home. Without GPS coordinates, ride-sharing apps can not track a ride in real-time. These location services do not need to be available 24/7.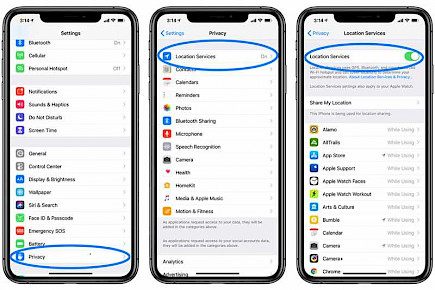 Conduct a location permission audit if your iPhone is slow. It is important to quickly identify which apps are using location services and which can be turned off completely. You can also switch apps "while using the app."

To disable or modify location services.
Open the Settings App, then Privacy and Location Services.
Decide if location services should be turned off completely or for a select few apps.
You can toggle the Location Services option between green and grey to disable Location Services on all apps.
To disable Location Services for specific apps, locate the app and tap its name. You can choose between Never, Ask Next Time, or While Using the App.

4. Scan your iPhone for malware
Malware is one of the most concerning causes of a slowing iPhone. iPhones, while not as vulnerable to rogue applications as Android smartphones, can still be infected with malware, (though this is extremely unusual). Malware infestation is significantly more likely on jailbroken iPhones.
AVG Mobile Security for iPhone and iPad is a robust and lightweight cybersecurity app built particularly for iOS that will make your iPhone run quicker and smoother.
5. Check whether your internet connection is stable or not.
"My iPhone is slow" often refers to "the internet on my iPhone is slow". How can you make your iPhone's internet speedier? Slow internet is not usually a problem with the iPhone, but with the Wi-Fi network or mobile data connection.
These are some ways to determine the reason for your iPhone's slow internet speed:
Stable internet connection
An immediate drop in internet speed will occur if your Wi-Fi connection drops. Check that your Wi-Fi icon shows a strong connection. You should try turning off your Wi-Fi and then switching it on again. If this doesn't work, you can move closer to your router to try switching to mobile data.
Do a speed test
An online speed test can quickly check your internet connection upload and download speeds. This is a great way to verify that your internet service provider is providing the speed you need. However, Wi-Fi connections will be slower than direct Ethernet connections. Many speed testing providers offer standalone apps that can be used on iOS and other devices.
Click "here" for a free speed test of your cellular/ wired data.
6. Free up space on your iPhone
Are you a photographer who took a million pictures today? Are you a WhatsApp group chat member with massive video files that you don't know about? Are you having problems with your iPhone's speed due to bloatware and junk files? You are now ready to clean your iPhone.
Begin by deleting unwanted photos and videos. Next, delete unused apps. This extra weight can help your iPhone run much faster. Remember, that if you are hiding an app on an iPhone does not free up storage space.

And these are the simple steps you can take to improve the performance of your sluggish iPhone.
You might also like