It's not been a month since the Airpods 3 have been released but, they have already stirred up the market by being one of the most pre-ordered devices in Apple's history.
But, the wholesome experience of Airpods does come with a heavy price tag. One which not everybody is willing to pay. Thus, today we have brought to you a list of the 5 best alternatives for AirPods 3.
So, sit back and enjoy the journey...
The Amazon Echo Buds (2nd Gen) are designed in a different way than AirPods. It's designed in a different way from AirPods and doesn't follow a one-size-fits-most approach. Instead, it focuses on an ideal fit. It features ear tips made of silicone as well as ear stays.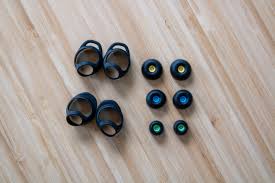 It also comes with an ear tip that's the best fit in the Alexa app. The app has a range of additional features, including an equalizer and active noise cancellation adjustment, workout information and enabling wake words, and many more. The earbuds are also equipped with all the Alexa features you can ask for, which is another reason that makes this product stand out.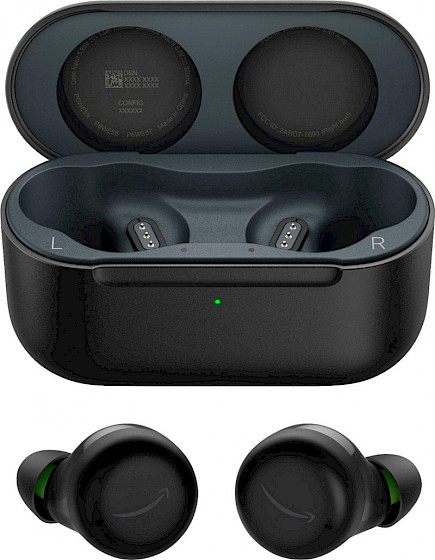 If you've found a good connection with your earbuds, the active noise cancellation feature can effectively block out the sound of traffic or planes. In addition, the earbuds are passively isolated, which will silence people's voices, although it will not eliminate them completely.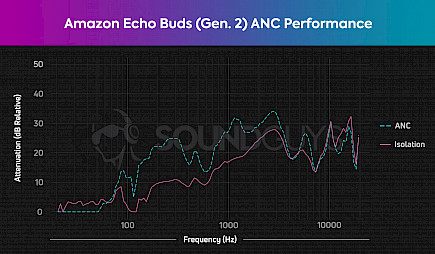 A single charge is enough for the Amazon Echo Buds (2nd Gen) to last 4 hours 42 minutes, as long as you're playing music with 75dB. In addition, it is an approved IPX4 rating, which allows the mono mode with both earbuds and features voice assistant capabilities. The price of the Amazon Echo buds is $119. At this price, the headset is an excellent AirPods alternative.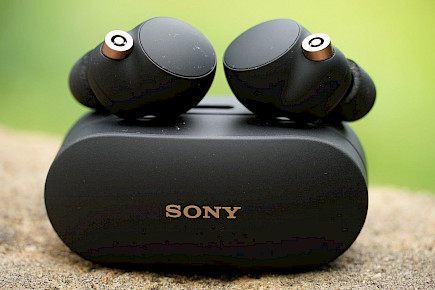 These earbuds have an IPX4 rating, as well as Voice Assistant support. Additionally, you can access additional features like an ear tip test, changing the mapping of the control knobs, and EQing (it is a process of changing the balance of different frequency components in an audio signal) the sound quality using the Sony Headphones Connect app.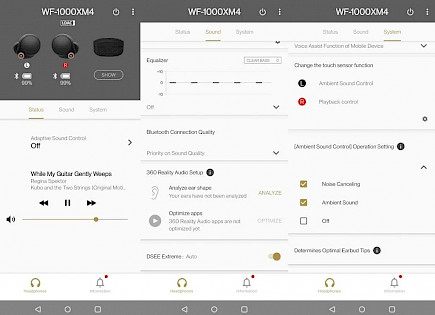 The WF-1000XM4 is a great model for noise cancellation (for truly wireless earbuds), and the quality of the sound is excellent. However,. However, the default sound quality is odd. The Sony headphones utilize Bluetooth 5.2 and are actually one of the first headphones to support this. This means that they can be compatible with all the codecs included in the 5.2 stacks, including LE audio.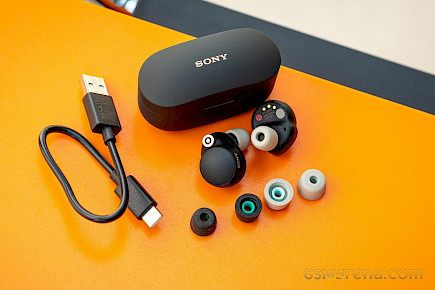 The battery life is quite good. It clocks in at 7 hours, 43 minutes of listening time with ANC activated. However, you'll get more juice from it if you do not use the ANC. The charging case can also hold more juice, which brings the battery's lifespan to approximately 24 hours. It's priced at $279. You will get the value you pay for with the Sony WF-1000XM4.
The Powerbeats Pro is the headset that can take you on a workout or a run. The hook design secures the headphones to your ear. Furthermore, its IPX4 rating makes the headphones waterproof, which is more than what you can say about the AirPods.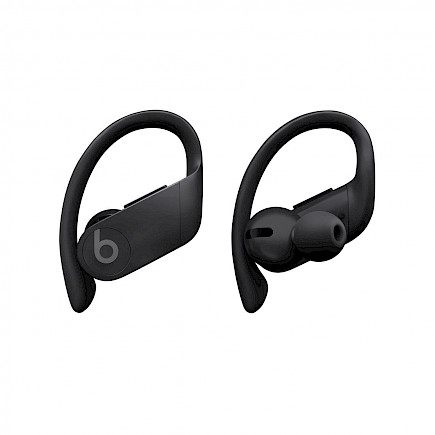 There are also all the other things you'd like from AirPods, which you can also find with the H1 chip built into the device. It's easy to pair on iOS, and it's not too bad on Android as well, and the quality of the connection is excellent, which means you won't encounter any annoying drops or stutters during your playback music.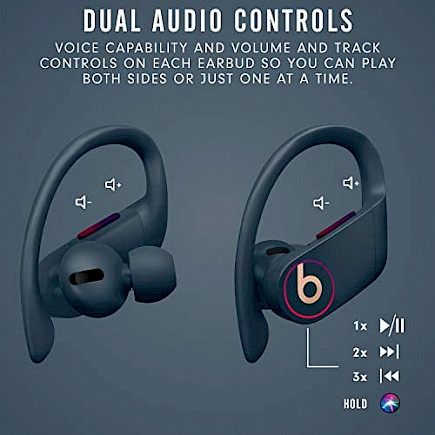 The Powerbeats Pro sounds pretty good, at the very least when compared with the other Beats headsets. It still offers a consumer-friendly boost to the lows, but it's also not too loud at all. It is priced at $170.
The Samsung Galaxy Buds Pro operates on Bluetooth 5.0 and, if you own a Samsung phone and Bluetooth 5.0, you'll be able to use this Buds Pro over the AirPods because it has the Samsung Scalable Codec.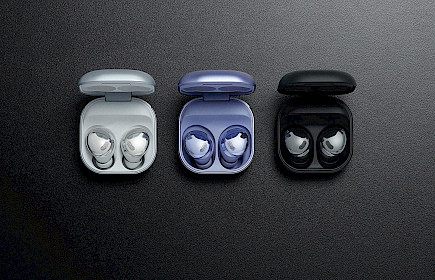 The device also supports the AAC codec that is available to iPhone users, but it doesn't have an integrated H1 chip. If you don't have a Samsung Android device, you are still able to stream via AAC. However, its stability is dependent on the Samsung device hardware.
The AAC headphones do not support Bluetooth multipoint. However, they allow automatic switching between Samsung Galaxy sources, which are all associated with the Samsung account.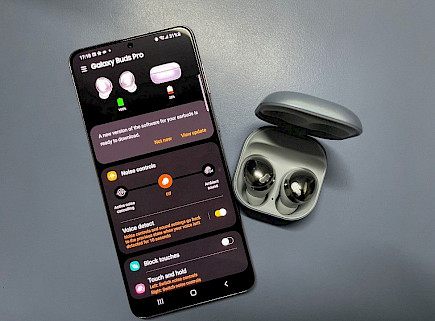 Buds Pro has a solid mic system that delivers clear audio. Each earbud features a mesh piece that covers the microphones, which helps reduce the sound of the wind. This can be useful when you are taking calls in an open area. In addition, these earbuds are compatible with voice-activated Bixby in the event that you own a Samsung phone, but only if you install the Samsung Galaxy Wearable application.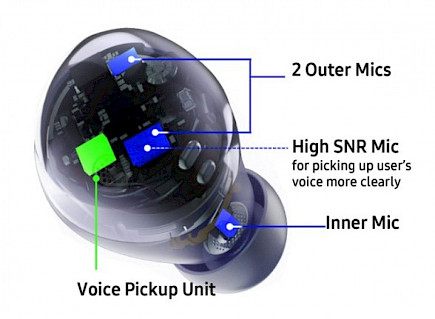 It is the longest-lasting pair (on battery) of Samsung Galaxy Buds to date, as evidenced by its IPX7 rating. The earbuds can last for nearly 5 hours on one charge, and the case offers an additional 13 hours of use. If you don't require noise cancellation headphones, you might want to consider an alternative like the Samsung Galaxy Buds Plus. It is priced at $199.
Every earbud features an electronic panel that can be used to control playback and other functions, and these controls are changed using the free Soundcore application. The app can also be used to equalize the sound, something you'll need to do as these drivers are very bass-heavy.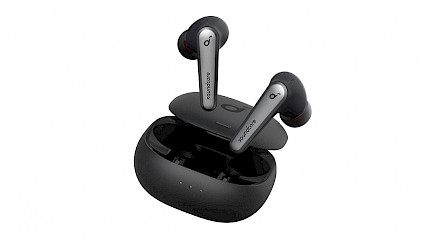 The battery life is typical, with 7 hours and 5 minutes of listening time on one charge, and fast charging is available. For example, inserting the earbuds in the case for 10 minutes gives you 2 hours of music. After the case has been drained, it can be recharged using the USB-C cable that comes with it or on top of a Qi wireless charging pad. It is priced at $130.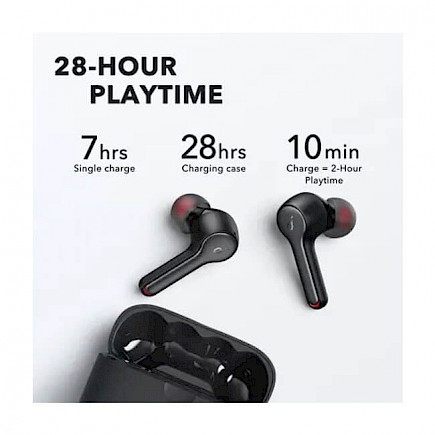 Winding-up
All of the above-mentioned devices offer premium quality sound at a price that isn't going to burn a hole in your wallet like the Airpods.
So, keep your eyes open if you ever find any one of them for sale, and do not forget to check Amazon for more great Earbuds at varying price ranges.
You might also like