Start DisplayCAL download now, for free!
What is DisplayCAL?
DisplayCAL (dispcalGUI) is a GUI for the display calibration and profiling tools from an open source color management system - Argyll CMS. The software offers support of colorimeter corrections for different display device types to increase the accuracy of colorimeters.
DisplayCAL is a display calibration and profiling solution with a focus on accuracy and versatility. The software uses ArgyllCMS, an open source color management system, to create calibrations and profiles, take measurements and for a variety of other advanced color related tasks. ArgyllCMS is automatically downloaded when DisplayCAL starts. dispcalGUI can be downloaded for free. Windows, Linux, and Mac are supported.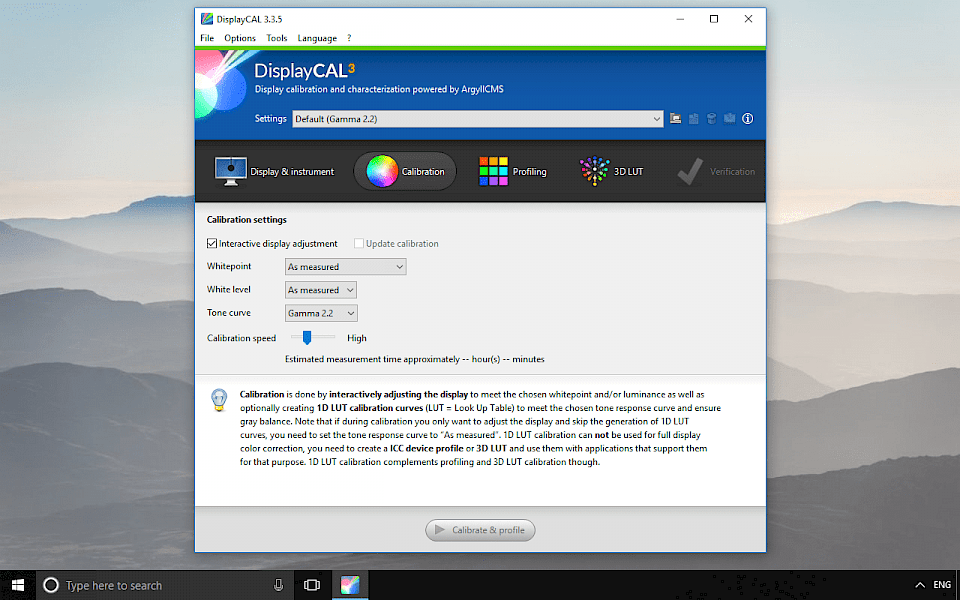 Using the software you can calibrate and characterize your display devices using one of many supported measurement instruments. With support for multi-display setups and a variety of available options for advanced users, such as verification and reporting functionality to evaluate ICC profiles and display devices, creating video 3D LUTs, as well as optional CIECAM02 gamut mapping to take into account varying viewing conditions.
Moreover, DisplayCAL features include the option to import corrections from vendor software or created from measurements if a spectrometer is available, check display device uniformity via measurements, create synthetic ICC profiles with custom primaries and create charts with any amount and composition of color patches.
DisplayCAL supported colorimeters
CalMAN X2 (treated as i1 Display 2)
Datacolor/ColorVision Spyder 2
Datacolor Spyder 3 (since ArgyllCMS 1.1.0)
Datacolor Spyder 4 (since ArgyllCMS 1.3.6)
Datacolor Spyder 5 (since ArgyllCMS 1.7.0)
Hughski ColorHug (Linux support since ArgyllCMS 1.3.6, Windows support with newest ColorHug firmware since ArgyllCMS 1.5.0, fully functional Mac support since ArgyllCMS 1.6.2)
Hughski ColorHug2 (since ArgyllCMS 1.7.0)
Image Engineering EX1 (since ArgyllCMS 1.8.0)
Klein K10-A (since ArgyllCMS 1.7.0. The K-1, K-8 and K-10 are also reported to work)
Lacie Blue Eye (treated as i1 Display 2)
Sencore ColorPro III, IV & V (treated as i1 Display 1)
Sequel Imaging MonacoOPTIX/Chroma 4 (treated as i1 Display 1)
X-Rite Chroma 5 (treated as i1 Display 1)
X-Rite ColorMunki Create (treated as i1 Display 2)
X-Rite ColorMunki Smile (since ArgyllCMS 1.5.0)
X-Rite DTP92
X-Rite DTP94
X-Rite/GretagMacbeth/Pantone Huey
X-Rite/GretagMacbeth i1 Display 1
X-Rite/GretagMacbeth i1 Display 2/LT (the HP DreamColor/Advanced Profiling Solution versions of the instrument are also reported to work)
X-Rite i1 Display Pro, ColorMunki Display (since ArgyllCMS 1.3.4. The HP DreamColor, NEC SpectraSensor Pro and SpectraCal C6 versions of the instrument are also reported to work)
DisplayCAL download
You can download DisplayCAL 3.7 for Windows Mac, and Linux.
Version history
New features and improvements added to the newest version of software are available in DisplayCAL changelog where you can find all highlights from the official release notes.
DisplayCAL 3.7
URE Full field pattern insertion option for selected pattern generators (madTPG*, Prisma and Resolve).
*madTPG on Windows requires using a modified version of ArgyllCMS.
Chromatic adaptation control for the synthetic ICC profile creator.
Resolve HDR 3D LUT preset (SMPTE 2084 hard clip, no tonemapping).
Show a column with the spectral resolution and range of the reference measurements when listing colorimeter corrections from the online database (if available).
Improved support for (3rd party) profiles with chromatic adaptation transforms other than Bradford, e.g. for use as 3D LUT source profiles.
Early abort when cancelling video level detection measurements.
Early abort if connecting to madTPG fails.
Updated simplified chinese translation (thanks to Mars).
If using madTPG and continuing from interactive adjustment to iterative grayscale calibration, wait three seconds after switching to fullscreen and exclusive fullscreen respectively, to give the display time to complete the switch, before commencing measurements.
Show messages from instrument related popup dialogs during measurements on the madTPG on-screen display as well.
Hue preservation less than 100% for HDR SMPTE 2084 3D LUTs with roll-off tonemapping now only affects red-orange/orange/amber hues (i.e. match madVR's "color tweaks for fire & explosions").
Verification: Before attempting to create a measurement report, automatically check the PCS to device table resolution for LUT profiles if necessary and warn about low resolution tables.
3D LUT verification: When using a different whitepoint target for a 3D LUT, use the altered source profile as simulation profile for verification.
3D LUT verification: When creating a self check report, automatically use the device link profile.
Measurement report: Show weighted ΔL, ΔC and ΔH for ΔE*94 and ΔE*00.
Measurement report: Signed values for ΔL*76, ΔL*94, ΔC*76 and ΔC*94 are now always relative to the nominal values (match ΔE*00 and ΔICtCp).
Measurement report: Measured vs display profile whitepoint is now a purely informational statistic, no longer a pass criteria.
When creating a colorimeter correction, allow selecting a display manufacturer via autocomplete if not set.
COSMETIC Minor UI spacing adjustments.
For HDR 3D LUTs with SMPTE 2084 (hard clip) tone curve, set the mastering display peak luminance in the simulation profile description to the target peak.
macOS: For iMacs, use the model identifier as display description.
DisplayCAL Alternative
If you are looking for more alternatives to DisplayCAL software please visit our list of the best DisplayCAL Alternative. Read short software description and access free download links. DisplayCAL can be replaced with other software solutions. Try them for free.