Start Avant Browser Ultimate download now, for free!
Category: Web browsers
Version: 2018.7
Last update: Sep 20, 2018
OS: Windows
License: freeware
What is Avant Browser Ultimate?
Avant Browser 2018 has three rendering engines built-in: Trident, Gecko and Blink, the engines behind Internet Explorer, Mozilla Firefox and Google Chrome respectively. It offers a built-in download accelerator, allows to activate split view and allows to save favorite websites in the cloud service.
One of the most interesting features offered by the browser is split view mode. The user can simultaneously view two pages. For example on one page play a video and on the other edit or view content. Avant Browser Ultimate has also been integrated with Avant Downloader offering such features as resume downloads, set the download speed limit and the ability to split download data file into segments.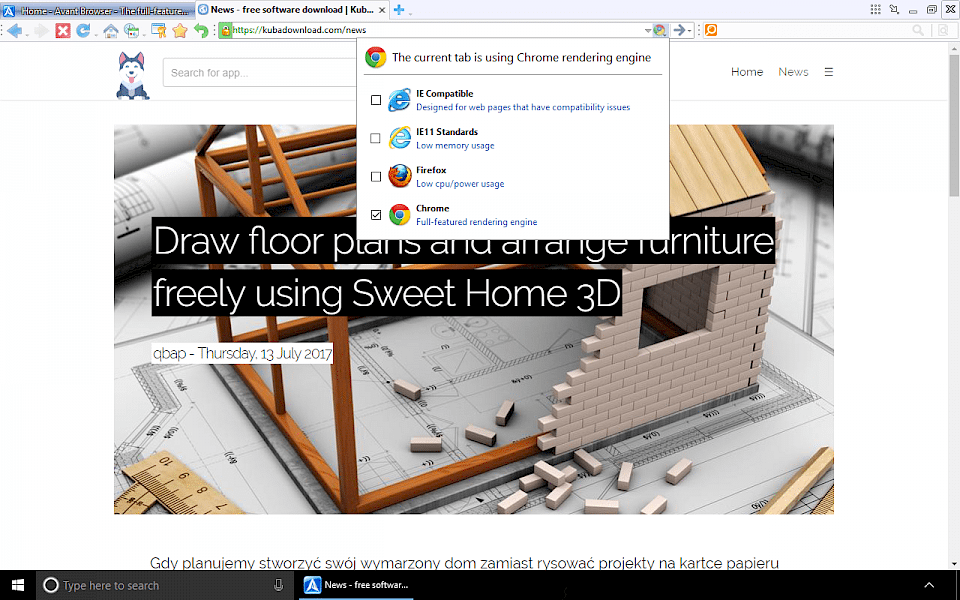 Avant Browser Ultimate 2018 also offers a built-in RSS reader, support for mouse gestures, full-screen mode, a system to automatize login into online services, private browsing mode, a function for downloading videos and much more. Split view adds to Avant Browser's multitasking functionality by providing an easy way to view multiple different websites at the same time. Watching to online videos while reading the web news is a prime example of how Avant Browser's split view interface can be used.
As provided by the developer the browser was optimized in terms of performance and the use of the most popular rendering engines side provides maximum support to the sites you visit. If for some reason a particular site does not display properly you can just switch to a different engine from the address bar.
Avant Browser Ultimate download
You can download Avant Browser Ultimate 2018.7 for Windows .
Avant Browser Ultimate Alternative
| Software | License |
| --- | --- |
| Maxthon Browser the browser with built-in Passkeeper, Mail Client and Note. | freeware |
| Mozilla Firefox is one of the best Desktop web browsers. | MPL |
| Chromium Browser the open-source projects behind Google Chrome. | BSD |
| Vivaldi great replacement for users loving Opera 12. | freeware |
| Google Chrome a fast, secure, and most popular web browser. | freeware |