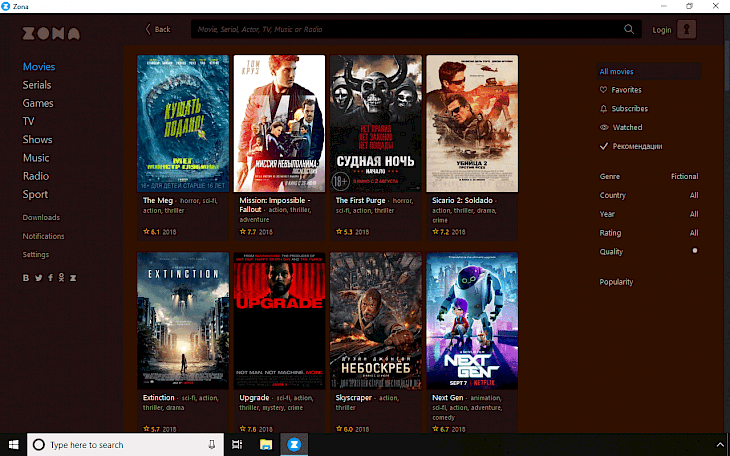 Download Zona
Zona is a free platform to watch movies, TV Shows, broadcast TV channels in real-time, play music from social network VK, listen to online Radio streams, and even watch live sports events. Download torrents with Zona and watch them before the download is complete.
Zona can stream or download movies, switch audio languages, offers support for subtitles and an option to send videos to DLNA supported devices. You can easily navigate through categories, search for serials, movies, music, games etc.
When you download Zona and install it you can also follow your favorites shows and notify you when new episodes will air. You have an option to download entire seasons of TV Shows as well.
You can choose quality, size, audio, and subtitles.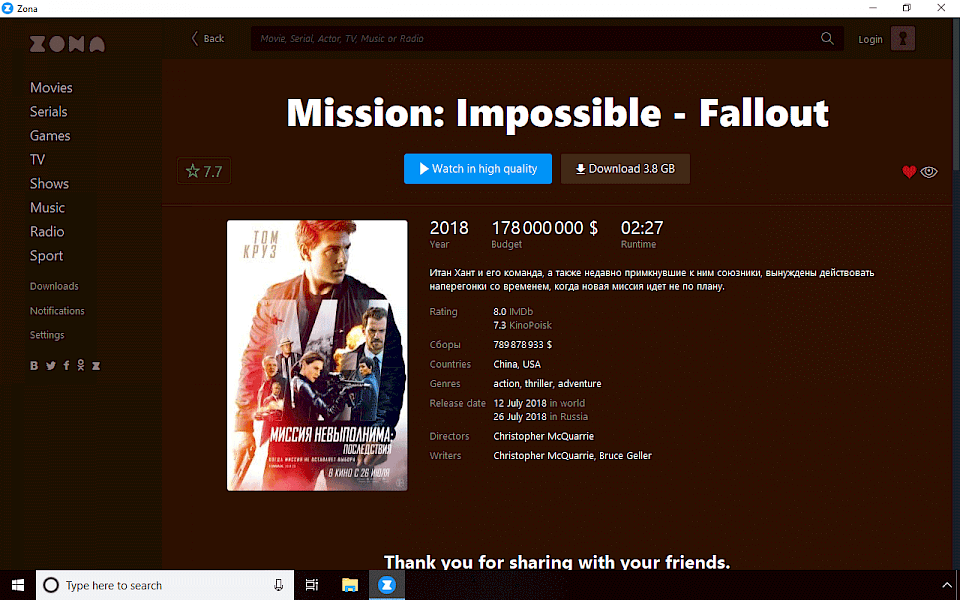 Zona is not only a Torrent streaming app offering access 90.000 Movies, and 10.000 Series, but also a software to watch broadcasted TV Channels in live mode.
No additional devices needed.
Channels are subdivided into categories: from news and education to kids and adult. The line-up is also shown here. Music aggregated in the app comes from VK. You can play it or download audio with one click and copy to a USB drive.
Listening to the radio is also possible using the software. The database offer access to over 550 stations.
Zona offers an option to download or watch sports events including football, hockey, basketball, tennis, v-ball, boxing and other sports. Zona download is available for Windows only.
Sport and Radio
Zona allows you to watch live sport events directly in app. Watch soccer or hockey games in full screen mode, separate window, or in Zona interface. Every sport event is available live. Zona displays the time when it will air, with an option to send you notification so you will not miss the game.
Zona can also play Radio station. We can choose from stations available in USA, Germany, Poland, Russia, Spain, Brazil and more.
TV Channels

From TV section available in Zona we have access to hundreds of TV Shows including MTV, Fox, Paramount Channel, Discovery Science, BBC News, Discovery Channel, CNN, AMC, Disney Channel, History Channel, National Geographic, Carton Network, Eurosport 2, Travel Channel, and more. All channel from Zona TV are available in Russian or Ukrainian language.
Games
Zona offers an option to download variety of games. The list is long and starting with the most popular games available in Zona we should mention World of Tanks, War Thunder, IDLE Pokemon, The Sims 4, Fallout 4, Grand Theft Auto 5, Star Trek: Alien Domain, Euro Truck Simulator 2, Mafia 3, Dying Light, No Man's Sky, Xcom 2, Minecraft: Story Mode, Mortal Kombat X, Civilization 6, PES 2016, Skyrim, Mad Max, Assassins Creed, Farming Simulator 17, Call of Duty WWII, Far Cry 5 and much more.
Games available from the app can run on Windows or PS4.
Overall, Zona is a great free software allowing you to view and download movies on the Windows system. To start you need to download Zona and install it on your PC. When you will open Zona app you will have access to thousands of movies and TV-Series that you can watch online or download to your HDD.
From Zona settings, you can choose quality, size, audio, and subtitles. The streaming video app is available only for Windows users. I like also that Zona download features include an option to broadcast TV channels, this way you can watch soccer games and more. The developer is releasing a new version of software frequently, mostly fixing bugs.
You might also like