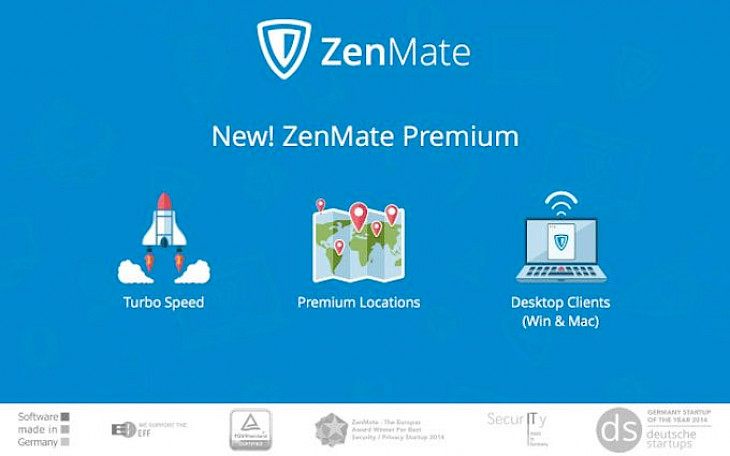 Download ZenMate VPN
With the increase in malware websites and viruses, VPN demand is also increasing at a rapid rate. If you are worried that malware and viruses and looking for a useful VPN, then enjoy complete online security and secured internet access with ZenMate VPN. This secures a global VPN network that provides high VPN speed and a secure surfing experience to the users.
These easy-to-use VPN tools overcome geo-restrictions and provide easy access to all of the content available on various online platforms. ZenMate VPN is a famous and widely used virtual private network software with more than 40 million existing users. This VPN is a user-friendly cyber-security solution that protects your personal information and unblocks your favorite streaming content.
FEATURES
Effective security
This excellent and useful VPN software launches to your desktop in just a few clicks and automatically started when you turn on your computer. ZenMate provides adequate security to its users by connecting them to a worldwide network of highly secure proxy servers. Whenever you perform any online activity, it will start its work and protect your identity.
Access all the content from anywhere
ZenMate VPN has a wide range of worldwide networks of proxy server locations. You can select your preferred location to access any content available on the internet. Switching from one location to another is also convenient to protect your data by using this useful application.
Hide your IP
This VPN allows the user to hide their original IP address and use another IP address to access the content. ZenMate enables the user to quickly change their IP address so that no malicious or third-party website can track their online activity.
Public Wi-fi Protection
While using public wi-fi, there will be more chances that your device may get hacked or attacked by malware and viruses. To avoid this situation, this secured VPN provides top-level encryption that keeps your information and passwords safe.
How to Install ZenMate VPN on your PC?
This excellent VPN uses advanced military-grade encryption technology to encode your internet traffic so your data will be secured and impossible to intercept. This fantastic VPN will allow the users to surf anonymously and bypassing censorship on different sites.
You can download this virtual private network on your Windows 7, 8, 10 operating systems by following a straightforward procedure.
You can download the PC version of the Zenmate VPN directly from its official website.
Alternatively, open your browser and search "Download ZenMate VPN for Windows" in the search box.
Once the downloading is completed, click the setup or .exe file twice to start the installation process.
Follow the instructions and guidelines very carefully.
When the process is finished, the ZenMate VPN icon will appear on the desktop.
Click on the icon to run the application on your operating system.
You can enjoy secure surfing once it is successfully installed. ZenMate VPN has server locations in more than 37 countries worldwide. It offers a 7-days trial version. After that, you can pay for the subscription plan if you want to continue the services of this fantastic Virtual private network software.
You might also like