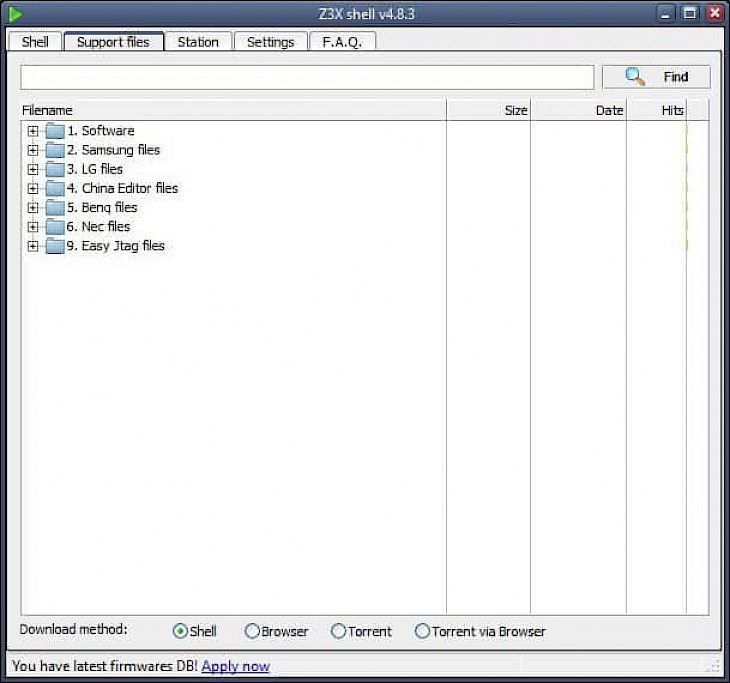 Download Z3X Shell
Z3X SHELL is designed to be a specialized tool for Microsoft Windows that provides users with developer-level access to different kinds of smartphone brands that include LG and Samsung. The application is just a part of a larger package that is developed by the z3x team which comes with a physical box and also a card that unlocks the entire potential of the software. The core functionalities that z3x shell possess is that it enables access to the protected software area, which is in the operating system and then enacts change to only in Android OS. It also removes its configuration to its default state, or it may even completely wipe away the phone from all the data it has and prepare the device for a new version of the operating system. Users can also make use of this application in order to remove locks from a number of various kinds of Android smartphone and also tablets.
Features of Z3X SHELL
Support Files Tab: This feature allows users to have online access to a depository of utilities, a tool that also includes recovery tools, software that is written for a wide array of a compatible number of handsets, and custom firmware. All these files are then organized in a large kind of directory library which comes with built-in tools that allow users to download files with a number of methods that can occur directly inside the app, through torrents or even on a web browser.

Supports Multiple Brands: The software allows to work on multiple brands, including a number of devices like Samsung, which also comes on GSM phones. The user can use to the tool to download Samsung files, NEC flash files, Samsung combination files, Updates for Z3x, LG smartphone firmware, LG Flash files, Samsung clone flash files, Latest setup for Samsung Z3x Tools, Z3x Tool Pro, USB drivers of Samsung, etc.

Easy Installation Methods: The software is designed to allow users to have an easy installation method and make it ready for access to PC files in order to repair, carry out tests, debugging, work on latest operation for upgrading smartphones, update their firmware, etc. The software also enables users to control device files or drivers that come right from the internet and also flash a ROM or to any other technical operation.

Free Access: The software comes with freeware licenses for a Windows 32-bit operating systems for both laptops and PC, which is presented for all users as a free trial only for a specific period. The free download comes with potential restrictions and belongs to the mobile phone's category.

Compatible with Windows: The software is made compatible with a number of devices and also comes with special compatibility with Windows 10, Windows 8.1, Windows 7, Windows Vista, and Windows XP. These operating systems are mainly used to run the app smoothly and reliably. The application requires a 32-bit and 64-bit setup to install in the user's computer.
Installation Requirements for Z3X SHELL
To install the Z3X SHELL on PC, make sure that the following requirements are met by the user in the PC desktop.
PC – Make sure that your PC is on Windows 7 or higher with at least 4 GB of RAM.

Compatibility Mode is enabled.
How to Download Z3X SHELL on Windows
Follow the below steps to download and install the Z3X SHELL on your PC:
Go to Z3X SHELL's website, and go to Downloads.

Click on Download Now.

Select 'Save' to download the program. The file will be saved in the Downloads folder.

If you want to save in a specified folder on your desktop, then click on 'Save As' and select the folder you want the program to be saved.

After the download is complete click on the .exe file.

The installation process will start.

Run the installation package.

Wait until the update completes

Follow the Windows installation instructions and select options accordingly.

Click on Finish to complete the installation.

The program icon will appear on the desktop.

Select the icon to start the application.
You might also like