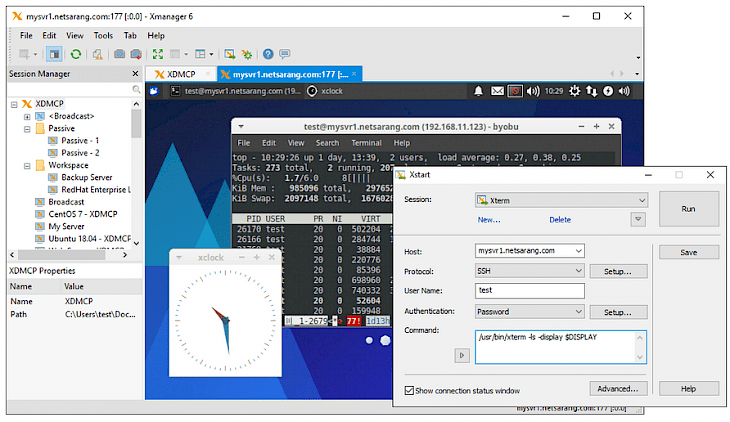 Download Xmanager
XManager is a useful application and a powerful resource for those who would like to operate their Linux-based applications on a Windows operating allowing you to remotely access the guest machine.
This excellent software is the leading PC X server that makes a perfect windows environment for X applications. Xmanager bundle with a host of other utilities that are Native to the Unix environment. It would be easier for the X-based applications to be installed and launched with relative ease with the inbuilt launcher. Another separate module allows the user to configure the parameters of the X Server profile.
No doubt, this fantastic program has some handy features and tools available on the platform. One of the imposing features is providing the user the ability to copy and paste the content between the XManager Window session and other Native Window sessions conveniently without any restriction. This application is useful in various technical fields, including semiconductor designing, large scale-craft, and server management in IDC.
FEATURES
Connect to a remote server system from anywhere
Xmanager allows the users to handle all the business tasks with only text-based terminals. The secure XDMCP features of this software will help the user connect from a private network or even behind a firewall.
Share the Linux server system
The users are free to share multiple X applications like CAD, that run on the Unix server system. This excellent application proves useful for an environment where the user groups often switch in and out such as the school's computer lab or computer training facility.
Run Windows and Unix applications simultaneously
You can efficiently and effectively finish your work even in a complex environment, by using this fantastic application. It will be convenient and time-saving to switch from one window to another on your PC.
3D application
While using the other similar software, you may need to purchase the 3D add-on. The Xmanager version 5, has OpenGL support that allows the users to run CAD and other GLX based 3D tools easily.
Other than the features explained above. The XManger has some key features like Session Manager, Tabbed environment, Dynamic Host Search, Master Password, SSH PKCS#11 Support, and Address Bar for Instant Connections.
Minimum System Requirement
Operating System: Windows 7 8, 10, Microsoft Windows Terminal Server, Citrix MetaFrame from Windows

Processor: Intel Platinum or later

Memory: 512 MB

Hard Disk: 200 MB
How to install XManager on your PC?
Xmanager is an easy remote tool designed to satisfy multiple users' needs and wants including server administrators and corporations and personal users. To install this excellent program on your Windows operating system, you can follow the instructions described below.
Step 1: You can download Xmanager from its official website. To visit the site, click https://www.netsarang.com/en/directly.
Step 2: Alternatively, open your browser and search "Download Xmanager for Windows" in the search box.
Step 3: Once the downloading completes, click the setup or .exe file twice to start the installation process.
Step 4: Follow the instructions and guidelines very carefully.
Step 5: When the process is finished, the XManager icon will appear on the desktop.
Step 6: Click on the icon to use this excellent and useful tool on your system.
XManager is a performance-driven network connectivity solution available for a 30-days trial period.
You might also like