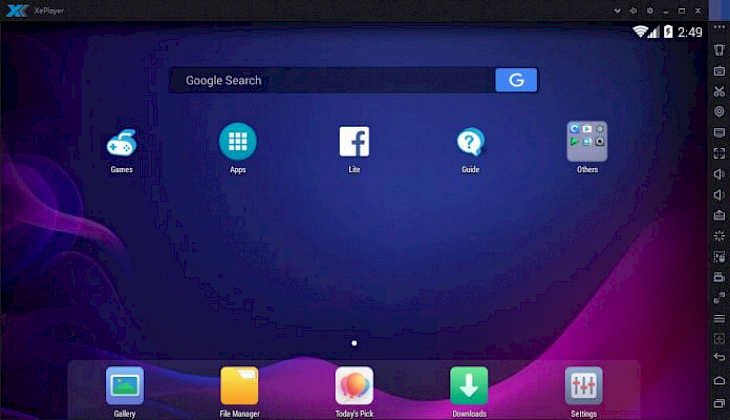 Download XePlayer
Do you want to run your favorite mobile game on your high-end Windows PC? Are you confused about which Android emulator to pick from the plethora of options available? All Android emulators for Windows PC claim to be the best, but the only real player in this field is XePlayer.
Developed by XePlayer Ltd., the latest version 6.0.10 of XePlayer is the best free Android emulator available to be run on a Windows PC. It not only functions smoothly in itself but also makes sure that all the Android apps and games run via it run seamlessly on your PC. Designed on the x86 architecture, it supports advanced features such as OpenGL & hardware acceleration, runs faster, is more stable and compliant than other Android emulators.
The Android Emulator for XEPlayer for Windows PC supports keyboard, gamepad, video recording, and so on.
Features of XePlayer
XePlayer is the best platform to run and play mobile games on your PC with a vivid big screen experience, enhanced performance with keyboard and mouse, and providing millions of game titles within the emulator itself. The salient features of XePlayer are enumerated and described in brief below.
Complete Android Experience on PC
You can play all your favorite Android games like PUBG Mobile, Call Of Duty Mobile, Clash of Clans, Subway Surfers, among others on your gaming laptop or PC just by installing and running XePlayer. XePlayer will let you experience Android gameplay using a mouse and keyboard on a giant screen.
Versatile & Customizable
XePlayer can let you customize every aspect of the emulator, be it CPU, memory size and space, screen resolution, device model, navigation bar location, root mode, and so on. This adds to the greatness of the Android emulator.
Touchscreen Mapping
XePlayer allows for mapping of your PC's keyboard and mouse to screen touch so that you have a much better gaming experience.
Android Accelerometer
XePlayer passes sensor data like that of an accelerometer to Android so that you can intuitively play car-racing style games like Asphalt 8 with ease.
File Sharing & Cloning
With XePlayer, you can share files between Android and Windows quickly and also create, clone, and delete an Android device with one click, and run multiple Android instances simultaneously.
Quick APK Installation
XePlayer has a drag-and-drop APK installation feature enabled so that you can easily drag and drop an APK to download and run it on your Windows PC.
Download & Install XePlayer for Windows PC
Download XePlayer for Windows PC
The latest version of XePlayer can be downloaded easily from a variety of retail websites available on the internet without much hassle. Once the setup file is downloaded, double-click it to run the installer.
Install XePlayer for Windows PC
After the installer pops up on your screen, follow these simple instructions to get the software downloaded on your PC.
Click on 'Next' and agree to their User Agreement.

Let the installation process begin and end.

Click on 'Finish'.
Now you are all set to run the latest Android apps and play the newest Android games on your Windows PC using XePlayer Android Emulator. Enjoy gaming on the big screen!
You might also like