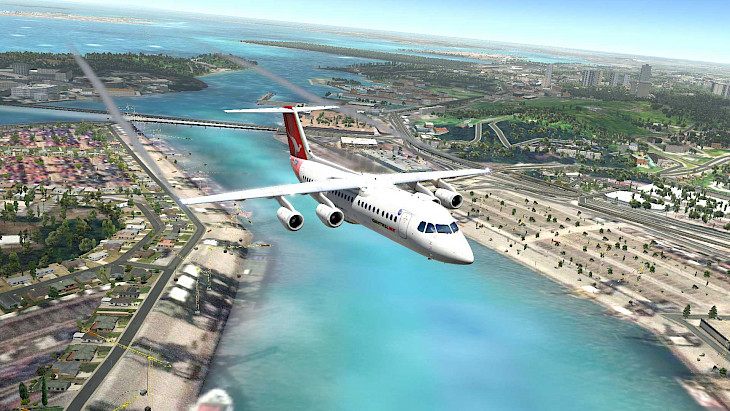 Download X-Plane
Have you ever wondered what it feels like to fly an airplane? Did you ever want to experience flying one in the first place? Well, with X-Plane, you can fly an aircraft virtually, if not in reality.
Developed by the X-Plane Team, X-Plane for your Windows PC is the most advanced flight simulator program in the world. The X-Plane app is the update you've wished for with a brand new user interface, a new level of quality in the included airplane, and support for virtual reality headsets.
X-Plane is a series of flight simulation engines developed and published in 1995 by Laminar Research. Commercial desktop versions are marketed for macOS, Windows, and Linux, while FAA-certified versions are also distributed for technical use through Laminar Research. A smartphone version has also been available for Android, iOS, and WebOS since 2009.
Features of X-Plane
For more than 3,000 airports worldwide, the X-Plane includes extensive 3-D scenery. These airports are made to feel alive by terminal buildings, hangars, jetways, & more.
The exceptional features of X-Plane are explained below.
Fleet of Aircrafts
Cessna 172SP
A single-engine fixed-wing aircraft with a tricycle landing gear is the Cessna 172SP. It has a speed of 122 knots for cruising and a range of 696 nautical miles. More C172s than any other aircraft have been constructed, making it the most successful airliner in history.
Aerolite 103
The Aerolite 103 is an ultralight aircraft with a single-seat, high-wing, pusher configuration that was launched in 1997. It is sold as an aircraft assembly kit that can take the airframe between 60-80 hours to complete.
Boeing 737-800 & 737-400
The Boeing 737 is an airliner with a narrow-bodied, short-to-medium range. It has ten versions that can accommodate passengers from 85 to 215. It has been in continuous production since 1967 and is the best-selling commercial jet airliner. The 747-400, with improved range and fuel efficiency, is the most common passenger version in service. It has a cruising speed of 493 knots and a nautical range of 7,260 miles.
King Air C90
The King Air is a Beechcraft built twin-turboprop aircraft. It was the first turboprop, and it has outsold all of its rivals. With a cruise speed of 226 knots and a range of 1,321 nm, the King Air will seat up to 7 passengers.
Baron 58
The Beechcraft Baron 58, situated at the top of the light aircraft hierarchy, is a light, long-body, twin-engine piston aircraft. At 200 knots, with a length of 942 nautical miles, it cruises.
Latest Aircraft Utilities
A virtual Garmin 1000 is now featured on some general aviation aircraft. A stunning, functional 3-D cockpit comes with every aircraft in the fleet. For instrument flying, any 3-D cockpit is available. Cockpit controls are more comfortable to configure than ever.
Download & Install X-Plane for Windows PC
Ready to try your own X-Plane? Download the demo for free and ride! You can readily download X-Plane from the official website or any other third-party website and launch the installer once it is done.
After the seamless installation process, your virtual flight simulator will be ready for you to take your favorite aircraft on a ride on desired flightpaths. Enjoy flying airplanes!
You might also like