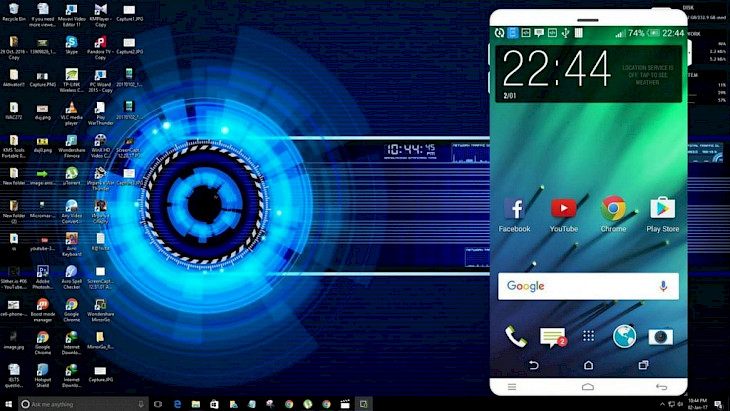 Download Wondershare MirrorGo
Wondershare has released Wondershare MirrorGo, an app that not only enables users to mirror their phone screen to their monitor but also to move files from their PC and manage their smartphone.
With the MirrorGo Android Recorder for Windows PC, take complete charge of your phone from your computer, enjoy your social life on the big screen, and play mobile games with your mouse and keyboard. On your PC, enjoy your mobile games. Quickly respond to social app messages and SMS on your PC. PC to cell phone data transfer is made easy. Wondershare MirrorGo is completely Windows 10-compatible.
Features of Wondershare MirrorGo
People almost forget that when MirrorGo works, they use a phone. For professionals, MirrorGo is particularly useful because it can help them think beyond the box. The process is quick, and getting started is easy. You can seamlessly move from cell phones to computers.
The excellent features of Wondershare MirrorGo have been provided in detail below.
Play Computer-Based Android Games
Only press the game icon that you want to play, and you will enjoy the games on your screen. You can directly run Android games with a mouse and keyboard. The bigger screen and the keyboard's shortcut keys will improve your gaming experience.
Never Miss A New Thing
All notification/new messages on your phone will pop up on the screen of your device so that none of them will be missed. You will also be able to respond efficiently and quickly with your keyboard, SMS, WhatsApp chat. It is also possible to address or reject incoming calls from your phone. Wondershare MirrorGo is excellent for a PC.
Transferring Files from PC to Android
With Wondershare MirrorGo, you can seamlessly transfer files from your computer to your phone by following these simple steps.
Drag-and-drop your PC files to the MirrorGo Cell Phone Interface.
By pressing the Transfer button, check the progress of the file transfer.
These files will be saved under the Mirror Go folder until the transfer is complete.
Download and Install Wondershare MirrorGo for Windows PC
Download Wondershare MirrorGo for Windows PC
Wondershare MirrorGo can be readily downloaded from the link shared on this very page above by clicking the 'Download' button. Once the Wondershare MirrorGo setup installer executable file starts downloading, kindly wait for it to finish downloading before double-clicking on the file to launch the Wondershare MirrorGo installer.
Install Wondershare MirrorGo for Windows PC
After the Wondershare MirrorGo installer pops up on your Windows PC screen, you need to follow the simple on-screen instructions to complete the installation process.
Click on 'Next' till the User Agreement appears.
Agree to the User Agreement.
Select a suitable location on your hard disk for Wondershare MirrorGo to be installed.
Wait for the installation to begin and get over.
Click on 'Finish' to exit setup.
You will now find the Wondershare MirrorGo desktop icon appear on your Windows PC screen. You can double-click on the same to launch Wondershare MirrorGo anytime you want to cast your phone screen on your PC or control your phone through your PC. Enjoy!
You might also like