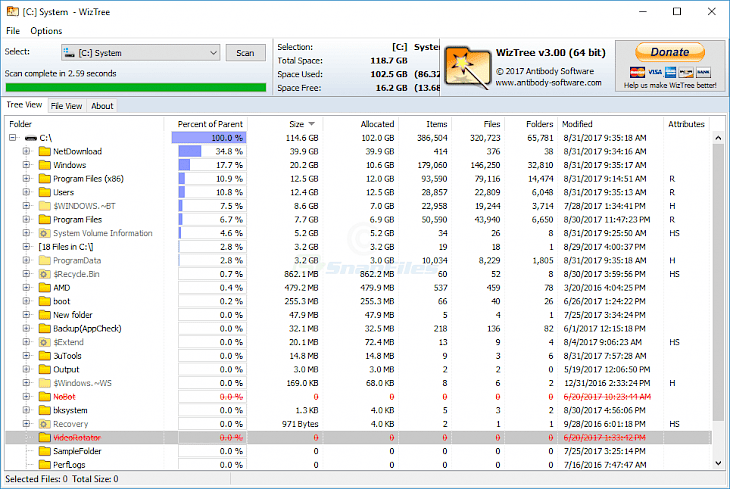 Download WizTree
Computers run on storage, and things have to be organized effectively to ensure that optimal storage is given to the things that make the system run. Moreover, you will have to ensure that the computer isn't lacking in storage space as it would then result in the slow operation of the computer. However, files and data are essential as you never know when it might come of any use.
But then there are software's that help in getting the best of everything and ensure that people get enough storage on their computer. You never know what your computer might be hoarding but if you are eagerly waiting to see this information, then you could try out a unique software that would impress you in enabling you to know which software is taking the most amount of space in your computer. Check it out.
What is WizTree?
WizTree is a unique software that allows the user to know which files are taking up the most amount of space in your system. It's more like an analyzer that helps in getting a bird's eye view over your computer system and ensure that you get your hard disk in correct shape and order all the files and data is displayed and necessary action can be taken. Don't worry, the entire process doesn't take a lot of time but hardly a few minutes to execute, and no matter how much storage you have, deleting them and ensuring that you have a stable computer is quite feasible through the software.
Key Features of the Software
Conversion of data to CSV file
The software helps in the conversion of the files and folders to CSV format. It can be executed by pressing Ctrl+Alt+C or even right-clicking on the selected folders/files and clicking on export files in CSV format. Makes everything relatively easier and simple.
Copying files to the clipboard
Suppose you are looking to take all the selected files and folders and have it stored on your clipboard and works effortlessly in pasting it on your mails, documents, and other such places. It's all executed through a click of a button or right-clicking and getting the action accomplished.
The software provides plenty of features such as finding all the large files in your computer, scanning any type of external hard disk, conversion of files, relatively fast and reliable as well.
Minimum System Requirements
OS – Windows 7 or higher

RAM – 1GB or higher

Storage – 150MB or higher

CPU – Pentium III or higher
How to Download and Install WizTree on PC
Get the software installer
The software installer can be downloaded from multiple third-party sites. It's for free, and there are various versions. Get the one you prefer the most.
After downloading it, open the installer and install the software.
Enjoy exploring the contents of your computer and sort it based on several formats of your choice and do the needful.
You might also like