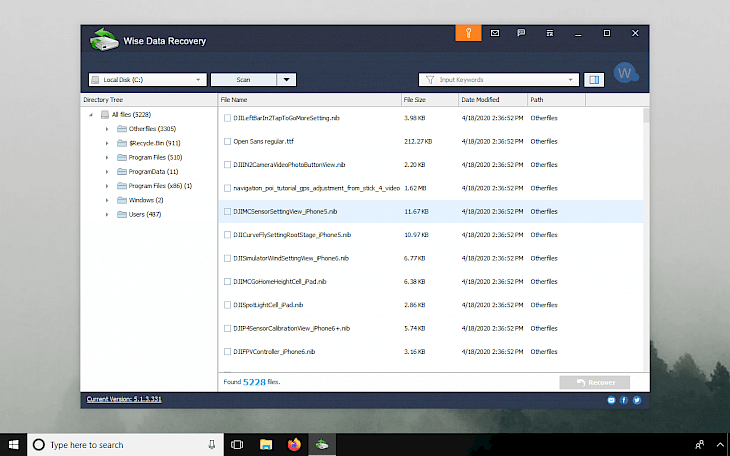 Download Wise Data Recovery
Wise Data Recovery is a fast and free application designed to recover lost data from Windows. Recover all types of flies including deleted photos, documents, videos, music, archives, emails, and many other others from a variety of media types including HDD, SD cards, USB drives, Floppy Disks, even your phone.
Download Wise Data Recovery for Windows and access all necessary tools to recover all files and documents deleted by accident. The application is extremely easy to use, and you can start scanning the disk for deleted files with a few clicks. Simply select the appropriate partition and start the scanning process.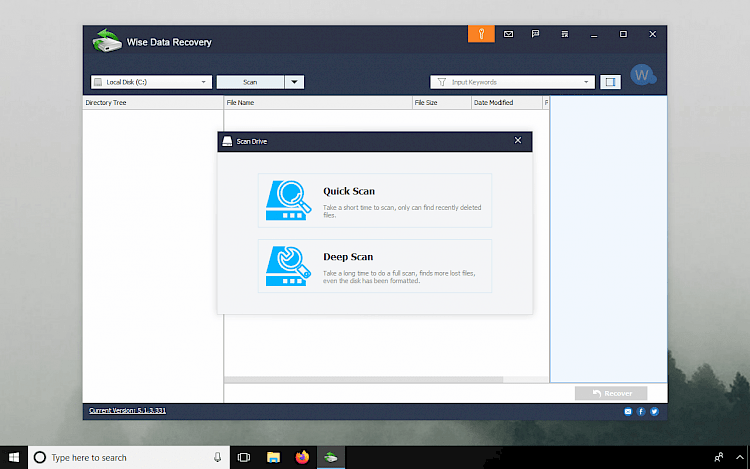 Normally data recovery takes a lot of time during the scanning process. But it doesn't have to be like that when you download Wise Data Recovery.
Wise Data Recovery offers a Quick Scan and Depp Scan modes. The first option is recommended to bu used to find recently deleted documents. This option works fast, but for the price of fewer results. After the scan is completed, Wise Data Recovery generates a detailed list containing all the deleted files.
Find a specific file by name or extension using the built-in search engine or locate quickly deleted files using filters. Wise Data Recovery can categorize all results as images, office documents, compressed files, audio files, and videos.
What's more, the file list displays some information about deleted files like name, size, modification date, and path. Over 1000 types of files can be recovered.
With Wise Data Recovery you can recover documents like DOC, XLS, TXT, videos, and music files or photos saved in most popular formats like JPG, PNG, GIF, BMP. The program also allows the recovery data from mobile devices such as iPods, cell phones, MP3 players, and digital cameras. With the advanced algorithm, the Wise Data Recovery scanning process takes only seconds, saving you time.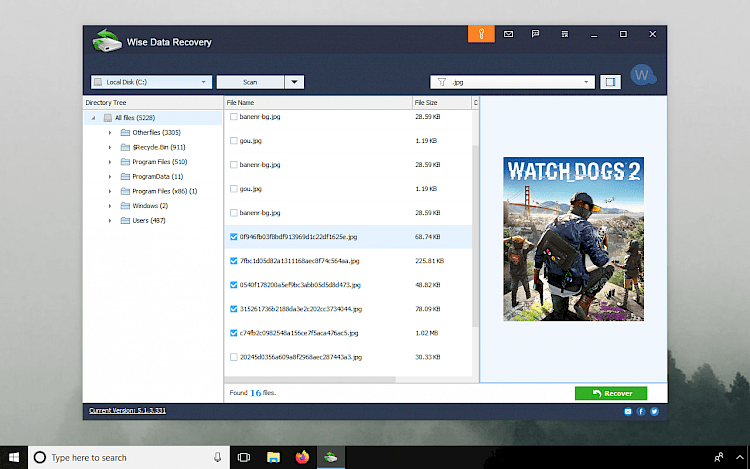 To recover permanently deleted files, simply scan the disk, and select the file you are interested in undelete and click on the recover button.
Wise Data Recovery does not only scan for lost files but can also display a preview of the file (text files, images, etc.) before you decide to recover it. It supports to recover data from FAT, NTFS, HFS, HFS+, HFSX, Ext2, and Ext3 file systems.
Wise Data Recovery allows you to recover lost files from the Windows system (64 and 32-bit). It works great on Windows 10 and other Windows operating systems, from Windows XP and up. Wise Data Recovery is available for free download, and there is no need to use a paid software if this one works.
When you need more, upgrade to Wise Data Recovery Pro. The paid version offers technical support, which can be handy if you need a bit of advice. Moreover, it offers an option to Deeply Scan & Restores RAW Files and automatic updates.
It's an absolute professional product that gives you all the value and quality that you want. Recovery results are amazing, and the developer released also a portable version that can be run without installation from anyu place. Wise Data Recovery is a great tool for personal users as well as companies.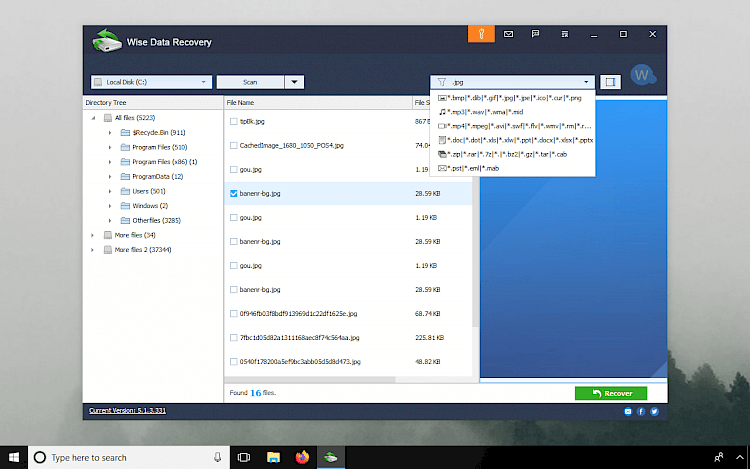 Overall, if you delete accidentally important files and you need a simple but effective recovery tool to undelete lost data back, Wise Data Recovery is the right app for you. It has all the features you need, and what's more, you can preview the file before recovering it. Check it out for yourself and you will be impressed!
You might also like