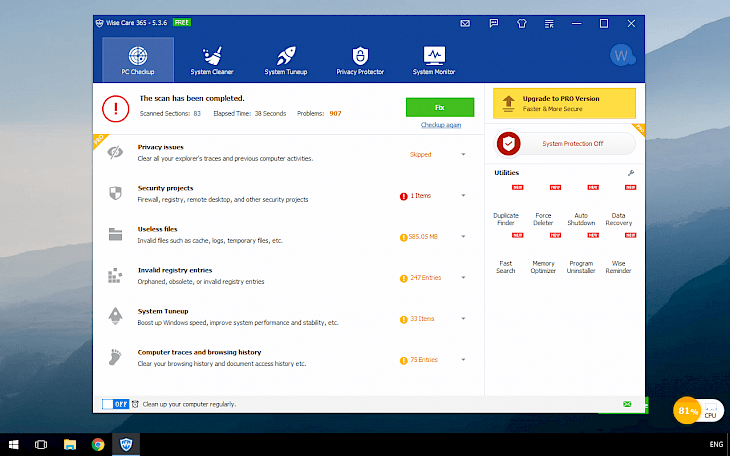 Download Wise Care 365
Wise Care 365 Free is a suite of useful tool to optimize Windows. Clear your browsing history, boost up system speed, improve performance and stability, remove invalid registry entries, useless files like cache, logs, temporary files, manage startup, and more. Access all modules separately or use the one-click fix.
PC Checkup available in the application is a quick option to fix common issues with the system and optimize various settings. Wise Care 365 will check folder options, Windows Automatic Updates, apps and system cache, invalid settings, and optimize parameters like prefetch, improve shutdown process, close frozen processes, speed up Aero Snap, optimize response speed or improve startup speed.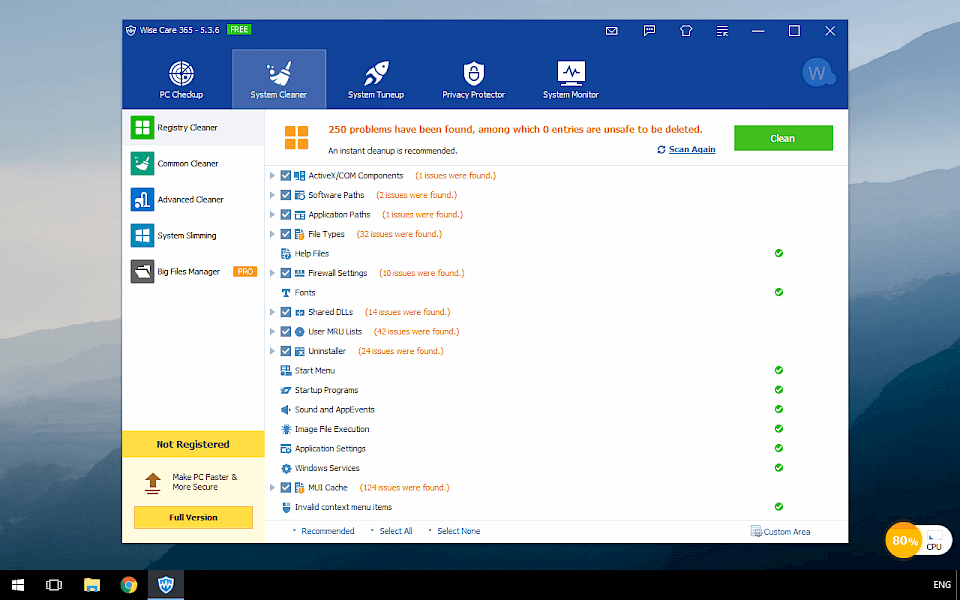 The application offers access to 4 additional modules. From System Cleaner you can run Registry Cleaner that will find invalid registry entries in Software Path, ActiveX Components, MUI Cache, Fonts, Startup Programs, Application Settings, Firewall Settings, Help Files, File Types, Start Menu, etc. Clan all problems that have been found or manually select what should be cleanup on Windows system.
Common Cleaner will help to identify and remove all useless files stored on the hard drive. This module scans Web Browser Cache, system locations like caches, log files, updates, etc., and offers support for 3rd-party programs. Moreover, you can also delete traces left by the system, applications, and web browsers. Advanced Cleaner offers the option to scan the entire disk for useless files to free space.
Wise Care 365 Free will also slim system by removing Wallpapers, downloaded system Updates, and stored on disk Help Files of Windows. In Wise Care 365 Pro there is included also Big File Manager created to delete big files occupying Disk space to release more space.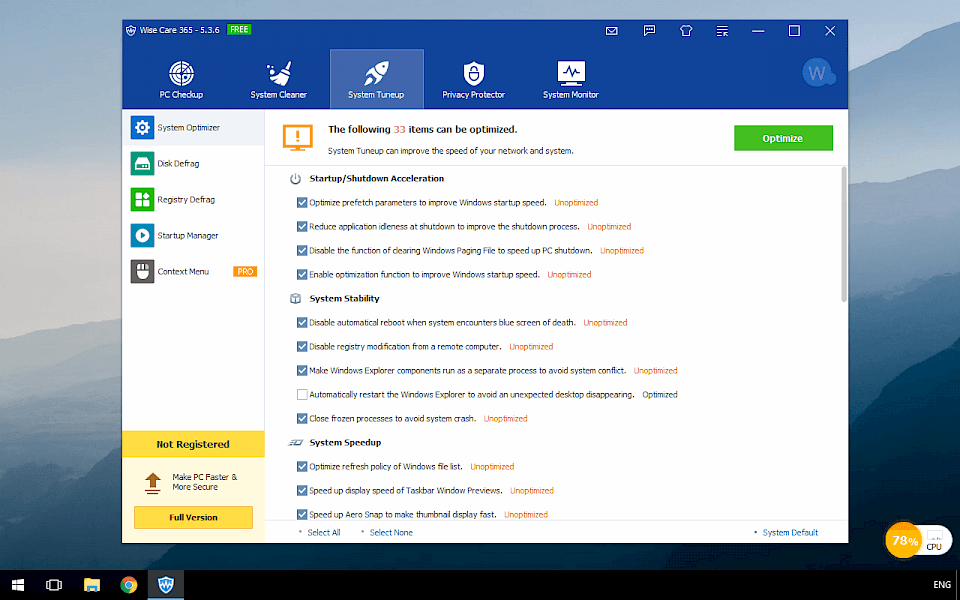 System Tuneup offered in Wise Care 365 can optimize system speed, stability, network, and accelerate Windows startup and shutdown process. You can find here also tools to analyze and defrag disk, defragment registry (PC will run faster and more stable), and manage startup items and services. Here are also available some option only for Pro version users like easy Windows context menu items editor.
Privacy Protect offers 3 free tools to protect user privacy by complete removal of the deleted files, preventing the possibility of recovering files and documents. File Shredder is a simple tool to securely remove files by overwriting their original space, and Password Generator that will help to create strong passwords. Privacy Eraser is available only in the paid version and it offers an option to fix privacy issues.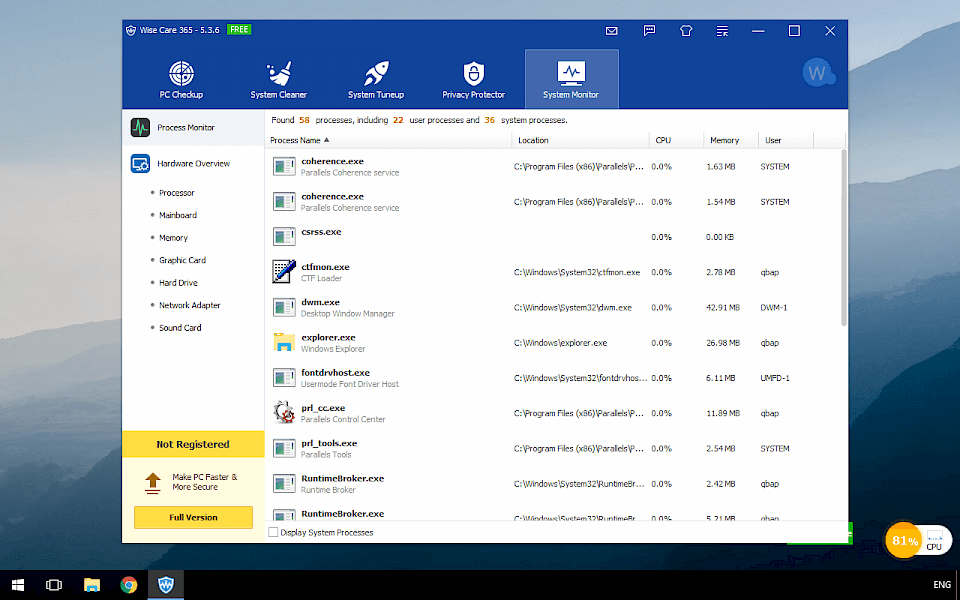 Wise Care 365 Free System Monitor displays some basic information about running processes with an option to locate the file and kill the process. There is also built-in basic information about installed hardware including processor, motherboard, memory, GPU, network adapter, HDD, and sound card.
Moreover, from the Setting menu, access features to create full registry backup or system restore point, and change the interface colors and cover image. Wise Care 365 Free offers also a small widget displaying actual CPU and RAM usage. You can also use it to quickly free system memory.
There is also an option to schedule automatic optimizations, configure exclusions by folders, files, registry keys, file types, and domain names. Wise Turbo can be started automatically, and the floating widget can display temperature instead of CPU usage on Windows desktop.
After you will download Wise Care 365 Free you will access a variety of options to optimize Windows. I usually use this application to clean and defrag registry, and also remove useless files generated by the system and installed apps. The Floating widget for the desktop is really handy because it displays not only information about used memory but it can also free RAM with one click. The second option offered by Wise Care 365 that I'm using pretty much every few days is PC Checkup. This function allows me to clean everything quickly.
You might also like