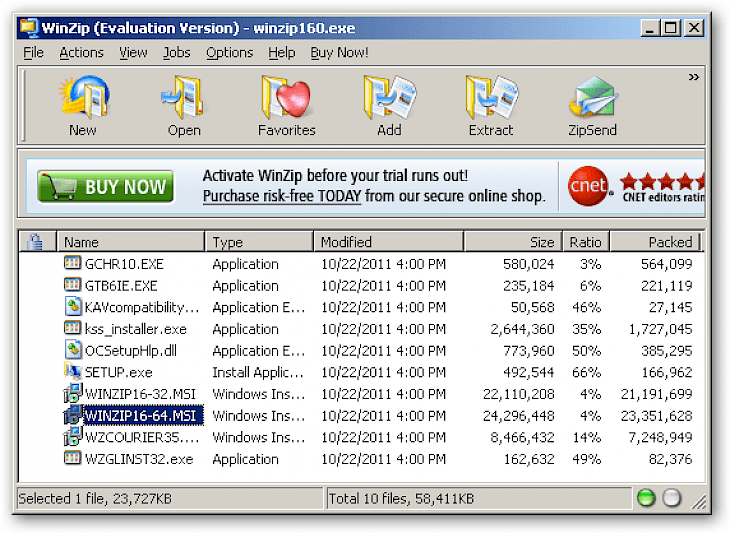 Download WinZip (64-bit)
Compression tools are getting popular these days. They reduce the amount of disc space by making the files smaller. ZIP is one of the prevalent file formats for archived and compressed files. WinZip 64-bit is a very useful tool used as a converter for compressing and decompressing zip files. This excellent software can manage, protect, and share your files easily on an organized interface.
The user-friendly interface provides all the icons organized in different classifications to support the extraction and archiving. To check the file's details, you can select the classification option that provides all relevant information including the name, data file type, and storage location among others.
WinZip allows users to compress or reduce the file size without affecting the data content. The procedure to use this beneficial software is relatively easy. You will need to drag and drop to add files to your zip. Then choose options for encryption, PDF conversion, and Watermark and save the file. WinZip enables the user to share their file by using various platforms like cloud services, email, and social media. This platform also provides a comparison of initial files and zipped files.
FEATURES
Unzip various formats
WinZip allows the user to open the compression files of various formats including ZIP, Zipx, RAR, VHD, and many more in just one click.
Ease-to-use
This fantastic application allows users to create a compressed file in multiple formats like ZIP, LHA, etc. In case you have no idea about a suitable format, WinZip automatically selects the appropriate compression methods to provide better efficiency. You can use this platform to create self-extracting files and share them with those who do not have WinZip in their system.
Not only the files, but by using the latest version of this software, you can also compress the images and digital photographs without compromising the quality.
Privacy Protection
You protect your data efficiently by encrypting the files. This will keep your information secure. You can also add a watermark to avoid unauthorized copying.
Share your files
This excellent system uses less space for your system and keeps your files protected in the cloud. WinZip offers the users to connect with a wide range of cloud services like Dropbox and Google Drive. You only have to zip your files and upload them to the cloud. While sharing with anyone, you only have to open the file in the cloud and share quickly.
How to download WinZip 64-bit on your Windows Operating System?
WinZip allows the users to compress and decompress the files conveniently and it is a perfect tool to organize t/-he files without unnecessarily increasing the storage of your system. You can install this excellent+ software on your Windows operating system by following the instructions described below.
Step 1: You can download WinZip 64-bit by visiting the developer's official website.
Step 2: Alternatively, open your browser and search "Download WinZip 64-bit for Windows" in the search box.
Step 3: You can choose any trusted websites like filehorse.com from the search result page to download this fantastic game.
Step 4: Once the downloading is completed, click the setup or .exe file twice to start the installation process.
Step 5: Follow the instructions and guidelines very carefully.
Step 6: When the process is finished, the WinZip icon will appear on the desktop.
Step 7: Click on the icon to use this fantastic tool on your Windows operating system.
You might also like