Start Windows ISO Download Tool download now, for free!
Category: Other accessories
Version: 8.07
Last update: Mar 20, 2019
OS: Windows
License: freeware
What is Windows ISO Download Tool?
Microsoft Windows and Office ISO Download Tool is a simple application created by Jan Krohn to help users to download ISO disk images. The software can download Windows 7, Windows 8.1 and Windows 10, as well as Office 2010, Office 2013, Office 2016, Expression Studio and Office for Mac.
Windows ISO Download Tool is a link database where you can easily download or copy direct links for 32-bit or 64-bit architecture installations from Microsoft servers.
Using the software you can easily find ISO images for Windows 7, Windows 8.1, Windows 10, Insider Preview, Developer, and more. Windows ISO Download Tool provides you also with links to Office 2010, Office 2011 for Mac, Office 2013, Office 2016, Office 2016 for Mac, Office 2019, and Office 2019 for Mac.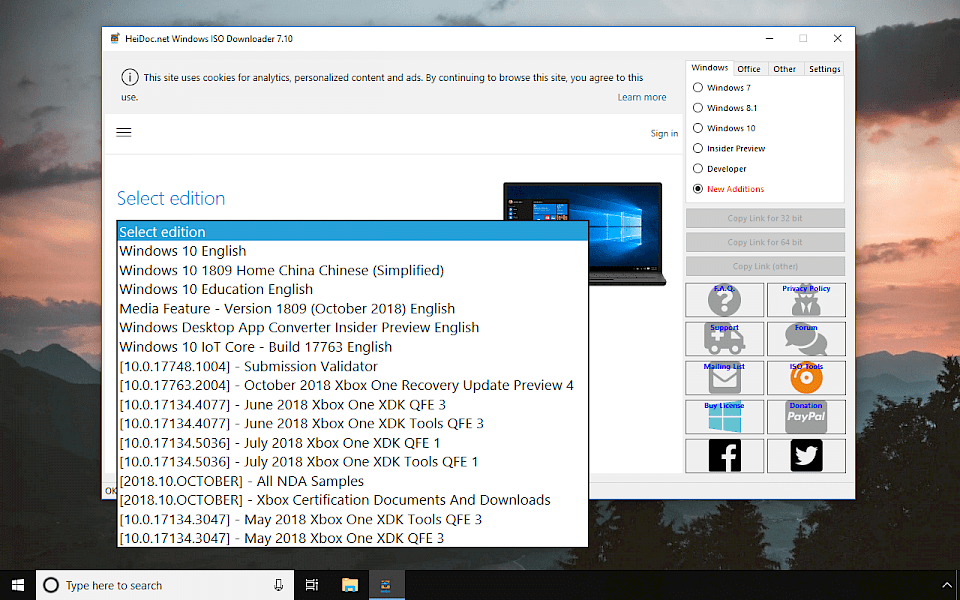 This tool is based on TechBench, and makes a range of hidden products available for download. All languages that Microsoft supports are included. The developer informs that generation of new links for Windows 7 and Office 2010 is currently throttled, and not every download is always available.
New links are generated according to community demand, with users who choose to donate their idle resources getting priority treatment. There is also an option to download Windows Admin Center.
Microsoft provided disk images for many of their products through their subcontractor "Digital River". These downloads were pulled in early 2014. Afterward, Microsoft made a limited selection of downloads available on their TechBench site.
Windows ISO Download Tool allows you to access the files and download them for free. You can also download Xbox Development Kit, and Microsoft Expression.
Software review

Kuba
Windows ISO Download Tool Review
I think that Windows ISO Download Tool is a great software to find and download Windows or Office ISO images from Microsoft servers. No matter if you need to reinstall Windows system or use it for test purposes Windows ISO Download Tool will save your time. The software is really easy to use. You need to select what are you interested in. If you like to download Windows 10 select it from the menu. Next Windows ISO Download Tool will open a window where you can select Windows version and proper language. The last step is to download the ISO image of Windows. Of course you can also use this software to download Office. How cool is that! Moreover you have option to copy generated links to you favorite download manager and start downloading.
Windows ISO Download Tool Alternative
Related articles
Download ISO file of free Microsoft Windows 10 operating system