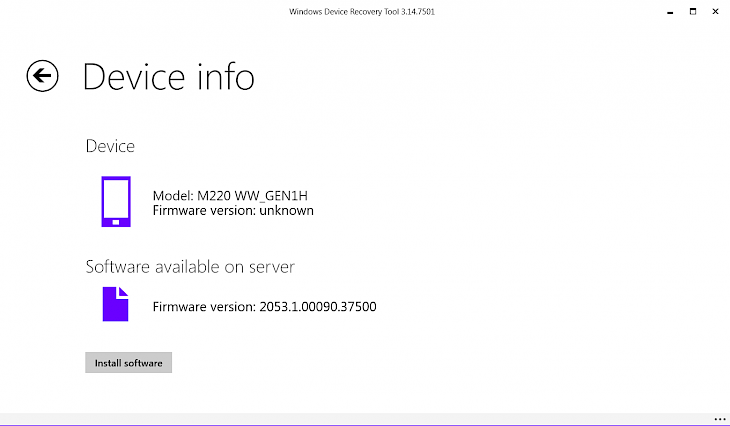 Download Windows Device Recovery Tool
Do you have a Microsoft phone that encounters a system error or other related problems quite often? Are you looking for an easy solution to such issues so that in the future you do not have to keep visiting the service center for little reason? We recommend using the Windows Device Recovery Tool on your Windows PC so that you can seamlessly tackle such problems at home without much effort.
Developed by Microsoft Corp., the Windows Device Recovery Tool currently runs in its latest version 3.14.7501. You can download and use the Windows System Repair Service on your PC to correct issues with the software on your tablet. The new Windows version approved for your phone will be updated, and all else will be deleted, including applications, games, email, call history, music, and images. See if restarting or resetting your phone solves the issue before you use this tool.
All you need to run this tool are a USB cable to connect your PC to your computer, a Windows 7, Windows 8, Windows 8.1, and Windows 10 PC, and at least 4 GB of free space on your PC for storage. With merely these things, you are good to go.
Features of Windows Device Recovery Tool
The salient features of the Windows Device Recovery Tool include the following ones.
Multi-Device Compatibility
The Windows Device Recovery Tool works on all phones running Windows Phone 8 or later from Acer, Alcatel, BLU, HTC (One M8 and 8X), LG, Lumia, NEO, UniStrong, VAIO, and Yezz. It works on HP units too.
Runs on Phones having Insider Preview Build
When you use this tool on a phone that is running a preview build, the new version of Windows approved by its manufacturer for your phone will be reinstalled. You'll have to go to Update Windows Insider Preview for phones to download the Windows Insider software on your phone to start having preview builds again then follow the steps to install Insider Preview.
Revert to Windows 8
If you fell in love with Windows 8, the Windows System Recovery Tool can be used to restore your phone to Windows 8. And if you upgrade your phone to Windows 10 again, either a Windows 10 backup or a Windows 8 backup will be restored to your backup.
Download and Install Windows Device Recovery Tool for Windows PC
Download Windows Device Recovery Tool for Windows PC
To download the latest version of the Windows Device Recovery Tool for your Windows PC, head over to the official Microsoft website and get it. Otherwise, you can also get a copy of the software available for download from any of the several retail websites out there.
Install Windows Device Recovery Tool for Windows PC
Download this tool.
To install it, follow the on-screen prompts, then choose Launch Application.
Link your phone to your PC using a USB cable. If your phone is not detected automatically after you connect it, disconnect your phone, pick My phone has not been detected, then follow the prompts on the screen. If you still haven't found your cell, try restarting it while it's paired.
When the phone is detected, pick Install software. Depending on the speed of your Internet connection, installation can take a while, and you won't be able to use your phone until it's finished.
That's all! Now you are good to go on your own when your Windows phone encounters an error. Fix your phone in minutes using this convenient tool from Microsoft. Enjoy!
You might also like