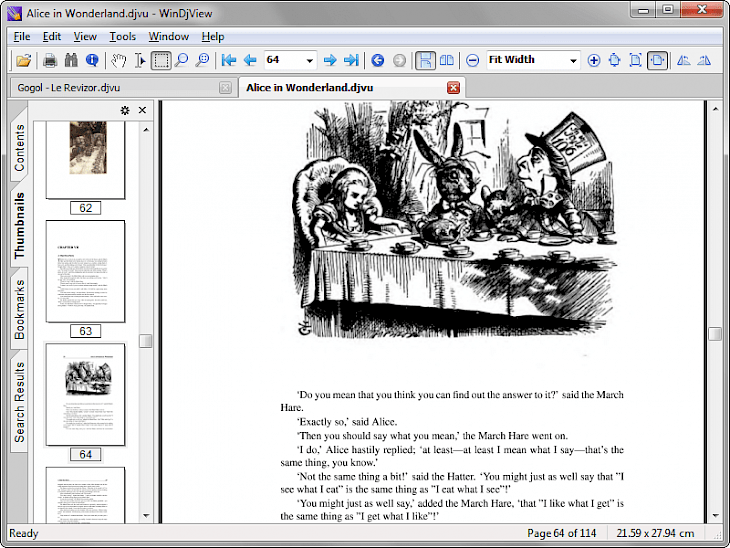 Download WinDjView
Those who are using DjVU files appreciate the convenience of these fantastic compressed files when it comes to saving the system's space. Developed by Andrew Zhezherun, WinDjView is a powerful and useful tool used as a DjVu document viewer. This software is lightweight and won't occupy much space. WinDjView allows the user to manage and decode their DjVu documents by using the free DjVuLibre library option.
If you need a hard copy of the document you are viewing, you can use this amazing software's advanced printing options. The tabbed interface of this software helps to organize your documents by creating bookmarks and annotation. This excellent document viewer offers multiple compact tools from custom keyboard navigations, scrolling shortcuts to dictionary and text search options.
FEATURES
WinDjView offers a Tabbed document interface. It can also open each document in its own window for better presentation and understanding,

English and Russian are the interface languages provided by this excellent document viewer.

You can use the comprehensive dictionary option to translate the words you might not understand.

Continuous or single page layout integrated with an option to group-facing pages.

Create bookmarks and annotations to organize your files.

Text searching and copying

You can adjust the size of the thumbnails provided by the software.

Advanced printing feature to print the documents in hard copy.

Fullscreen mode to view the documents for better understanding.

Magnifying glass and marquee zoom.

This excellent software allows the users to export document pages of part of a page to another format including BMP, png, gif, and jpg.

Brightness, contrast, and gamma adjustments.

Rotate pages by 90-degrees

Contents and hyperlinks

Various display modes include color, Black & white, foreground, and background.

Custom keyboard navigations and scrolling shortcuts

If requested, associated with DjVu files in explorer for better user experience.
How to install WinDjView on your PC?
To enhance the user experience, you can enjoy this powerful but compact way to view your DjVu documents on your PC. The installation process of this fabulous document viewer software is very easy. You can run this software on your Windows 7, 8, 10 operating systems by following the instruction described below. However, before downloading the software check your system's specification to download the suitable version for your system.
Step 1: Thankfully PC version of this application is available easily. You can install this browsing application directly from the WinDjView website.
Step 2: Alternatively, open your browser and search "Download WinDjView for Windows" in the search box.
Step 3: Now, you will get a list of websites on your search result page. You can select any trusted website like filehorse.com to download the setup or .exe file of this software.
Step 4: Once you have downloaded the setup file, start the installation process and follow the step-by-step guidelines and instructions to run this software on your system.
Step 5: After following all the steps, click on finish. You can now use this fantastic software to view document files on your system.
The only drawback of this fantastic software is that it is a bit complicated to figure out some more advanced features. It will take some time to learn these features.
You might also like