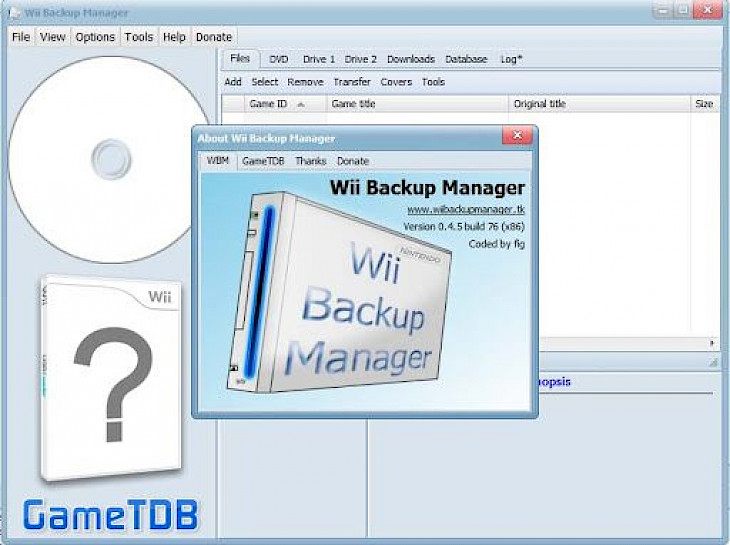 Download Wii Backup Manager
Console gaming has been popular for over a decade or so where people are eager to try out what the next generation of consoles has to offer. Ever since the beginning, it has provided those who cannot afford a PC to have a console that offers a similar gaming experience as what you would get on a pc. At times even better.
With that being said, consoles often utilize most of the motion sensors and offer game exclusively for that. Wii was the first console that utilized motion sensors and helped in getting moving your entire body rather than your fingers. Thus, if you are on the market for a way in which you could backup your games and other saved contents, then you could do so through one particular software. Check it out.
What is Wii Backup Manager?
Wii Backup Manager is a software that helps in taking backups of your saved progress on a USB stick or any other external portable storage device. Not only this but then you can convert different files from one format to another. Moreover, the Wii backup manager is a desktop application where you can create a partition in the games storage devices and use the same to connect it to the Wii console and play games. Loading saved data states, and much more is quite a feasible process.
Key Features of the Software
The software helps users in reading different files, taking backups of your Wii consoles, addition newer folders, read and write data on various file formats, and much more.
The software is entirely free, and there are regular updates as well you could get from using the software. It's open-sourced, and changes are making the software better and faster.
The user interface isn't cluttered by spaced out symmetrically. It doesn't offer a congested user interface. Instead, all the necessary tools are available on the home screen with others tucked away under the toolbar.
Minimum System Requirements
OS – Windows 7 or higher

RAM – 1GB or higher

Storage – 150MB or higher

CPU – Pentium III or higher
How to Download and Install Wii Backup Manager on PC
The software is broadly available on multiple sites. You can get the latest version based on the firmware updated on such sites.
Upon downloaded it, open the contents and set up the installer. Let the installer finish installing the software.
Enjoy using it as per your preference.
You might also like