WhatPulse download for Windows, Mac, and Linux.
Category: Other accessories
Version: 2.8.4
Last update: Nov 17, 2018
OS: Windows, Mac, Linux
License: freeware
What is WhatPulse?
WhatPulse is a free application for monitoring use of the mouse, keyboard, Internet connection, application or system startup time. The collected data are displayed in the form of clear reports.
The tool also generates advanced data as the number of mouse clicks in data applications, the frequency of use of selected keys on the keyboard, hitmapę presenting the most clicked areas of desktop, statistics on the use of the Internet connection by running applications and the whole system, it's time to start programs and much more.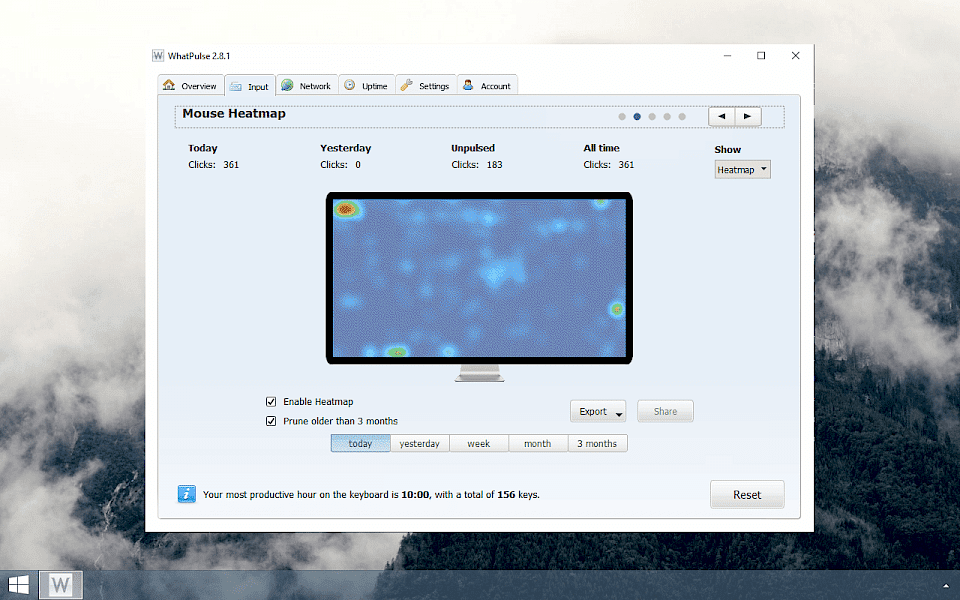 Reports statistics, we can export to CVS format and saved as a PNG file. WhatPulse also update the online statistics in your account on whatpulse, but nothing stands in the way of this mode off. In addition, the level settings, you can define a list of ignored applications and interfaces.
The application is available as a fully functional 14 day trial version WhatPulse Premium. After this time, the program disables access to more advanced statistics transforming the free version. In addition WhatPulse displays information about your computer including the name of the system, processor and graphics card and the amount of installed RAM.