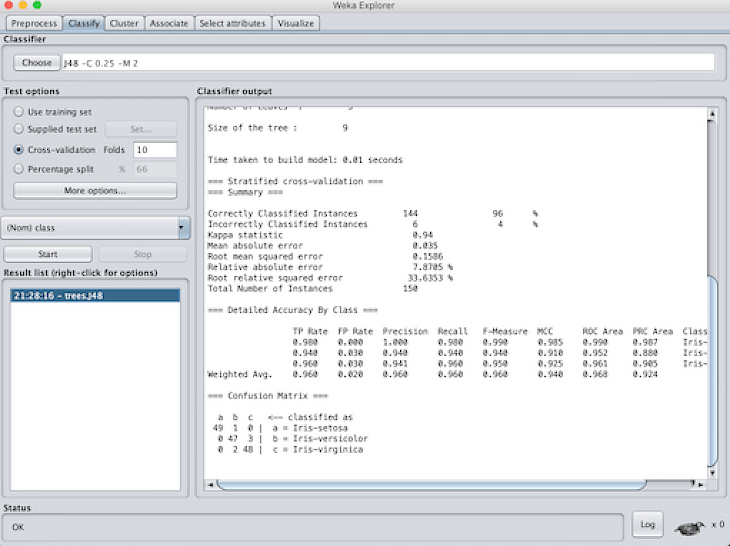 Download Weka (64-bit)
If you are a data analyst or someone interested in machine learning then you can use Weka (Waikato Environment for Knowledge Analysis). Weka is a machine learning software developed at the University of Waikato, New Zealand. This enormous software written in java is the best tool that you can use to solve different issues by using data mining concepts. The upgraded and latest version of Weka is Weka(64-Bit) which is an open-source software issued under General Public License.
This app contains multiple tools that help you in data pre-processing, regression, visualization, and classification. This application has easy to use interface and you can use it real-time data set.
FEATURES
Though Weka is a portable software hence, you can directly install this software on your system without using any hard disc.
This application can be used easily with a user-friendly interface and have user flexible tools.
There is no need to be an expert, Weka provides the best and familiar tools that can be used by beginners to learn machine learning.
Users can implement a diverse experimental variation on the large data sets.
Weka provides a 2D data representation that can be used to evaluate the complicatedness of the learning problem.
Weka(64-bit) is designed and developed in such an organized manner that you will get all the resources in one place without browsing or wasting your time. Expert professors of the University of Waikato have done the documentation tremendously.
This extremely useful application or software has all the necessary and trendy Artificial intelligence algorithm which provides a better learning experience to its users.
REQUIREMENTS
You can install this free machine learning tool on your Windows 10, 8, 7, and enjoy this learning experience on your system. Before installing this Weka (64-bit) software make sure that your system matched the requirements:
Operating System (64-bit): Windows 10, 8, 7

1GB of RAM

Intel Dual-Core Processor or advance

Java 1.7 or advance
HOW TO DOWNLOAD?
You will not need any emulator software to run Weka on your system. this software can be installed and used directly. To use Weka on your system you just need a good version of Java that matched the Weka version and your system requirement. You can also install an all-in-one installation version which includes both the Weka and Java version which is required to run Weka on your system.
Go to the official website of Weka i.e. Weka download Homepage or simple search "Download Weka (64-bit) for windows 7,8,10 on the search box of your browser.
You can download the Weka software from any trusted website and it is compatible with almost every device or system.
Once the downloading of the .exe file of Weka gets complete, locate the file in your convenient folder.
now you can run this software on your PC by following the step-by-step guidelines provided.
After following the guidelines and successfully installing the software, enjoy the machine learning on your system.
Weka (64-bit) is extremely flexible data mining software that can be utilized to extract or identify relevant information out of an extensive amount of data.
You might also like