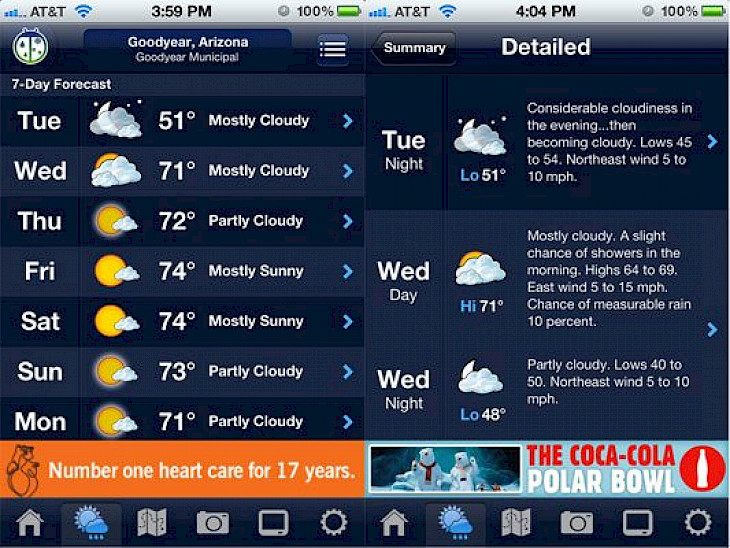 Download WeatherBug 10.0.7.4
WeatherBug 10.0.7.4 is weather update software that displays current weather conditions and upcoming changes on your computer. The Unified interface provided to the user is easy to use and showcases the weather details in an organized manner. This software is relevant not only for beginners but for professionals as well.
This software displays detailed weather information with indicators of temperature, humidity, wind direction, speed, rainfall, etc. The home screen of the software is organized to represent and forecast the exclusive live weather or condition. Other essential tools or elements that you can view include maps, radar, news about severe weather (local and national alerts, lightning, custom alerts), and live cameras. These live cameras forecast you the view of traffic cameras and various shots of your local city area.
FEATURES
This excellent weather forecasting software provides detailed weather information and reports to the user about the weather changes.

The user will get the hourly and weekly weather forecast.

This fantastic software displays weather conditions on the map in a well-organized manner.

You can read the information and articles regarding weather news on this excellent platform. This includes news concerning the outdoor health environment (like air quality, UV index, green living, cold, and flu).

WeatherBug will provide one-click access to radar and forecasts.

The user can disable forecast tooltips, icons, and notifications settings.

You can customize your screen by disabling on-screen visual tips, select temperature scale, and color, and set how you want your location's temperature to be present in the taskbar.

In "Weather fun", the user will get beneficial features like video and photo gallery.

You can visualize the weather conditions with multiple map layers.

This excellent software allows the user to switch between different tabs to see hourly and 10-day forecasts.
How to Install WeatherBug 10.0.7.4 on your Windows Operating System?
To view the real-time weather forecasts on your Windows 7, 8, 10 operating systems you can download the PC version of WeatherBug 10.0.7.4 on your computer.
Step 1: It is always preferred to download the software from the developer's official website. You can also visit the official website of WeatherBug.
Step 2: Alternatively, you can download the PC version of the software from any trusted website.
Step 3: Open your browser, either using Chrome, Firefox, or any internet browser. Search "Download WeatherBug 10.0.7.4 for Windows" on your search box
Step 4: You will get a list of trusted and published websites on your search result page such as filehorse.com.
Step 5: Choose any of the websites to download the setup file of this weather forecasting software.
Step 6: Once the downloading is done, you can now start the installation process.
Step 7: Follow the guidelines and instructions very carefully during installation.
Step 8: Click on the finish button, Once done. Now you can enjoy weather forecasting on your computer.
WeatherBug does not need that many system resources. Just a help file is included which can be accessed online. The major drawback, this weather forecasting software shows information about weather conditions in the United States. Even so, it is a very accurate tool.
You might also like