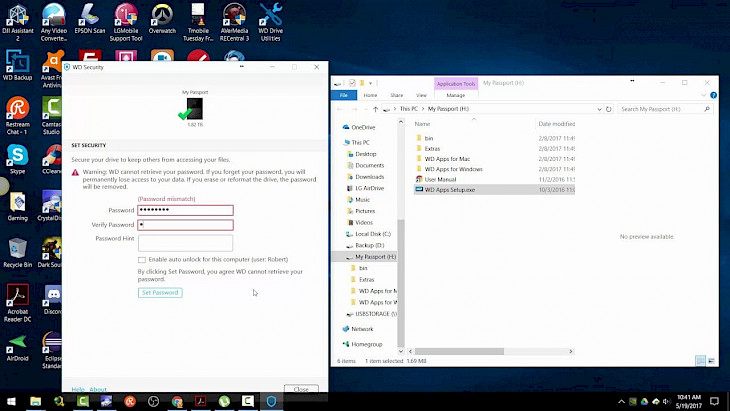 Download WD Security
Do you frequently worry about others getting unauthorized access to the Western Digital (WD) drives that you own? You do not need to worry any further, because WD Security for Windows is here to take care of the security of your Western Digital drives.
Developed for Western Digital for Windows operating systems, WD Security is essential if you have Western Digital drives and need to add password protection to them. That way, you do not have to worry about your WD drives getting unauthorized access. With WD Security, you can quickly secure data on these drives. All it takes is a few taps.
Take your compatible WD drive and connect it to your computer once the program is enabled. After it is attached, it will automatically detect its compatibility. Security settings, drive letters, names, and storage capacity of the drive will be shown in the main window. If you want to unlock the WD drive automatically select 'Auto unlock' in your setup.
Features of WD Security
The remarkable features of WD Security have been listed below for your reference so that it is easier for you to make up your mind whether or not you should download this piece of software.
Password Protection
WD Security lets you protect your Western Digital drives with a strong, secure, virtually uncrackable password so that there is no authorized access to your data.
Data Encryption
Your data is kept encrypted with hardware encryption so that your Western Digital drives are protected from unauthorized access or use.
Electronic Data Lock
WD Security locks and unlocks your Western Digital drive electronically by using the password set by you to prevent unknown and unauthorized access or use of your data in the drive.
Download and Install WD Security for Windows PC
Download WD Security for Windows PC
WD Security can readily be downloaded from the official Western Digital website free of cost. Else, you can also download this piece of software from any other third-party tech website on the internet. Once you select a suitable source for downloading WD Security, please proceed with the download and let it finish.
Install WD Security for Windows PC
After the zipped file has been downloaded, you need to unzip it and extract the executable setup file before running it to start and finish the installation process.
It is now so easy for a new password to be configured. Type the security key that you want to set as your password in the required fields. Then pick 'Save'. Make sure to write this password down or recall it. If you forget, the WD Protection app does not have a 'Lost password' option. A password hint is the only thing you can do. If that doesn't help you remember your password, then there's no way you can access your information.
When you generate a password for your WD drive with Western Digital Protection, it will also encrypt the data on the drive. This makes it difficult to retrieve your personal records and files from someone else.
Now you use your Western Digital drives securely with WD Security without any insecurity. Cheers!
You might also like