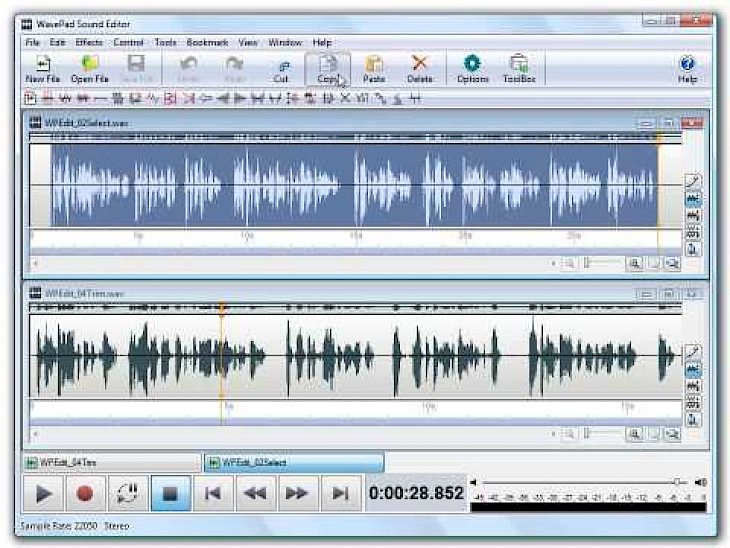 Download WavePad Sound Editor
WavePad sound editor is a fantastic audio and video editor that help you to perform various tasks including recording and editing music, voice, and other audio recordings. The software provides all the essential and basic features that are required for audio-editing and fits well for beginners and professionals. You can use this application to edit your audio files and add various effects to the track including amplification, echo, and noise reduction.
The application has batch processing integrated by default in this program, the users will simply need to queue up the files or you can also work on them separately. Sometimes, you may have different formats of audio clips, to resolve this issue you can use WavePad sound editor as an audio convertor. This application supports known audio formats like mp3, WAV, GSM, FLAC, WMA, OGG, and many more. the audio restoration features available on this application help you to reduce noise and remove weird clicks and pops. This excellent editing software has a simple and well-arranged interface with a beneficial tool ribbon around.
FEATURES
The software allows you to perform multiple sound editing functions like copy, paste, cut, delete, audio-trim, silence, and many more.

You freely enhance your tracks by adding various audio effects including equalizer, amplifying, normalize, echo, envelope, reverse, reverb, and many more.

The inbuilt VST plugin support available on this platform gives professional access to thousands of additional tools and effects.

WavePad sound editor supports almost all multimedia file formats either audio or music. The wide range of formats includes VOX, GSM, AIF, FLAC, mp3, WAV, OGG, real audio, M4A, AMR, and many more.

The batch processing integrated with this application enables you to apply multiple effects or simply convert thousand of files as a single function.

If you are willing to do the precise editing, then you can use this platform to scrub, search, and bookmark the audios.

WavePad sound editor can be used to manage and organize long media files. You will need to create bookmarks and regions to conveniently find, assemble, and recall the segment of long audio files.

Various tools are offered by this application which includes speech synthesis (text-to-speech), spectral analysis (FFT), and voice changer.

WavePad sound editor supports the sample rate from 6 to 96KHz, mono or stereo, 8 16, 24, or 32 bits.

This amazing editing application works directly with the MixPad multi-track audio mixer.
How to install WavePad sound editor on your Windows Operating system?
WavePad sound editor is a full-featured audio editing software with an orderly interface. The PC version of this program is available easily on various trusted websites. To install this software on your system, follow the guidelines and instructions described below.
Step 1: It is always preferred to install this software from the developer's official website.
Step 2: Alternatively, open your browser and search "Download WavePad sound editor for Windows" in the search box.
Step 3: Once you have downloaded the setup file, follow the step-by-step guidelines and instructions to start the installation process and run this software on your system.
Step 5: After following all the steps, click on finish, and now you can use this fantastic software on your Windows operating system
You might also like