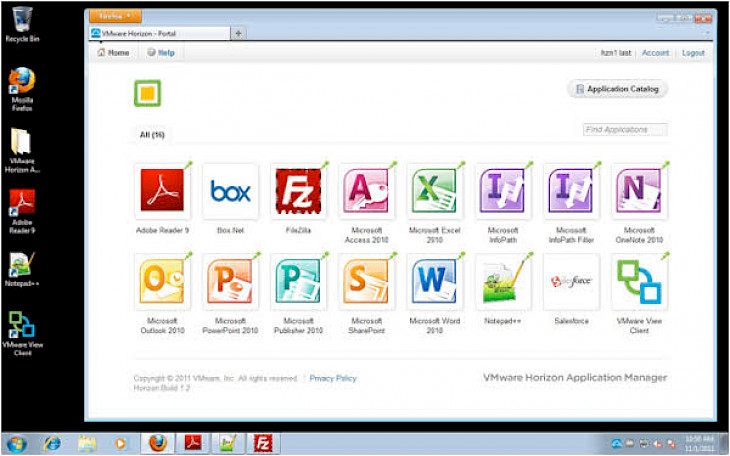 Download VMware ThinApp
To eliminate application conflicts and streamline distribution and management, VMware ThinApp accelerates application deployment and simplifies application migration by isolating applications from their underlying operating systems.
Migrate legacy web applications that depend on Internet Explorer 6 by virtualizing IE6 along with the application while migrating from previous versions of Windows OS.
By isolating apps from each other and the underlying OS into a single executable file that can be conveniently distributed to multiple endpoints, individually or with app volumes, it avoids device conflicts.
Features of VMware ThinApp
Enable multiple applications and user-specific configuration data "sandboxed" to live securely on the same server. On "locked-down" PCs, deploy ThinApp packages and allow end-users to run their favorite applications without sacrificing protection.
The remarkable features of VMware ThinApp are highlighted below.
Migrations from OS Made Simple
Migrate your legacy apps to Windows 7 or Windows 10 easily without recoding, re-testing, and re-certifying them. Convert silent-installed programs to packages automatically. If you have already packaged ThinApp applications for use on XP or older versions of Windows, convert them to Windows with the Relink feature of ThinApp.
Zero Disputes Device Isolation
Package and configure an entire 32-bit or 64-bit program into a single .MSI or .EXE executable that can be deployed in several operating environments on Windows. Digital programs are separated from each other and execute independently, preventing application-to-application conflicts and application-to-OS conflicts without requiring changes to the underlying operating system. With App Volumes for full lifecycle management, the app packages can be distributed and handled.
Silos with No Program
The conventional IT model of one application per server includes dedicated hardware, whether for technical reasons or data isolation considerations, for particular applications that can not coexist. For efficient use of existing assets, it removes these technology silos while making it easier to manage and deploy the applications.
Protection Without Modifications to the Device
Applications can run on locked-down PCs in restricted user accounts without device changes and without reducing the security policy. There is no kernel-mode code in ThinApp, and the system group policy applied to the user cannot be violated. It does not provide devices on the computer with application-elevated permissions, which avoids unintentional breaches of regulation.
Remote Access
Users require secure and scalable application access through devices, whether on the road or in the office. With ThinApp, users do not have to install drivers for apps or computers and do not need admin privileges. Applications run directly, like Flash drives, from portable storage devices.
Download and Install VMware ThinApp for Windows PC
VMware ThinApp can be readily downloaded by clicking the button above. Once downloaded, run the installer to complete the installation process so that you can efficiently run VMware ThinApp on your Windows PC.
VMware ThinApp offers a trial edition for 60 days. You need a license key that can be downloaded from VMware for free to validate the application. Simply build an account on the website of the organization and request an assessment key for the app. Enjoy!
You might also like