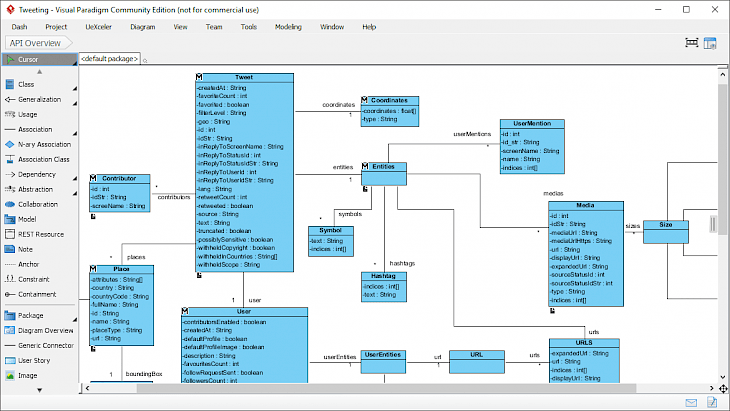 Download Visual Paradigm Community Edition
Visual Paradigm Community Edition is one of the leading software for software developers to manage and plan their projects. It is a complex UML modeling application designed and launched by the Visual Paradigm developer company itself. This software provides the essential tools and features for performing different tasks, including report generation, software development, round-trip code engineering for various programming languages, and many more.
Visual Paradigm Community Edition is an award-winning enterprise management and software development suite for your Windows Operating system. This excellent software will help its users perform UML modeling and requirement management by providing general modeling tools and database design tools.
FEATURES
Project management
This fantastic software will be offered templates like Traditional ITSM and PMBOK. Users can walk through the project management lifecycle with a process guide available on this platform.
System modeling
Visual Paradigm Community Edition has this excellent diagram editor that helps the user to create visual blueprints. Besides visual creation, you can also design excellent software with UML, SysML, ERD, and DFD. System modeling can be performed quickly and effortlessly.
Business Modeling
BPMN and CMMN available on this platform prove helpful for the user. You can visualize business processes with BPMN and business cases with CMMN. You can keep your business terminologies in the glossary section to perform the work in a more organized manner.
UX Design
This fantastic software offered the user to perform UX design. If you are inclined towards Web design, you can use this platform to draw screen mock-up with wireframes and present the screen flow with a storyboard.
Agile Requirements
If you are a software developer then Visual Paradigm Community Edition offered you tools and features like story map, Affinity Estimation, and multiple sprints which helps manage software development activities.
Database Engineering
ERD helps the user to design and create a database. Developers can generate reverse engineer database design by using a physical database and patch changes.
Create, design, and manipulate objects
This software provides a ton of tools at your disposal. You can edit stereotypes, model element properties, create subdiagrams, identical objects, and formatting settings. Visual Paradigm Community Edition will allow you to perform all the software development tasks on one platform.
How to Download Visual Paradigm Community Edition on Windows?
Visual Paradigm Community Edition provides a large set of agile tools to fulfill the entire software development process needs. This software is designed for professionals who are working in the field of frontend and backend development and UX designing. You can use this fantastic software on your Windows 7, 8, 10 operating systems by following a simple but effective downloading and installation process.
You can download this software from the official website of the developer's company. To visit the website, click https://www.visual-paradigm.com/editions/community/.

Download the setup file of the software from its official website.

Alternatively, open your browser and search "download Visual Paradigm Community Edition for windows" in your search box.

You will get a list of websites on the search result page. Choose any trusted website to download the software.

After successfully downloading the software, follow the instructions to start the installation process and run the software on your system.

Once done, you can now use this extremely useful software on your operating system.
To make the best use of this application software, you will need to gain technical knowledge of UML modeling and programming. Before downloading the software, you should check the system requirement and make sure that it must have Eclipse SDK and NetBeans IDE.
You might also like