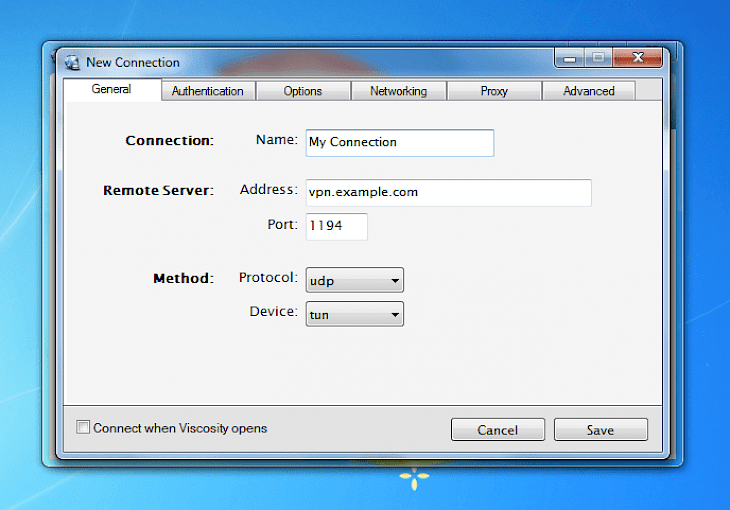 Download Viscosity
Viscosity is a first-class open-VPN client developed by SparkLabs Pvt. Ltd. Its seamless VPN service lets users secure their networks with ease and style. The tool that consists of the VPN help users to get their VPNs started. With its new design, clear and intuitive features help users in creating, importing connections, configuring connections in a snap. The software has been designed keeping both small businesses and enterprises in mind. Users can easily make connection bundles or can even completely preconfigure Viscosity with all the settings and connections as per their requirement. Users can also do auto-mount shares and open apps to make life easy.
Features of Viscosity
Cross-Platform: The software has been designed from the ground to be made compatible with both macOS and Windows by using native frameworks for perfect integration.

Traffic Statistics: The software is designed to monitor OpenVPN connection in order so that the user is aware of all the important traffic, network and connection details.

VPN for Everyone: Users can completely configure their OpenVPN connections through an intuitive interface which helps users to not know any complex commands.

DNS. Done Right: The software is loaded with powerful DNS system that allows users to ensure that all DNS queries are using VPN DNS server, or if they have to only lookups for a select domain.

Performance-Focused: The software has been designed to maximize the speed and reliability of OpenVPN connections.

Script Everything: Users can control Viscosity using AppleScript or VBScript, and can also call custom scripts and actions whenever a VPN connection changes its state.

Proven Technology: The software has been helping users for over a decade, ranging everyone from home to large enterprise users with perfect regular updates the entire time.

Enterprise Support: This software helps users to easily bundle with setting and connections which help them to easily create simple deployable connection profiles.

More. Much More: The software comes packed with powerful authentication options, IPv6, connection folders, advanced networking, traffic obfuscation, simultaneous connections, and much more.

Powerful Connections: The software provides everything that is needed to establish secure and fast OpenVPN connections on both macOS and Windows. Viscosity is known for providing secure and reliable VPN connections, whether it is connected to the workplace, home networks, VPN service provide, secure connection with ease is established seamlessly.

Intuitive Editor: The software helps users to work with easy by removing the complexity of editing VPN connections, with a lot of power at the user's fingertips. The connection editor makes users easy to configure new VPN connections from scratch or can add new existing ones without the need-to-know complex commands.
Installation Requirements for Viscosity
To install Viscosity on PC, make sure that the following requirements are met by the user in the PC desktop.
PC – Make sure that your PC is on Windows 7 or higher with at least 4 GB of RAM.

Compatibility Mode is enabled.
How to Download Viscosity on Windows
Follow the below steps to download and install Viscosity on your PC:
Go to Viscosity's website, and go to Downloads.

Click on Download Now.

Select 'Save' to download the program. The file will be saved in the Downloads folder.

If you want to save in a specified folder on your desktop, then click on 'Save As' and select the folder you want the program to be saved.

After the download is complete click on the .exe file.

The installation process will start.

Run the installation package.

Wait until the update completes

Follow the Windows installation instructions and select options accordingly.

Click on Finish to complete the installation.

The program icon will appear on the desktop.

Select the icon to start the application.
You might also like