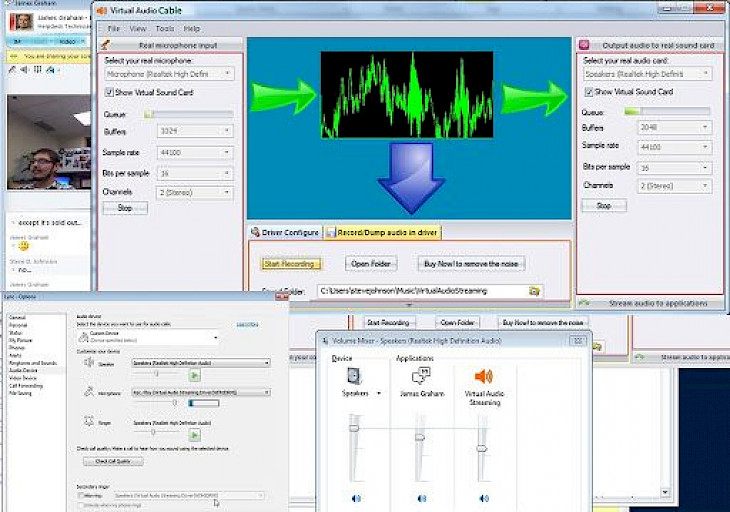 Download Virtual Audio Cable
Audio given out of any speakers or audio-based output devices is always clear and synchronized. It's all thanks to the audio cables connected, which have a central connection at the main controlling unit. However, the same feature to be implied on a computer platform might seem farfetched, but possible. That's why we have an exciting application. Up for discussion today were rerouting the audio through software can be a possibility to check it out.
What is the Virtual Audio Cable?
The virtual audio cable is a free application that helps to reroute audio from one application to another. It's all possible through the WDM multimedia driver that helps for the action to be carried out. Since all the audio transferring is carried out virtually, there is no loss of sound quality, and everything is crisp and clear. The software works for multiple audio formats and ensures that users get their preferred choice of rerouting audio files from here to there.
Key Features of the Software
Elimination of hardware components
There is no hardware required whatsoever. It's all software-oriented, which makes it even more unique and special. One can use the application to transfer audio from one application to another.
Audio transfers from one device to another
The application lets the transfer of audio from application to another. If you are looking for the endpoint to endpoint, then you will have to get additional software to execute the function.
Control panel application
The software comprises an extensive array of settings where altering many things in the software is feasible. It's more like you are controlling real audio cables.
Minimum System Requirements
RAM – 4GB or higher

Storage – 1GB or more

OS – Windows 7 or higher

CPU – 2GHz or higher
How to Download and Install it on PC
Get the application from the official site. You will have to pay for additional features. Thus, get the desired installation files of the software and download them.
Once downloaded, then open the files and install the software by following the prompted instructions or a successful installation.
Enjoy using the application from application to application audio routing services.
You might also like