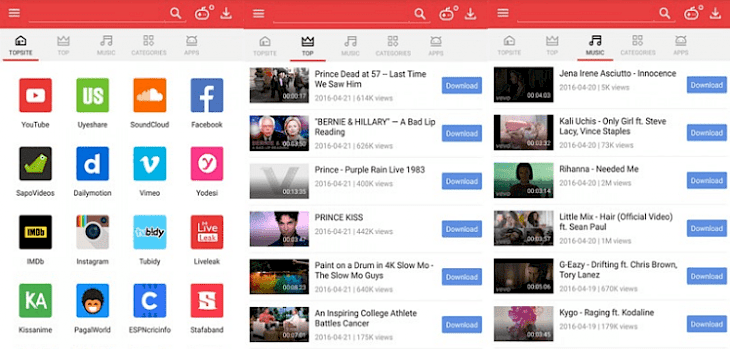 Download VidMate
YouTube is one of the most popular streaming platforms, entertaining a wide audience all over the world. While watching the streaming videos on various platforms like Facebook, YouTube, Instagram, and many more you might think that it would be convenient if you can download these videos. There are various software or application available in the market which helps you to do so but due to Google policy, this software or applications are not officially available on the play store everywhere in the world.
VidMate is one of the best tools which helps you to download your favorite videos, movies, songs, and TV episodes. Developed by UC web developers, this enormous video downloader offered amazing features to its users to download HD videos without compromising the original format and quality.
FEATURES
Vidmate allows you to save status. If you are willing to capture the WhatsApp, Facebook, or Instagram status of your friend or closed one then you can easily save it in just a few clicks.
These tools also act as a browsing platform for its users. You can browse YouTube, Instagram, Facebook, Twitter, and other platforms directly from the app without leaving this platform. To enhance the user experience, VidMate provides access to more than 1000 websites which means you can visit these sites and download your favorite video directly.
Vidmate supports all resolution formats. This application is integrated with an audio-only version and it allows the users to convert and save the video in various formats including audio or MP3 version.
This application has easy to use interface and the user can download the movies or videos of their interest at a comparatively higher speed and without any interruption.
Not only videos or audios, but this fabulous application also allows you to download high-quality pictures from various social networking platforms and other sites.
You can use the live TV option available in the application to watch more than 120 channels to stream your favorite episode anytime from anywhere in the world. Popular Channels including Star Plus, Zee TV, Colors, and many more are available on this interesting video downloader.
Vidmate offered multiple languages. You can listen to and enjoy your favorite songs in your preferred language.
HOW TO DOWNLOAD?
You can download VidMate on your system to enjoy your favorite video on your PC. Before starting the installation make sure that you have checked the minimum system requirement. You can run this software by using emulator software available in the market.
To install android emulator software on Windows 7, 8, and 10 you can visit the official website of these emulators.
Download the emulator and once emulator software gets installed, run it on a PC.
Open the main screen of the emulator and select the Google PlayStore. To start using Play store services you have to log in to your Google/Gmail account.
Now search "VidMate "in the search box of the Play Store and select the app icon from the search result page.
Click on the install button and make sure that you have a good internet connection. After successfully installed the application, launch the app on your system and start using VidMate on your PC.
This application is banned in some specific locations by the government. Hence alternatively, you can install this software by downloading the setup or .exe file from any trusted website and launch this setup file on your system, and enjoy streaming.
You might also like