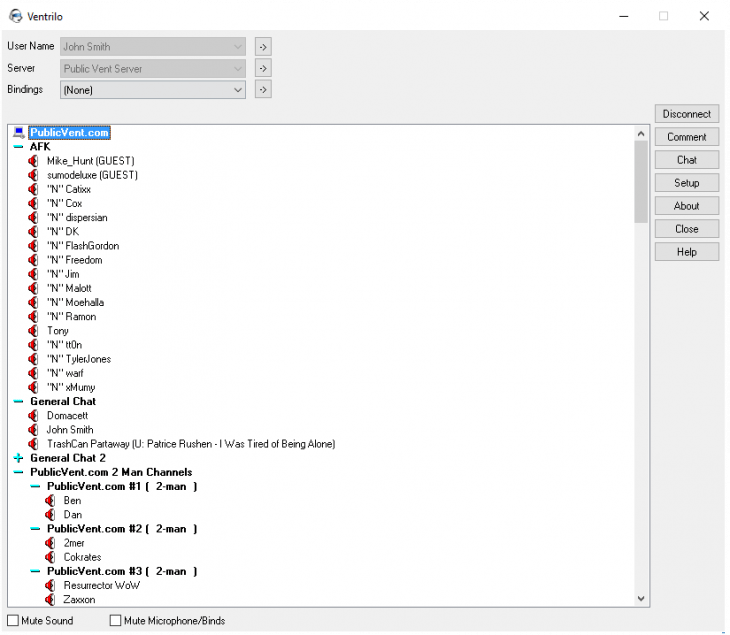 Download Ventrilo Client
Developed by Flagship Industries, Ventrillo is a smart VOIP software that enables users to call and send texts to each other. For a freeware application, it certainly has its unique perks. It comes in both server and client versions. Ventrilo Client software is predominantly used in the world of online gaming. Because of its superior sound quality compared to other VOIP apps and its minimal usage of CPU resources, players prefer to use the app to talk to other players during in-game action.
While it is not used as much in other occurrences, it definitely serves as a strong foothold in bridging communication on the gaming platform. Its simple interface makes navigation easy for first-time users. Just a few clicks of your mouse and you will find yourself on-call with your game buddy. Bond over your favorite games likes Among Us and PUBG. If not call, you can send texts as well. This way, you are constantly kept in touch with them as you engage in relentless gameplay.

Key Features Of Ventrilo Client
Full Customisation
You can tinker with the VOIP settings to enhance the quality of the calls. Add sound effects for different groups, change channel preferences like notification sounds and ring tones, personalize conversation windows with multiple people on your list.
Connect To Channels
There are several ways in which you can connect to channels. The most standard way is directly tuning into a channel to connect with a user. Other ways border along the lines of 'sneaky'. One of them is turning into a channel using the Phantom Mode. This way, you can 'eavesdrop' on other people's conversations and tap into their private chat window. You can take your sneakiness so far as to listen to voice notes the users send to each other.
Administer Channels
Create dynamic channels of your own so that people can tune in. This way, people can tune into it whenever they get the notification. If you wish to incline towards privacy, then you can set a password for your channel. This way, only selected people can join in the fun.
System Requirements Of Ventrilo Client
To run this software on your system, it should be able to meet the following requirements:
It should have Windows XP/Vista/7/8/8.1/10 operating system

It should have a sound card that has DirectX 9.0c or higher compatibility
How To Download It On PC
From this site, download the .exe file of the software. You will have to click the download button to initiate the download.

When the .exe file finishes downloading, run it on the system. Follow the installation instructions that show up in the setup window.

Once you are done going through all the instructions, click 'Finish'. This move finally starts the download of the Ventrilo Client.

When it is done downloading, you can run it by double-clicking its icon from the desktop.
You might also like